Demonetisation is the sole opposition of the BJP in the Madhya Pradesh elections
For chief minister Shivraj Singh Chouhan, Modi, not anti-incumbency, is the liability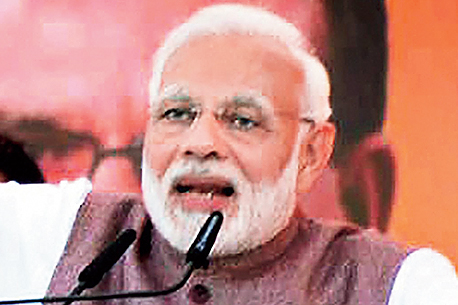 ---
|
Indore
|
Published 18.11.18, 10:02 PM
---
The 15-year-strong anti-incumbency is not the force that is threatening the much-maligned Shivraj Singh Chouhan government in Madhya Pradesh. It is one reckless decision of the much-admired Prime Minister that appears to be imperilling the chief minister's pursuit of a fourth consecutive term.
"Notebandi" reverberates through the markets of Indore, a commercial hub, two years after Narendra Modi's demonetisation sucked out over 85 per cent of the currency all of a sudden. Modi and his party might have buried demonetisation but its ghost is lurking in every corner here, itching to strike when it can hurt most.
Indore is a stronghold of the Sangh parivar but few people are talking about the eternal diversionary ploy of the Ram temple or the Hindu-Muslim divide.
Most businessmen, who readily describe themselves as traditional BJP supporters, contended that this election was more about "Kam than Ram (work, not religion)". This spells disaster for the BJP, under normal circumstances.
Ashok Mandlik, a textile trader and a leader of the Jain samaj, told The Telegraph: "Notebandi is doubtless the biggest issue as it destroyed businesses. There was no recovery as this horrendous decision was followed by an equally debilitating GST. Many industries closed down, business is down by at least 50-60 per cent and the time is not far when a large number of entrepreneurs will be forced to take up jobs for survival."
Contending that the sentiments of the business community will exact a heavy political price from the BJP, he added: "Mostly illiterate people work in the textile sector; embroidery is done mostly by poor women and even today, they refuse to accept payment by cheque."
Surendra Singh Chauhan, a worker, confirms this: "I used to get embroidery work from seven to eight firms and did work of around Rs 25,000 every week. After notebandi, I barely get work worth Rs 25,000 a month. I sold machines. My entire family is praying for achchhe din to return."
The sentiment pervades most sectors. Hukam Soni, the president of the Madhya Pradesh Sarafa (jewellery) Association, said: "Cruel policies, lack of foresight and planning and insensitive attitude of the government caused boundless misery to us. When we pleaded for help, we were called chor."
Soni added: "We suffered a 45-day strike in the sona-chandi business, followed by notebandi and the GST. The cash flow hasn't revived, people don't have the confidence to spend. This Diwali, we hardly did 25 per cent of the normal business."
Soni asserted that he was a diehard BJP supporter but added that if there are 10 members in his family, eight will not vote for the BJP.
"The government, both at the Centre and in the state, has a negative approach. We don't mind formalisation of businesses but destruction can't be tolerated. Traders are facing continuous raids, one after another. Two surveys are done in a year. The attitude is to torture. We worked for the BJP since the Jan Sangh days but they treated us as criminals," he added.
A grain trader was equally bitter. Pleading for anonymity as "these people are vindictive", he said: "Nobody has the capacity to stock material. I used to always buy haldi (turmeric) for Rs 50 lakh and made profits. Last year, I bought haldi for Rs 20 lakh and it is still rotting. There is no liquidity in the market. Debt recovery is terrible. Mutual trust has broken. Farmers are not getting good prices because stockists are not buying."
A garment factory owner, who did not want to be named because he is a "BJP man", said: "I had 60 workers; now reduced to 15 within two years of notebandi. We brought Modi to give us something but he took everything away. Business is down 50 per cent across sectors — real estate is far worse — and at least 50 per cent traditional voters will vote for the Congress this time. I never saw a bigger political event in Rajwada than Rahul Gandhi's recent visit here. For the first time in our lives, none of my family members will vote for the BJP."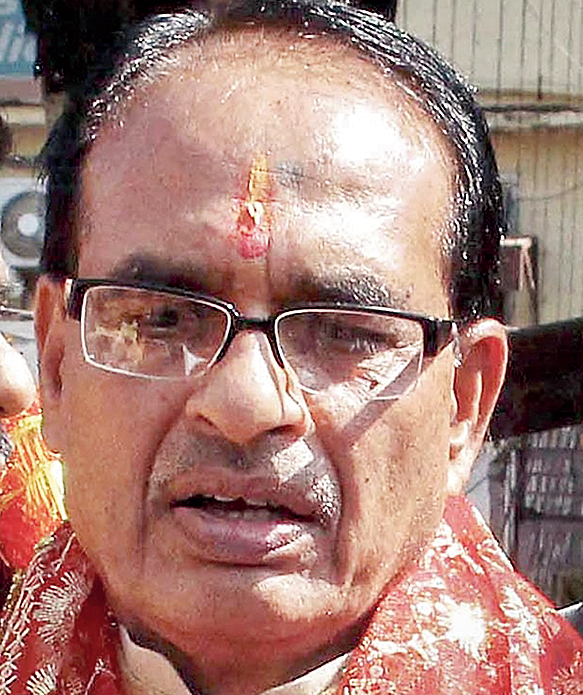 The factory owner summoned the workers one by one to express their feelings. Everybody stressed on the loss of work and the absence of a salary hike for the past two years. Kaluram Jagdale said: "Our entire community votes for the BJP but people are angry this time. There is no work, and gas tanki (LPG cylinder) costs Rs 1,000."
Sumir Yadav, another worker, said: "I couldn't have imagined my sahib would have to curtail his business by half. There are no orders. I am suffering with him as there is no salary hike and over 40 of my colleagues lost their jobs."
Asked about the prevailing anger in the business community, an RSS worker said: "Finance minister Arun Jaitley is to blame, along with the RBI. They didn't manage the post-notebandi phase well."
Reminded that Modi alone took that decision, he persisted: "Even a good decision has to be properly implemented. CCTV cameras should have been installed in all major banks… the managers helped conversion of black into white."
RSS workers have been assigned work to assuage the feelings of the businessmen. They fan out in all major parks and try to convince people during their morning walk that the larger cause of Hindutva should not be derailed because of the demonetisation.
This is followed by breakfast meetings. Poha, a breakfast dish made of beaten rice, is supplied to homes in different localities where meetings of 30-40 people are held and the importance of the "core agenda" is explained.
Hukam Soni, the leader of the jewellery traders in Indore, sums up the mood: "We are not fighting the BJP, we are fighting the cruel policies. The Hindu-Muslim issues are not affecting us any more. The Modi government has tormented us beyond comprehension."
Yes, Modi is the albatross around Shivraj's neck.