Delhi riots: raid on lawyer 'illegal' and 'ominous'
Eminent jurists alleged the search warrant was issued wantonly to secure illegal access to confidential lawyer-client communication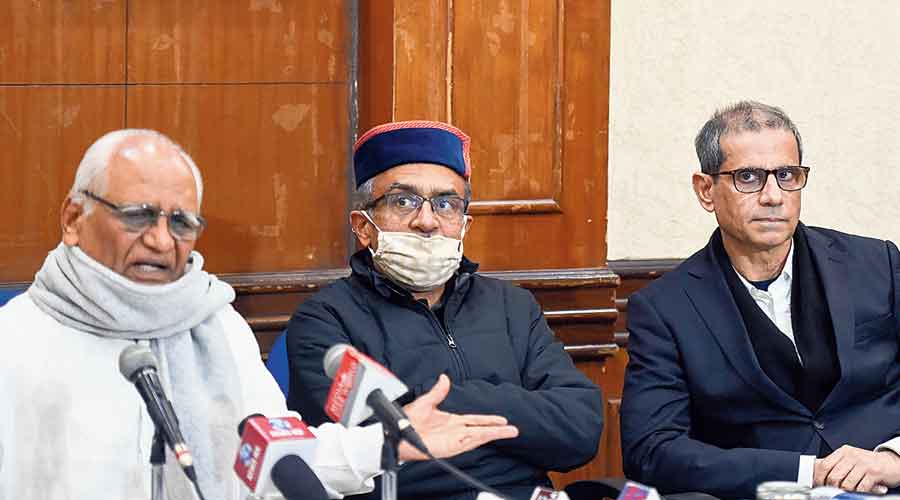 Prashant Bhushan (centre), Justice BG Kolse-Patil (left) and lawyer Mehmood Pracha on Wednesday
PTI
---
New Delhi
|
Published 14.01.21, 01:05 AM
|
---
Eminent jurists including a former Bombay High Court judge on Wednesday condemned the raid and police investigations against a Delhi lawyer whose firm has been representing several Delhi riot victims and accused.
They alleged the search warrant was issued wantonly to secure illegal access to confidential lawyer-client communication on advocate Mehmood Pracha's office computer.
Pracha's firm, Legal Axis, is handling around 150 riot cases, that is, about a sixth of the cases relating to the communal violence in February that killed 53 people.
His clients include Gulfisha Fatima, who had protested against the new citizenship matrix and has been charged under the anti-terror law UAPA with inciting the riots.
Police are investigating Pracha for allegedly coercing a witness to make a false statement, a claim the witness has denied. The police searched Pracha's office on December 24 to examine his email outbox, and later charged
him with obstructing their search.
In a statement, retired Justice B.G. Kolse-Patil and Supreme Court lawyers Prashant Bhushan and Chander Uday Singh said that none of the conditions stipulated in Section 93 of the criminal procedure code for issuing search warrants had been met.
"Why was it necessary to search his computers and information contained in it in order to get access to an email which is stated to have been sent to various authorities including the commissioner of police," the statement said.
"Obviously, therefore, the object of the search was to get hold of all the information in his computer systems which not only contained his personal and private information but in particular contained communications between him and his clients."
Attorney-client communication is protected under the Indian Evidence Act and the Bar Council of India Rules.
"This illegal search is particularly ominous and sinister in light of the fact that Mr Pracha has been instrumental in exposing the Delhi police in its mala fide investigation in the Delhi riots and seeking accountability of its officers," the statement said.
Pracha has moved court against the raid, and the court has asked the police for video footage of the raid. Several Bar associations have spoken out against the raid.
No member of the police has so far been charged with rioting despite several complaints and purported video evidence of police personnel torturing injured men and forcing them to sing the national anthem. One of the victims, 23-year-old Faizan, later died of his wounds.
Justice Kolse-Patil told reporters that several lawyers planned to march from Delhi High Court to the Supreme Court on January 22 and submit letters to Chief Justice of India S.A. Bobde demanding action against errant police personnel and a magistrate who allegedly harassed Pracha.
Justice Kolse-Patil was one of the organisers of the Elgaar Parishad event of 2017. Several academics and human rights activists are in jail custody in connection with the event, charged with conspiring with Maoists to incite caste clashes.
The police did not respond to Wednesday's statement. After the raid on Pracha, a police statement had said: "After a lot of patient persuasion, he allowed the investigating officers to inspect his email outbox where a part of the evidence being sought was located and necessary investigative formalities related to it were carried out.
"Thereafter, he was requested to cooperate in locating the computer in which the incriminating documents, allegedly drafted by him/ on his instructions maybe found. However, he flatly refused to cooperate and said 'you do it yourself'....
"Sh. Mehmood Pracha and his associates prevented the police team from executing the mandate of the hon'ble court, obstructed in the investigation and in the discharge of their lawful public duties."
The police have seized one of Pracha's computers.