Delhi riots: M. Mumtaj recalls the day when his restaurant was burnt down
'At Dayalpur police station, I was told that if I want compensation, my FIR should not name anyone,' he said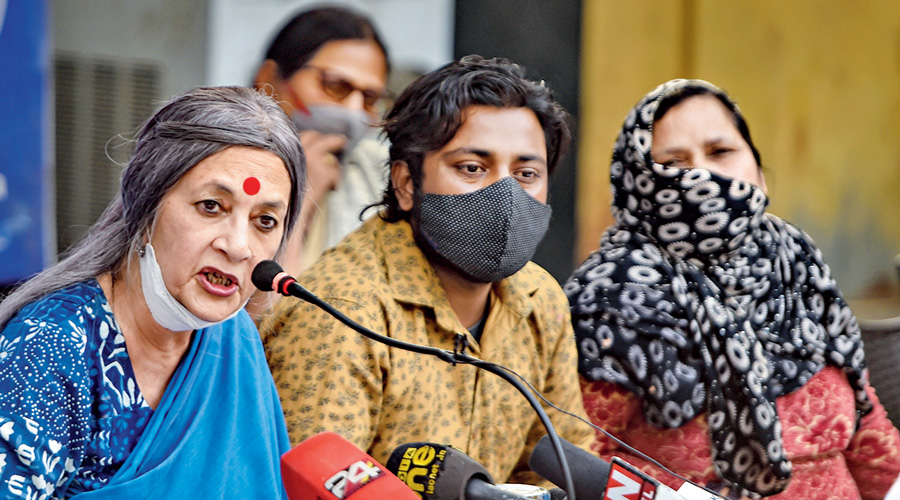 Mumtaj, who wants to name a BJP MLA in a riot FIR, with Brinda Karat at the news conference.
PTI photo
---
New Delhi
|
Published 24.02.21, 02:38 AM
|
---
M. Mumtaj recalled the day exactly a year ago when his restaurant was burnt down and he was robbed at gunpoint at Sherpur Chowk in northeast Delhi where 53 people were killed in riots in 2020.
"At Dayalpur police station, I was told that if I want compensation, my FIR should not name anyone. Even though I could identify the rioters as we had bought property from them, I gave a complaint without names," Mumtaj told a news conference organised by the CPM on Tuesday in the capital.
Mumtaj had moved court to register a first information report naming BJP legislator Mohan Singh Bisht and 21 others for rioting. He said his family was under threat as the case proceeded in the court.
He was called again to the police station that day. When he returned home at night, Mumtaj said, Bisht was present on the road in front of his home near the torched eatery.
"We have worked for him for years. He was telling those gathered there 'abhi toh in ***** ke dukaan jalaye hain, ab ek ek karke in kutton ko maaro (Only the shops of these ****** have been burned, now kill these dogs one by one)'. I was a BJP activist (since 2010) and their (election) office ran from one of the properties of my family. We have not had the heart to speak to vidhayakji (the MLA) after I heard him speak that day," Mumtaj added.
Mumtaj said he saw Bisht throw a countrymade grenade at his home on the morning of February 25.
The court asked the police to submit a report on the complaint in November, which had not been submitted when the case was last heard on January 27.
"I am yet to receive compensation or find a job. The landlord has opened a restaurant in the place of mine. My family has received several threats to withdraw the case," he added.
Contacted on Tuesday, Bisht told The Telegraph: "I am not involved in any case.… You are under the wrong impression. Neither am I involved nor are any of my people involved.… I have no knowledge of this."
At the news conference, several riot victims spoke out against administrative apathy that has denied them justice so far. The victims narrated how they continue to face threats and are unable to get on with their lives as compensation has been absent or inadequate.
Mallika, a 30-year-old mother of three, said she witnessed her husband Musharraf, a driver, being pulled out of their home in Bhagvati Vihar and beaten with steel rods on the evening of February 25. The riots had started on February 23, 2020.
"Most of our neighbours had fled, and we had locked the door and turned the lights off. A mob shouting 'Jai Shri Ram' and wearing motorcycle helmets barged in. I had hidden my husband in our box bed under clothes, but they opened it and prodded with the rods and found him. They dragged him down the stairs and the last I saw of him was them hitting him with rods.… The police have not yet recorded my statement."
Mallika ran after applying vermilion on her head to appear as a Hindu. While fleeing, she was stopped by a mob that stripped her three-year-old son to check if he was circumcised. As the boy's circumcision ceremony had not taken place, they were assumed to be Hindu and let off.
Days later, Musharraf's body was fished out from the Brijpuri drain. Mallika is now a street vendor in Uttar Pradesh.
The police have made 1,753 arrests on the basis of 755 FIRs and so far named 1,553 accused in 342 chargesheets. Of those arrested, 544 are out on bail. Out of the 53 killed, 40 were Muslim.
The policemen seen kicking injured men — 23-year-old Faizan died later — and making them sing the national anthem are yet to be identified.
In response to a Delhi High Court directive to probe BJP member Kapil Mishra for making a provocative speech that preceded the riots, the police told the court last year that "no actionable evidence has surfaced yet".
On Tuesday, CPM politburo member Brinda Karat said: "There is a deliberate subversion of justice as truth has been hijacked to conceal the role of BJP leaders.… To hide police complicity, even statements of victims have not been taken."
She added: "The Delhi government's compensation package should have included livelihood and not just cash. Many like Mumtaj have not even got the cash yet."
M. Wakeel, a grocer, has been blinded in both eyes by acid thrown at him when he was found hiding on his terrace. He could get medical help only several hours later after fleeing with his family. Although the prescribed compensation for permanent incapacitation is Rs 5 lakh, he only got Rs 2 lakh for "serious injury".
Ram Suharg said his 15-year-old son Nitin Paswan — the youngest casualty of the riots — was killed after being hit on his head by a tear smoke shell on February 26 when he had stepped out to buy chow mein.
"His medical report says it is death by falling down.… Why the police killed my son, they have not told me. I only received Rs 5 lakh as compensation for a son who was my future," he said.
Relatives of adult casualties are given Rs 10 lakh and those of minors Rs 5 lakh. So far, only Rs 26.09 crore has been paid to 2,221 victims.