Delhi pollution: Supreme Court raps bid to 'bash farmers'
CJI Ramana said the Centre should ask the chief secretaries of Punjab and Haryana to ensure there was no stubble burning for the next two days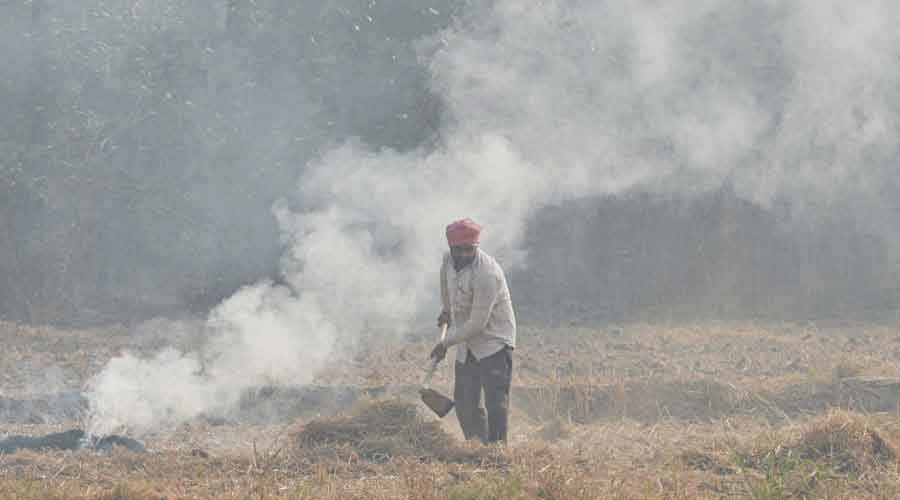 A farmer burns paddy stubble in a field.
PTI file photo
---
New Delhi
|
Published 14.11.21, 02:01 AM
|
---
The Supreme Court on Saturday directed the Centre to ramp up emergency measures, including considering a two-day lockdown and restricting vehicle movement, to combat Delhi's alarming pollution levels, pointing out that it had become a "fashion" among governments to blame farmers.
A special bench of Chief Justice N.V. Ramana and Justices D.Y. Chandrachud and Surya Kant gave time till Monday to solicitor-general Tushar Mehta, representing the Centre, to submit an action plan to tackle pollution, for which the government had sought to blame stubble burning by farmers.
The air quality index (AQI) in the national capital has shot up to nearly 500, which indicates "severe" levels of pollution, as Delhi-NCR has remained shrouded in a thick canopy of smog after Diwali.
AQI below 50 is considered "good", less than 100 "satisfactory", below 300 "poor", 301-400 "very poor" and 401-500 "severe". Severe AQI triggers respiratory ailments.
"Now it has become a fashion to bash the farmers, whether it is the Delhi government or someone else. There was a ban on firecrackers, what happened with that? See what's happening in the last seven days. What is the Delhi police doing?" Justice Surya Kant told senior advocate Rahul Mehra, appearing for the Delhi government.
The judge added: "I am a farmer, the CJI is also from a farmer's family, we know it."
The bench was livid with the argument of the Centre and the Arvind Kejriwal government that the high levels of pollution were a fallout of stubble burning by farmers in Punjab and Haryana.
CJI Ramana also expressed displeasure when Mehta pointed to the farmers.
"You are projecting as if farmers are responsible for this pollution. What about the Delhi people? What about the steps taken to regulate firecrackers, vehicular emissions?" Justice Ramana asked.
The solicitor-general had said: "Over the past few days, there has been a spurt in stubble burning in Punjab, the result of which we are seeing. Punjab needs to buckle up. I am not making this adversarial."
Mehta requested CJI Ramana not to interpret his comments as an effort to blame farmers alone.
Justice Ramana said: "We have been forced to wear masks at home also, the situation is very serious."
Mehta replied: "I am not even remotely suggesting that farmers are only responsible."
"Your Lordship knows the potential of this statement. Please don't take it that the government, whether the state or the Centre, is putting this on farmers. There's not a remote intention suggesting that," he said.
The court was dealing with a PIL PIL filed by Aditya Dubey, a resident, last year seeking adequate remedial measures to deal with the pollution problem in the Delhi-NCR region every winter.
Justice Chandrachud said the problem was not with enforcement but incentivisation.
"If you give the incentives then why won't a farmer switch (to other modes of disposing of crop stubble)? You cannot enforce these things," Justice Chandrachud said.
Justice Surya Kant said stubble, instead of being burnt, could be used as fodder for goats and other livestock during winter.
Justice Chandrachud wanted the government to explore if the stubble could be used in thermal power plants, and whether the farmers could be paid to ferry them from the fields.
CJI Ramana said the court was at the moment more concerned with emergency measures so that the pollution level could be brought down over the next two days. The court will thereafter explore the other directives necessary for long-term measures.
"You have to look at this issue beyond politics and government," Justice Ramana said.
Mehta replied: "We realise it is a matter of joint responsibility. We never said farmers are responsible."
CJI Ramana said the Centre should ask the chief secretaries of Punjab and Haryana to ensure there was no stubble burning for the next two days.
Justice Surya Kant said: "You have to answer the Hon'ble Chief Justice of India's query as to how 80 per cent of the pollution in Delhi is due to causes apart from stubble burning."
Justice Ramana said that while stubble burning was one of the causes, the others were crackers, industries and dust.
"You have to tell how we can immediately reduce the AQI by 200 points. If required, think of two days' lockdown or something. You can reduce the number of vehicles on the roads. Otherwise, how will people live?" the CJI said.
Justice Chandrachud told Mehra, the Delhi government counsel: "You know that the government has recently allowed reopening of schools. Post-pandemic, schools have opened. We are exposing these little children to this pollution at 7 in the morning. Dr (Randeep) Guleria (AIIMS director) has said we are exposing them to pollution, pandemic and dengue."
The judge added: "You (the Delhi government) have opened all schools and now you are (exposing) children and their lungs to the pollutants. This is not the central government's but your jurisdiction. What is happening on that front?"
Mehra agreed that the pollution level was alarming and quoted statistics to say that it was akin to a citizen smoking 20 cigarettes a day.
CJI Ramana said the Centre must take steps to impose some strict measures so that the city could breathe better in the next two days.
"Why don't you ask Punjab and Haryana to put on hold stubble burning?" he asked.
Mehta sought time till Monday to place an affidavit detailing the steps taken by the government. The court adjourned the matter till then.