Dare on hate speakers by Harsh Mander
Govt keener to 'browbeat' Harsh than book politicians whose provocative speeches stoked Delhi riots: Dushyant Dave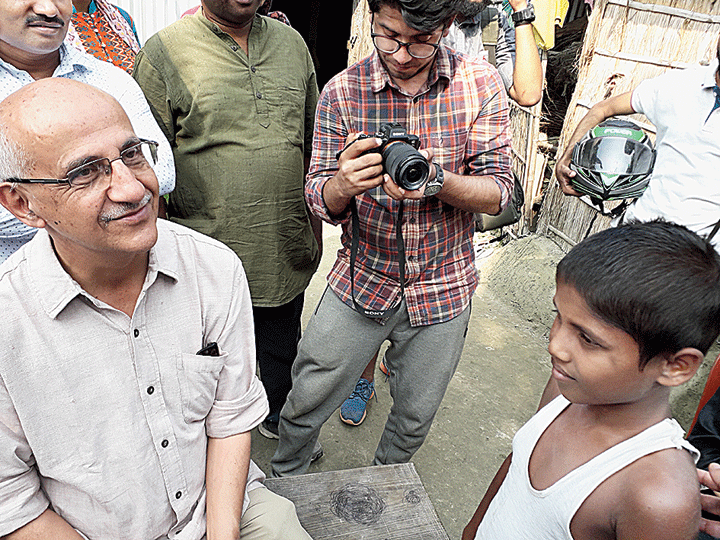 Harsh Mander with the children of NRC victims.
File picture
---
New Delhi
|
Published 06.03.20, 10:29 PM
|
---
Bureaucrat turned social activist Harsh Mander on Friday dared the government to book the purveyors of hate speeches with the same alacrity with which it was seeking contempt proceedings against him for his allegedly disparaging remarks against the judiciary.
Senior advocate Dushyant Dave, appearing for Mander who is abroad, told a bench headed by Chief Justice S.A. Bobde that the government seemed keener to "browbeat" his client than to book the politicians whose provocative speeches had stoked the Delhi riots.
"He (solicitor-general Tushar Mehta) should also bring the same kind of affidavit against those who indulged in hate speeches which led to the deaths of 56 people," Dave told the bench, which included Justices Bhushan Gavai and Surya Kant. (The official death toll of the Delhi riots is 44.)
"I beg you and beseech you to file an affidavit against such persons who are indulging in hate speeches. Government is not willing to take action against others but only against Mr Mander," Dave said.
Mehta, representing the government, had on Wednesday told the Supreme Court that Mander had publicly claimed the citizenship issue should be taken up on the streets as he had faith in neither the judiciary nor Parliament.
The apex court has sought an explanation from Mander and advised Mehta to state in an affidavit the allegations against the activist.
On Friday, the court adjourned the matter till April 15 by when Mander is expected to file his counter-affidavits to the two video clippings placed in the court by Mehta alleging he had made contemptuous remarks against the judiciary.
Dave's dare to Mehta came after the law officer on Friday sought the court's permission to place on record yet another video clipping relating to Mander's purported remarks.
Mander's comments had allegedly come while he was addressing a protest against the new citizen matrix. The government raised the matter while the top court was hearing petitions relating to the registration of FIRs against politicians who made hate speeches.
"My right to move the court is being seriously harmed. There is no disruption of the institution. Instead the government is obstructing my right to move the institution," Dave said on Mander's behalf.
"The government wants to shoot the messenger. I am in the dock for coming to this court at the first instance. This is a serious violation of my right, which your lordships may take note."
Dave said that Mander had not made any "contemptuous", "seditious" or "disparaging" remarks, and that as a lawyer he would be the "first person to condemn" any such remarks.
When Mehta replied that Dave "would be the last person" to condemn such remarks, the lawyer threw him a dare: "I openly challenge you to bring a contempt petition against me."
As Mehta and Dave exchanged sharp words, an amused Chief Justice remarked: "We haven't said anything…."