Dalit group claims of heat from Uttar Pradesh police
No action on vandalism at Jamia Millia Islamia yet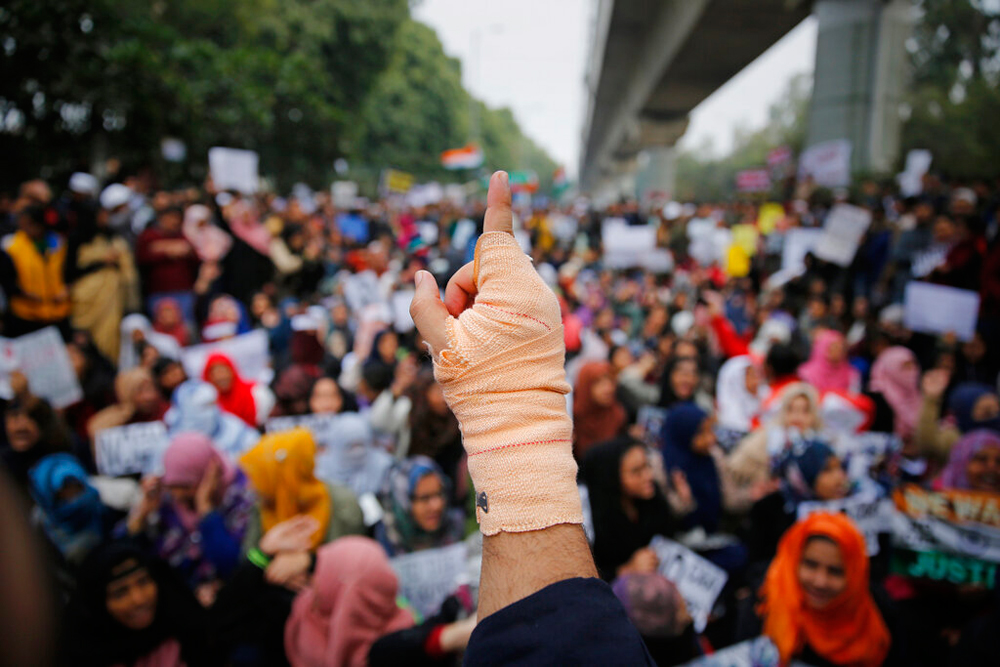 Students of Jamia Millia Islamia at a demonstration in New Delhi on Saturday
(AP photo)
---
New Delhi
|
Published 21.12.19, 08:39 PM
---
A group of Dalit activists has condemned the Yogi Adityanath government in Uttar Pradesh for allegedly putting its members in virtual prisons and using police to threaten them, the allegation coming to the fore as changes in the citizenship law continue to roil the country.
Sushil Gautam, the chief of Blue Panthers, a Dalit rights group, alleged harassment by the police. "In Uttar Pradesh, there has been a state of Emergency for the past two years," Gautam said.
He claimed that authorities had arrested him as he was to organise a demonstration on December 15. The police also reportedly pestered his parents on his whereabouts.
'Administration in cahoots'
A former JNU student's union general-secretary, Rama Naga, raised concerns regarding protesters being targeted in mostly BJP-ruled states.
He alleged that the state machinery was being used by the BJP to clamp down on the protesters.
"We are never given the right to protest. By contrast, permissions are never denied to affiliates of the BJP," Naga, who hails from Odisha, said.
"It is not clear who instigates violence during the protests?"
Subhanshu Singh, another former JNU students' union office-bearer, said the Constitution was being replaced by a "Manusmriti-like constitution" and compared the National Register of Citizens (NRC) and the citizenship act with Nuremberg laws imposed by the Nazis on the Jews.
The national capital has also witnessed several instances of violence since last Thursday, including in Jamia Millia Islamia, where the police allegedly beat up protesters and students and vandalised the varsity's library.
No action has been taken against the police personnel yet. No FIR has been filed as well.
A high-level probe sought by Najma Akhtar, the varsity's vice-chancellor, from the ministry of human resources, is to come be launched.