Cyclone Yaas: Flash floods reported in parts of north Odisha
Around 128 villages are still inundated and teams from the NDRF and Odisha Disaster Rapid Action Force have been deployed with boats to rescue marooned people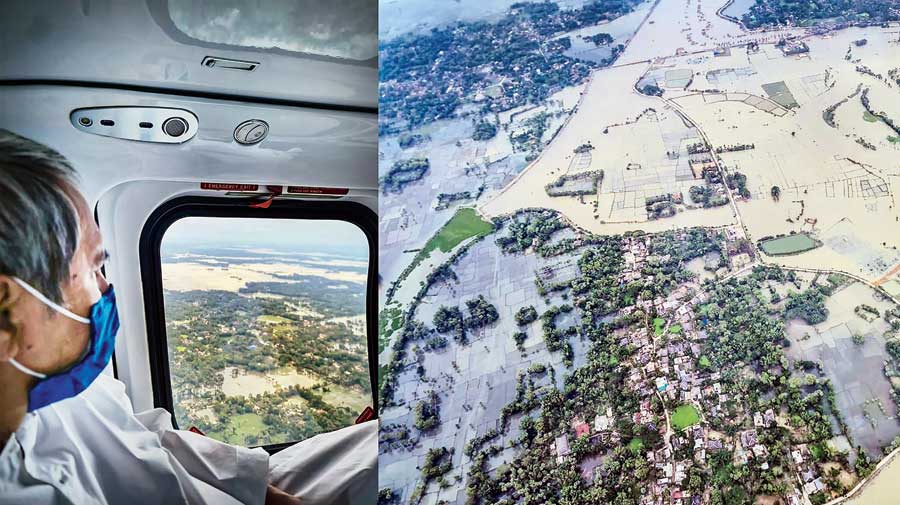 ---
---
Flash floods were reported in parts of north Odisha on Thursday as heavy rain under the impact of Cyclone Yaas caused rivers to burst their banks. At least 128 villages still remain marooned.
The death toll from the cyclone that pummelled Odisha has risen to three and there has been extensive damage to crops, especially paddy.
The flash floods were reported in pockets of Keonjhar, Mayurbhanj, Balasore and Bhadrak districts.
The state administration is estimating the extent of loss caused by Yaas. All district collectors have been asked to submit preliminary reports on the damage. The flash floods have made things worse for people in low-lying areas of the affected districts.
Chief minister Naveen Patnaik on Thursday conducted an aerial survey of the cyclone-hit areas. Prime Minister Narendra Modi is scheduled to visit Odisha for an inspection on Friday and announce a relief package after holding a review meeting with state officials, sources said.
"The state is facing the twin challenges of rehabilitating the people affected by the cyclone and containing the spread of Covid-19," a senior official said.
Around 128 villages are still inundated. Teams from the National Disaster Response Force and the Odisha Disaster Rapid Action Force have been deployed with boats to rescue the marooned people.
"As it was a full moon on Wednesday when the cyclone hit the state, there is still a high tide in the sea, as a result of which the water that had gushed into fields and houses is yet to recede. This situation will remain for two to three more days. Most of the rivers in the cyclone-hit areas are in spate," said the engineer-in-chief of water resources, Jyotirmaya Rath.
Special relief commissioner P.K. Jena told reporters: "The Baitarani river is flowing above the danger mark at Anandpur in Keonjhar district and Akhuapada in Bhadrak district. Water has entered many areas. However, as this is summer and the river bed remains largely dry now, we should be able to overcome the flood-like situation."
All the rivers originating from the Similipal National Park are swollen as heavy rains have pounded Mayurbhanj, Keonjhar, Balasore and Bhadrak districts. The Kusumi area of Mayurbhanj has received 515mm of rain in the past two days. Most areas buffeted by the cyclone have witnessed between 300mm and 500mm of rain. The Budhabalanga river, too, is in spate but is flowing below the danger mark.
In Kendrapara's Rajangar, Balasore's Baliapal and many pockets of Bhadrak district, seawater entered the villages by breaching embankments.
The state government is distributing food packets to people in inundated areas and those at cyclone shelters. They will continue to receive relief for seven days.
The Odisha government's cyclone preparedness has earned it praise from the Opposition Congress. "The state machinery worked well. It's for the first time that chief minister Naveen Patnaik has deputed ministers to be with the people during a time of crisis," Congress MLA Suresh Routray said.