Cyclone Yaas pounds Odisha coast, two dead
High tidal waves inundated low-lying residential areas in Balasore and Bhadrak, leading NDRF personnel to move affected people to safer places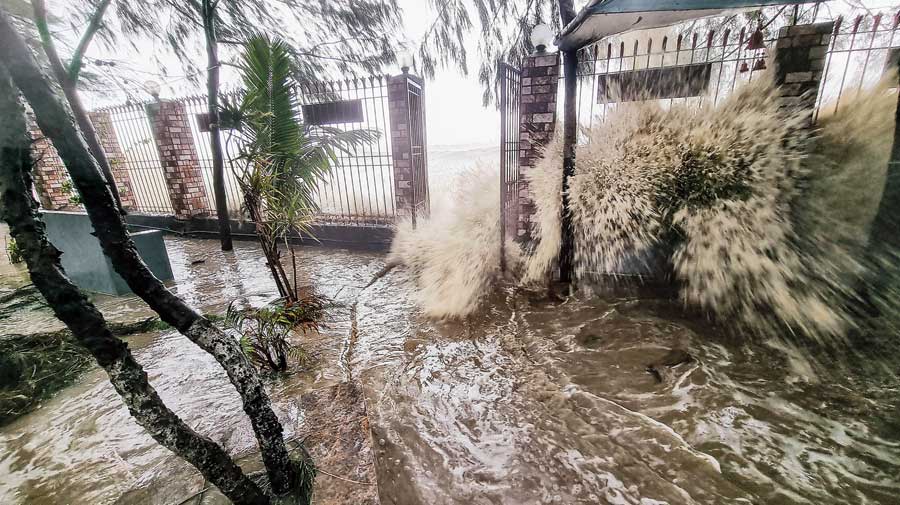 Sea water breaches the boundary wall of a house during Cyclone Yaas's landfall in Chandipur area of Balasore in Odisha on Wednesday.
PTI
---
Bhubaneswar
|
Published 27.05.21, 12:29 AM
|
---
At least two persons were killed as Cyclone Yaas made landfall between north Dhamra in Bhadrak and south of Balasore in Odisha on Wednesday morning and left behind a trail of destruction.
While the first death was reported from Keonjhar district where Purna Chanra Nayak was killed when a branch of a banyan tree fell on him in an area under Ghasipura police station, the other casualty occurred in Balasore town where 22-year-old Mantu Jena succumbed to injuries after a tree branch crashed down on him.
Special relief commissioner P.K. Jena confirmed the two deaths were caused by the cyclone. "A large number of large trees were uprooted in the Nilagiri area of Balasore and Betnoti of Mayurbhanj district. The next 12 hours are important for Mayurbhanj district. There has been waterlogging in 120 villages. We have started relief and rescue operations," he said.
He added: "The cyclone is yet to pass over. We will know the extent of the damage by tomorrow. Chief minister Naveen Patnaik has given direction to monitor the health of those who have been evacuated, especially during the Covid-19 pandemic. Accredited social health activists (Asha) and other workers will visit each household and get feedback. We will prepare an action plan on Thursday morning."
Roads were covered with uprooted trees, twisted electricity poles and blown thatched roofs of houses in the interior areas of Balasore and Bhadrak districts which bore the brunt of the very severe cyclonic storm that hit the coast with wind speeds reaching 150km per hour. 
High tidal waves inundated low-lying residential areas in several places in Balasore and Bhadrak, leading the personnel of the National Disaster Response Force and Odisha Disaster Rapid Action Force to move affected people to safer places. The cyclone's landfall that began around 9am on Wednesday morning continued till 1pm during which period high velocity winds and heavy rainfall lashed the north coastal belt, especially Balasore and Bhadrak. The districts of Kendrapara, Jagatsinghpur and Mayurbhanj, too, witnessed torrential rains.
Seawater entered many villages in the coastal districts of Balasore, Bhadrak and Kendrapara. Seawater inundated areas up to 4km in Baliapal block of Balasore. Jena said that tidal waves rising up to four metres have entered many areas.
While the ingress of saline water due to high tide was seen in areas like Paradip, Raj Kanika and Raj Nagar areas in Jagatsinghpur and Kendrapara districts, the cyclone affected Bhograi block of Balasore badly. Waterlogging was witnessed in Basudevpur area of Bhadrak district and in Basta and Baliapal areas in Balasore.
"High tides were noticed in the coastal belt as it is a full moon today," an official said.
At Nuagaon in Basudevpur, people cut off the main road to prevent water from entering their houses. "Because of heavy rainfall, 10 villages have been cut off. We need to cut off the road otherwise, the water will enter our houses. Many thatched houses have already collapsed," said a villager.
Cyclone Yaas disrupted power supply in most of the affected areas of Balasore, Bhadrak, Kendrapara and Jagatsinghpur. A large number of trees have also been uprooted at the integrated missile testing range at Chandipur in Balasore.
At north Dhamra, where the landfall process began, the cyclone had the maximum impact.
However, 15,000 people residing in the low-lying areas were evacuated. Ahead of the arrival of the cyclone, nearly 7 lakh people were evacuated in the coastal districts, which were in the eye of the storm. "We had to literally force people out of their homes and make them wear masks before putting them in government cyclone shelters," an official said.
The cyclone, however, spared Puri. No major damage was reported from the district. As the Archaeological Survey of India (ASI) had removed the scaffoldings put up around the Shree Jagannath Temple for repairs, there was no damage to the structure.