Cut money tide makes Trinamul tweak focus in Bengal
Trinamul suggested that the thrust of Mamata's message had been misrepresented by 'a certain section of the media'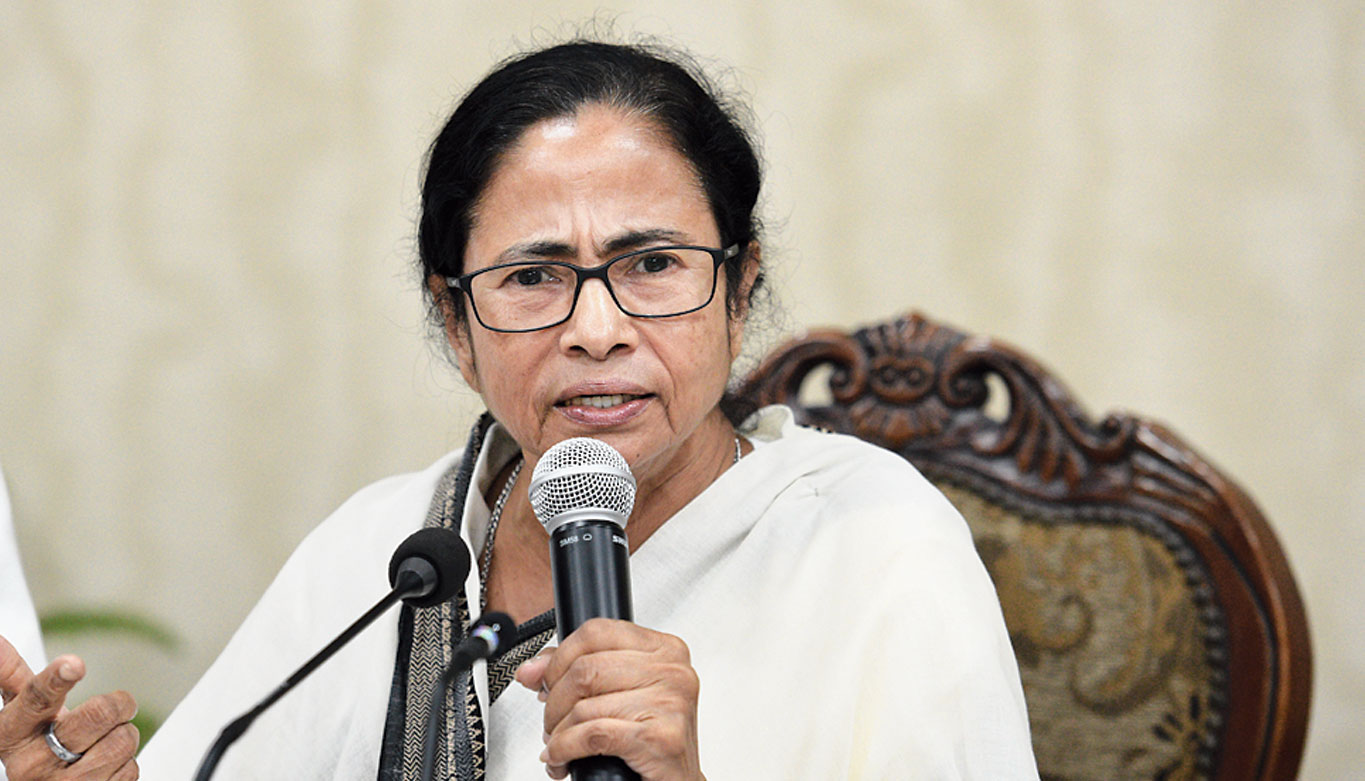 Mamata Banerjee on Saturday.
(Telegraph picture)
---
Calcutta
|
Published 23.06.19, 09:35 PM
|
---
The "cut-money" clean-up has charted an unintended course, taking possibly a tragic turn and prompting the Trinamul Congress to tweak the focus of the drive launched by chief minister Mamata Banerjee to address one of the concerns thrown up by the Lok Sabha election results.
On Sunday, a Trinamul youth leader was found hanging at Santipur in Nadia. Some party sources suggested he may have committed suicide following demands to refund "cut money".
Trinamul's Santipur leadership, however, distanced itself from Papan Dhar, 29, calling him "an SFI activist" whom "some leaders" had recently "brought to the party" and claiming ignorance about his activities.
No suicide note was found, nor did police or Dhar's family suggest any possible reason for suicide. The police, however, said a man named Kalyan Das, 26, had last year lodged a complaint accusing Dhar of taking Rs 1.7 lakh from him against a promise for a job.
Das, a law student, said Dhar's death was unfortunate but did not change the facts. "He took the money from me in February last year, assuring me a job under the panchayat department," he said.
"But he did nothing. When I demanded a refund in September, he beat me. He eventually did get me framed. Two women lodged rape complaints against me and I had to spend 22 days in prison till I got bail."
A neighbour of the Dhars in Arandi-Bathangachhi village said: "I heard that Papan had taken money from many people, some of whom recently visited his home demanding refunds. But I don't know if this has any relation to his suicide."
The tragedy coincided with multiple reports of people laying siege to Trinamul-linked establishments with demands for refunds of bribes or clearance of dues associated with government-run schemes. Perceptions revolving around "cut money" are said to be one of the factors that went against Trinamul in rural Bengal during the Lok Sabha polls.
The clamour for "refunds" has been growing since Tuesday when Mamata asked Trinamul councillors: "Why is money being taken? The party is not going to tolerate it. Those who have taken money, go return it."
On Sunday, Trinamul suggested that the thrust of Mamata's message had been misrepresented by "a certain section of the media".
A statement issued by Partha Chatterjee, the Trinamul secretary-general, said: "The chairperson (Mamata) reiterated her advice for them (the elected representatives) to work tirelessly for the welfare of the people and ensure that all funds allocated for public welfare schemes are utilised in the most productive manner possible.
"The chairperson emphasised that 99.99% of Trinamool functionaries and elected representatives are honest, hardworking and committed to work for the benefit of the people. Some from different political parties are sullying the name of the party by indulging in corruption and unfair practices. They will be dealt with severely."
The statement made an oblique reference to the remaining 0.01 per cent presumably dishonest functionaries.
"A very few members from panchayats and municipalities have joined the BJP because of their ulterior motives and selfish vested interests. They have done this with the hope that their misdeeds and crimes will be washed away. They are mistaken. If there has been wrongdoing on anyone's part, they will have to face the consequences even though they have the backing of the BJP," the statement added.