Cuffs on Sabarimala activist for FB picture
Rehana Fathima was arrested for posting a picture in which she was dressed like a Sabarimala pilgrim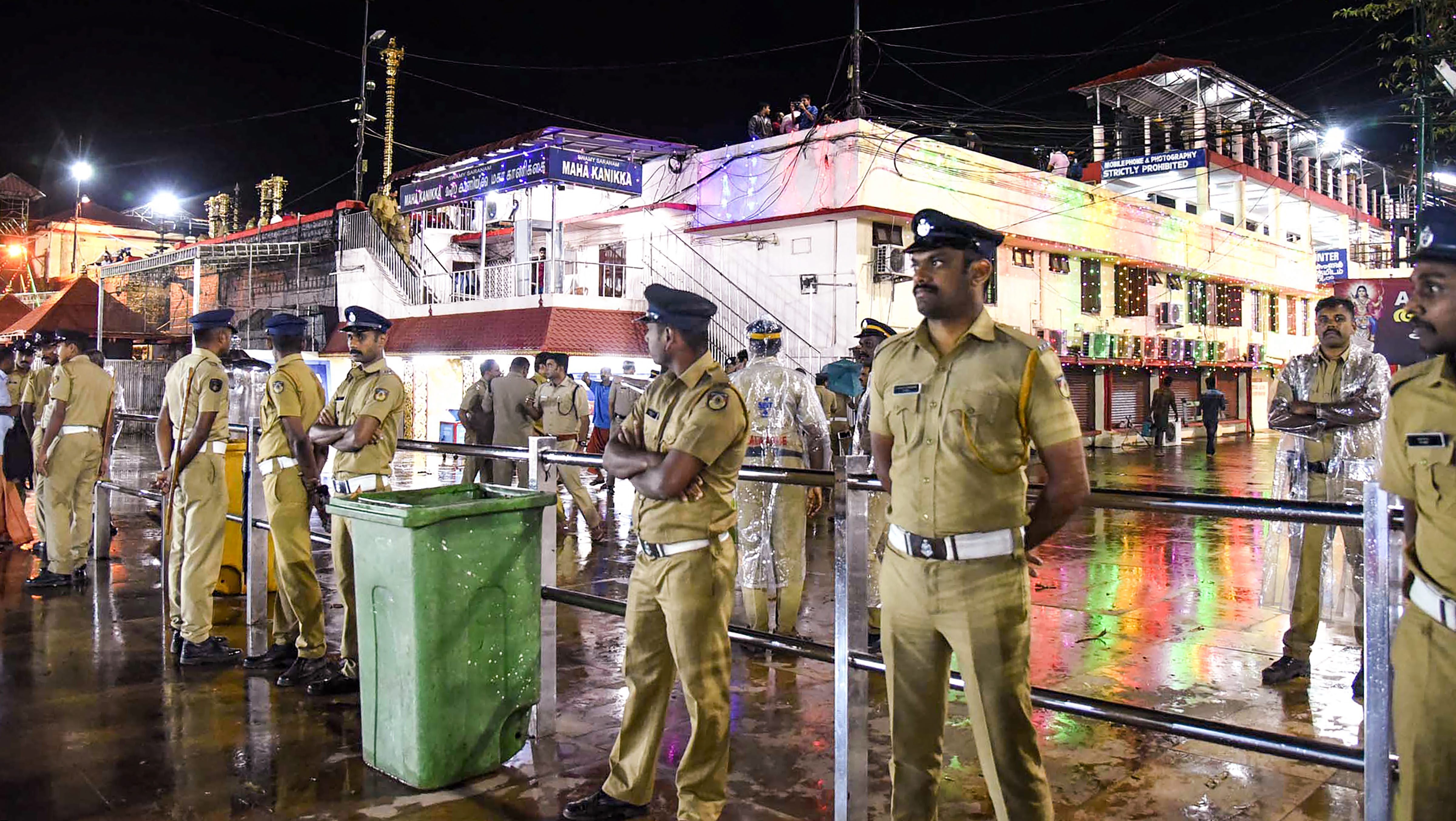 Policemen stand guard at the Sabarimala temple
(PTI)
---
Bangalore
|
Published 27.11.18, 09:24 PM
|
---
Kerala police have arrested rights activist and BSNL technician Rehana Fathima on the charge of hurting religious sentiments by posting on Facebook a picture in which she was dressed like a Sabarimala pilgrim.
The 31-year-old activist had recently hit headlines as one of the six women who had tried unsuccessfully to enter the Sabarimala temple when it opened for the monthly rituals in October.
Within hours of her arrest, her employer BSNL suspended her from service.
The Facebook picture shows her dressed like a Sabarimala pilgrim with holy ash marks on her forehead, black clothes that all devotees wear and an exposed thigh that offended many.
Fathima was arrested on Tuesday from Kochi and taken to Pathanamthitta, the southern Kerala district where the complaint was filed and the Sabarimala temple is situated. She has been charged under IPC Section 295A for hurting religious sentiments.
The arrest was made on a complaint filed by a BJP state committee member, B. Radhakrishna Menon. Kerala High Court had recently rejected Fathima's anticipatory bail application and asked the police follow procedures.
The picture was posed around the time Fathima had made an aborted attempt to the visit the temple on October 19.
The police were said to have been reluctant to take action but the complainant moved a fresh petition which would have been taken up on Tuesday afternoon. Before that, the police took her into custody.
The Supreme Court had on September 28 lifted a ban on women of childbearing age from entering the Sabarimala temple.
Fathima courted controversy when she decided to visit the temple. Police personnel in riot gear had escorted her and Kavitha Jakkala, a journalist from Andhra Pradesh, to the temple. But hundreds of protesters stopped the women 500 meters from the hallowed 18 steps that lead to the sanctum sanctorum.
Fathima's attempt had triggered outrage. Muslim community elders had also taken exception to her move that was seen as a publicity stunt although the temple welcomes devotees from all religions. The Muslim Jama'ath Council immediately expelled her from Islam for "hurting the sentiments of lakhs of Hindus".
Two unidentified men vandalised Fathima's home in Kochi and she also got transferred to another BSNL facility in Kochi, all within three days after her failed attempt to enter the temple.
She had then denied it was a punishment transfer, saying she had requested for the shift five years ago.
No woman of childbearing age has been allowed to enter the temple after the September 28 judgment.