CPM writes to Election Commission of India on Aadhaar data
He also urged the commission to keep the process on hold till instances of data breach and voter deletions that took place in the first linking attempt are investigated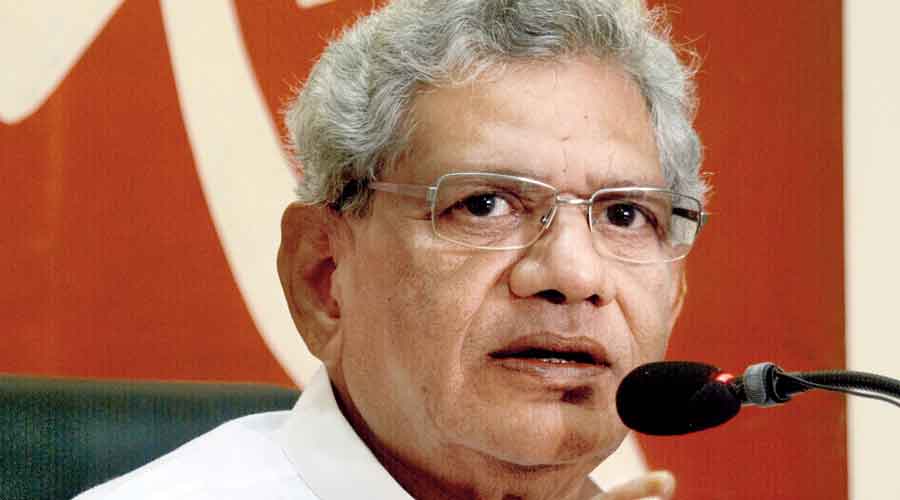 Sitaram Yechury.
File photo
---
New Delhi
|
Published 06.08.22, 12:46 AM
|
---
CPM general secretary Sitaram Yechury on Friday wrote to the chief election commissioner expressing concern about the linking of voter cards with Aadhaar, flagging issues of privacy and voter deletions and urging the poll panel not to share this data with the home ministry. 
He also urged the commission to keep the process on hold till instances of data breach and voter deletions that took place in the first linking attempt are thoroughly investigated.In the absence of a data protection law, Yechury said the CPM opposes any potential sharing of voter IDs linked with Aadhaar with the home ministry for building the Natgrid database, National Population Registry, the National Registry of Citizens and any new and upcoming catalogues of birth and death registries. 
"We oppose usage of this data collected only for electoral purposes to be used for other purposes and demand a purpose limitation for this data. The Election Commission of India must ensure the need for privacy practices," Yechury wrote.Referring to the first round of linking Aadhaar with voter IDs carried out in 2015 as part of the National Electoral Rolls Purification-Authentication Programme before the Supreme Court intervened, the CPM leader pointed out that the process had resulted in voter deletions across the country, particularly in Telangana where the NERP-AP was originally developed.
"As part of this exercise, several Chief Electoral Officers across the country have obtained the Aadhaar data of voters from several other databases like NPR, PDS and State Resident Data Hubs (SRDH). These electoral offices linked Aadhaar with voter IDs of 31 crore voters without informing the individual voters and instead using algorithms to automatically link them based on already existing data," Yechury wrote.
Such data collected before the amendments to the Representation of the People Act, 2021, allowing this linking process, he said, should be deleted. 
"As the officials have carried (out) the previous linking without due information to the voters, we demand that every voter whose Aadhaar was already linked with voter ID be notified. As this entire linking exercise is voluntary, the voters should be allowed to exercise their right to de-link their Aadhaar. The entire technical process, privacy policies, including code and manuals for linking and delinking of Aadhaar-voter ID needs to be published and shared with all political parties and the public before this exercise starts," the letter added.Yechury also questioned the absence of consultations with political parties before starting the fresh drive on August 1 to link voter IDs with Aadhaar. 
"India currently does not have a data protection or privacy law and neither does the Election Commission of India have a privacy policy with regard to maintenance of Aadhaar data of voters. The stated purpose of the Aadhaar-voter ID linking is primarily to remove duplicate voters, but with concerns of duplicate Aadhaar raised by CAG (comptroller and auditor general) in its report on UIDAI, this is a hasty exercise. The lack of all due procedures from the Election Commission of India and a hasty process to link Aadhaar of every voter will lead to incidents that have previously occurred like the deletion of genuine voters," Yechury wrote.