CPM pledges Rs 18000 wage
The CPM manifesto, unveiled on Thursday, stressed the need for a "policy shift" towards pro-people goals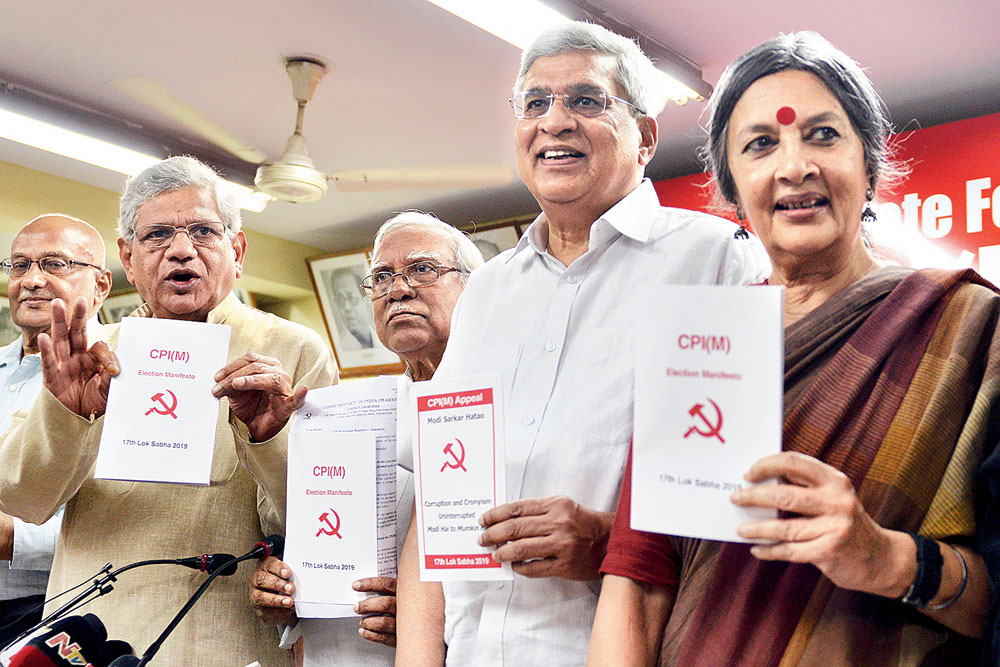 ---
---
The CPM on Thursday unveiled its election manifesto to reclaim India from creeping fascism with a lyrical challenge set to foot-tapping music that turned the BJP's "abki baar Modi sarkar" slogan to "abki baar Modi berozgaar (unemployed)" and "abki baar BJP ki haar (defeat)".
The party, which plans to contest in 71 seats, used the word "lalkaar" (challenge) in its jingle, in a dare reminiscent of the David-versus-Goliath fight.
The CPM has nine MPs in the Lok Sabha now but hopes to play a role in influencing policy if the Opposition manages the numbers to form the government.
The manifesto, which stressed the need for a "policy shift" towards pro-people policies, promises fundamental right to health, legally guaranteed minimum support prices for farm produce, a statutory minimum wage of not less than Rs 18,000 a month, return to a universal public distribution system, constitutional right to work with provision for unemployment allowance, SC/ST quota in private-sector jobs and education, and an increase in the tax on the rich, including restoration of wealth tax for the super-rich and introduction of an inheritance tax.
The party has promised to do away with the death penalty, the colonial-era sedition law that has been a cause of much grief through the Narendra Modi years, bulk surveillance by state agencies and the mandatory use of Aadhaar for all social welfare measures.
This apart, the CPM has promised reforms in the electoral system, including the scrapping of electoral bonds — which the party has challenged in the Supreme Court — besides state funding for election expenses.
It has reiterated its belief that India should shift to a system of proportional representation so that every government voted in represents more than 50 per cent of the electorate.
Asked how the socio-economic promises would be implemented, considering the limitations of the Fiscal Responsibility and Budget Management (FRBM) Act, CPM general secretary Sitaram Yechury pointed to the "profligacy of the Modi government" — especially in advertising itself.
Laws alone, he said, cannot enforce fiscal responsibility. "In the name of this law, you cannot stop elected state governments from drawing on revenue to deliver on promises made."
Yechury contested the description of promises made for the poor and the marginalised as "freebies" and cited an example of what he felt were freebies.
"These are freebies," he said, citing the bids the Adani Group had bagged to operate five airports at the fag end of the Modi government.
On Prime Minister Modi raising the issue of national security on his first day on the campaign trail, Yechury said: "National security also includes food and job security."
The CPM thinks it is the BJP that is politicising security issues. "The government is falling into the trap of terrorists by using terrorism to divide the country," Yechury said.