Covid: Two- third of Indians have virus antibodies, says Study
Findings rule out an impending third wave without fresh mutations, suggesting that the fraction of possibly protected population has ballooned from 24.1% to over 67.6%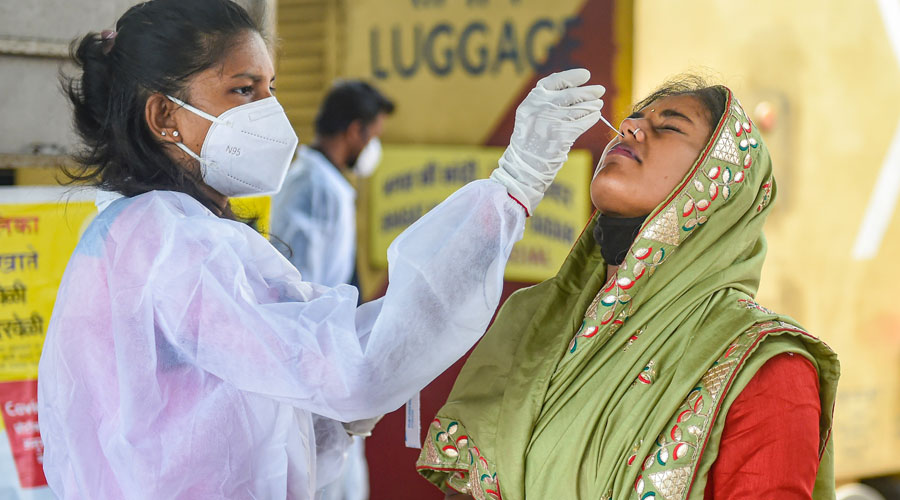 ---
New Delhi
|
Published 21.07.21, 01:58 AM
|
---
Two-thirds of India's population, or over 900 million people, have antibodies to Covid-19, implying prior infections or possible protection, a nationwide survey has indicated, prompting some experts to predict that a third wave could be unlikely without fresh mutations in the virus.
The survey has found that 67.6 per cent of a sample of 28,975 individuals aged six years or older from 70 districts across 21 states had antibodies against SARS-CoV-2, the virus that causes Covid-19, implying possible protection, either from prior infections or vaccination.
The findings suggest that the fraction of the country's population possibly protected from Covid-19 infections has ballooned from 24.1 per cent in January 2021 to over 67.6 per cent by July 2021. But the results also imply that over 400 million of India's 1.3 billion population are still vulnerable to the infection.
"There is a ray of hope, but no room for any complacency," Balram Bhargava, director-general of the Indian Council of Medical Research (ICMR), the apex health research agency, said while releasing the findings of the survey on Tuesday. "We must maintain Covid-19 appropriate behaviour…. Societal, public, religious and political congregations should be avoided, non-essential travel should be discouraged, travel only if fully vaccinated."
The new survey was the fourth in the same 70 districts conducted by the ICMR's National Institute of Epidemiology, Chennai. Each survey has shown a sharp increase in the proportion of the population infected — 0.7 per cent in June 2020, 7.1 per cent in August 2020 and 24.1 per cent in January 2021. Unlike the previous surveys, this time a significant proportion of the population also had antibodies resulting from the vaccination campaign India launched in mid-January.
The June-July 2021 survey has found antibodies in 62 per cent of 12,607 unvaccinated individuals, in 81 per cent of 5,038 individuals vaccinated with a single dose and in 89 per cent of 2,631 people who had received two doses.
"We cannot let our guard down — we still have over 40 crore (400 million) vulnerable," said Vinod Paul, chair of the national expert group that guides the vaccination policy who is also a member of the Niti Aayog.
"One in three is still vulnerable. We want them to gain protection through vaccination, not infection," Paul said. "The pandemic is no way over. The second wave is still persisting."
But sections of health experts believe the large fraction of the population protected by either prior infections or vaccinations has meant the virus is running out of people to infect in India.
"I would say a third wave is very unlikely — unless we have new mutations in the virus that change things," said T. Jacob John, a senior clinical virologist and former professor at the Christian Medical College, Vellore, who was not associated with the survey.
The emergence and spread of the highly transmissible Delta variant was a key factor that contributed to the speed and size of the country's second wave that has increased the number of lab-confirmed infections in India from around 10 million to over 30 million.
"Without new mutations, we could expect small ripples as the virus continues to spread among the susceptible population," John said.
But Paul and Bhargava have both cautioned that the national survey findings should not be used to extrapolate infection prevalence in districts. "This is an overall panoramic feature for the country — we want districts and states to conduct their own surveys," Bhargava said.
The new survey has shown that the infection has spread widely in rural India — as evident by the large numbers of infections and deaths reported during the second wave. The proportion with antibodies in rural India is 66.7 per cent while in urban India it is 69.6 per cent in the July survey — from 19 per cent in rural and 31 per cent in urban India in January 2021.
"It was evident that the second wave would narrow the gap between urban and rural India," John said.