Dharamendra Pradhan urges Naveen Patnaik to involve Opposition in Covid fight
The Union minister urged Odisha CM to constitute a committee to deal with the present situation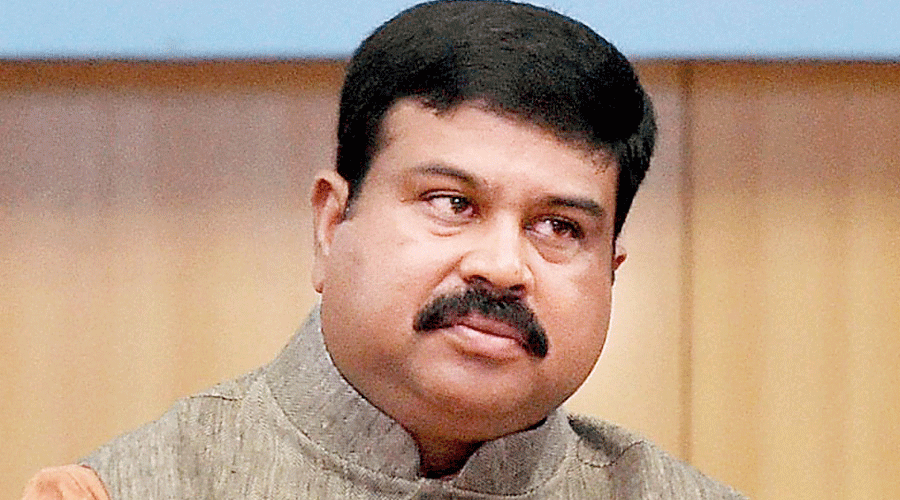 Union minister Dharamendra Pradhan.
File photo
---
Bhubaneswar
|
Published 14.05.21, 12:31 AM
|
---
The day Opposition parties urged the Narendra Modi government to accept their advice to contain the spread of Covid-19 in the country and save it from an "apocalyptic human tragedy", BJP's Odisha face and Union minister Dharamendra Pradhan urged chief minister Naveen Patnaik to involve Opposition parties in the fight against the pandemic.
He urged Naveen to constitute a Covid crisis management committee to deal with the situation arising out of it.
His call, however, has not gone well with the ruling BJD and the Opposition Congress and the Left parties. The BJP is the principal Opposition party in the state.
"This is what you call following double standards. When thousands of people are dying everyday in the country and bodies are seen floating in the Ganga, the Modi government is refusing to take the advice of the Opposition. And here you are asking us to involve the Opposition in the fight against Covid.
"He should first give this suggestion to Modi to take everyone with him in this battle. What is the necessity to give nod to Kumbh mela? Odisha is doing well in Covid management," said senior BJD leader and former minister Atanu Sabyasachi Nayak.
Leaders of other parties also reacted sharply to Pradhan's call. "Why can't Dharmendra take up this vital issue of involving the Opposition with Mr. Modi? It's a national crisis. The Prime Minister should act first. The role of Government of India is missing" asked former Union minister Srikant Jena.
Senior Congress leader Narasingha Mishra said: "Its known that the BJP leaders never do what they say. I think they always maintain a double standard in each issue. They are capable of making statements at any time that suits their political agenda. Let the central minister's proposal be implemented at the national level and the BJP ruled states."
Senior leader Janardan Pati told The Telegraph, "Why don't the BJP MPs rise to the occasion and advise the Modi government on the issue? They try to hoodwink the people. You are not involving the Opposition at the Centre but demanding Naveen should involve the Opposition. It's a kind of double standard. They are opportunists."
Union minister Pradhan on Wednesday had urged Odisha chief minister to take everyone with him in the state's fight against Covid-19 and constitute a Covid crisis management committee, including members of all the political parties. "Next 15 days will be crucial, I urged the chief minister to engage all intellectuals, members of political parties and social activists in the fight against Covid-19," Pradhan tweeted.
The Union minister said all should be involved in strengthening relief measures and containment efforts at the grassroots level.