Covid: Pune chance to verify herd protection theory
A survey found higher prevalence rates in areas with greater population density -– 62 per cent among residents of hutments, 43 per cent among residents of bungalows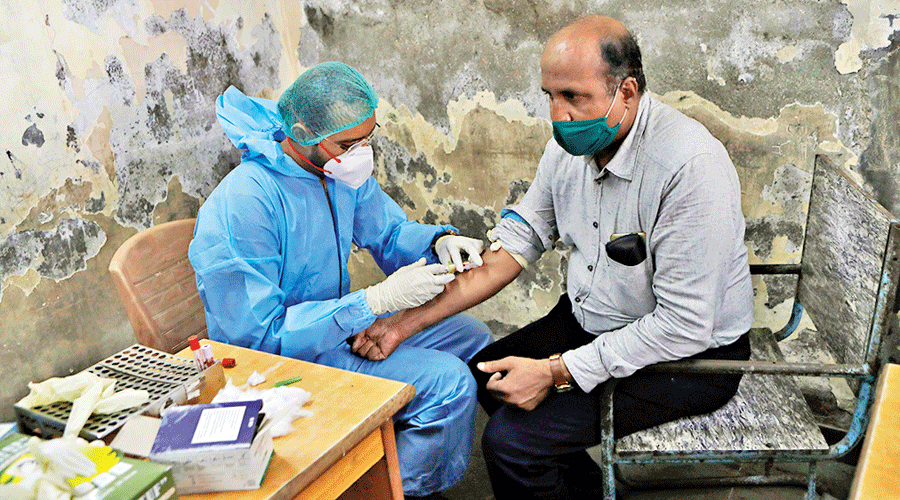 ---
---
The new coronavirus has infected around 51 per cent of a sampled population in parts of Pune, a survey has found, providing what scientists say is fresh evidence for extensive and silent spread of the infection.
The researchers have cautioned that their findings do not represent the entire city but are significant as they will allow scientists to probe the question whether wide enough spread of the infection can slow it down through the phenomenon of herd immunity.
The survey has detected antibodies against the new coronavirus, indicating previous exposure to the infection, in 51 per cent of a sample of 1,664 persons from randomly selected sites in five Pune sub-wards with relatively high incidence of lab-confirmed coronavirus disease cases.
"This indicates there has been extensive spread of the infection in these sub-wards," the researchers at the Indian Institute of Science Education and Research, Pune, and other collaborating institutions said in their technical report.
Pune is among the country's hardest-hit districts accounting for 130,606 lab-confirmed Covid-19 cases, the largest count among Maharashtra's districts, even higher than Mumbai's 128,726 cases.
The survey found higher prevalence rates in areas with greater population density — 62 per cent among residents of hutments, 43 per cent among residents of bungalows.
The prevalence rate was nearly 60 per cent among those living in the smallest homes (less than 150sqft) but 34 per cent in those in the largest houses (above 501sqft).
None of those with antibodies had reported symptoms or ever been tested for Covid-19, implying they had unknowingly become infected and had recovered.
Similar surveys have revealed prevalence rates of 23 per cent in Delhi, 17 per cent in Ahmedabad, 16 per cent in Mumbai's non-slum areas and 57 per cent in Mumbai's slum areas.
Scientists have cautioned that the presence of these antibodies does not necessarily indicate that those individuals are protected from subsequent infections. Neither is the high prevalence necessarily an indicator to population level immune protection, the researchers have asserted.
"But we're hoping to address both these questions in the coming weeks," Aurnab Ghose, a biologist at IISER and one of the survey's principal investigator told The Telegraph. "This high prevalence level in some areas will help us do that."
Health authorities and researchers have conducted similar population-level antibody-surveys in multiple countries but, Ghose said, almost all have detected prevalence levels well below 30 per cent.
The Pune survey was conducted between July 20 and August 5, while the surveys in the other Indian cities were performed earlier. Scientists say it is possible that the current prevalence levels in some parts of other cities are now comparable to those observed in the Pune survey.
"The advantage we have in Pune is high granularity testing and infection data maintained by the Pune Municipal Corporation," said L.S. Shashidhara, a senior biologist at IISER currently at Ashoka University and a co-investigator in the survey.
The high granularity population and testing data, the researchers said, will allow them to compare patterns of the epidemic in different areas to determine if the epidemic is slowing down in sub-wards with the highest prevalence.
Many epidemiologists have predicted that when infection prevalence levels approach 60 per cent or higher, the virus will find it difficult to spread from person to person and the epidemic will slow down through herd immunity that protects not just those who have been infected but even others.
Ghose and his colleagues also plan laboratory studies on the antibodies detected in blood sera to determine whether they can "neutralise" the virus. "We don't know yet whether these antibodies are protective and, if yes, how long they will remain protective in the body," Ghose said. Studies in other countries have suggested that the antibodies might wane after some months.
Public health experts have asserted that the herd immunity concept is meaningless amid seamless travel and contact between populations with different infection prevalence levels.
Health officials and experts have emphasised the need for continued adoption of protective measures such as face masks, physical distancing and hand and respiratory hygiene even in areas with high infection prevalence.
The survey's other principal investigator was Aarti Nagarkar at the University of Pune, while researchers from the Christian Medical College, Vellore, and the Translational Health Science and Technology Institute, Faridabad, served as advisers to the survey.