Covid measure dips but no inference yet
Epidemic's growth speed falls as a result of daily recoveries exceeding new cases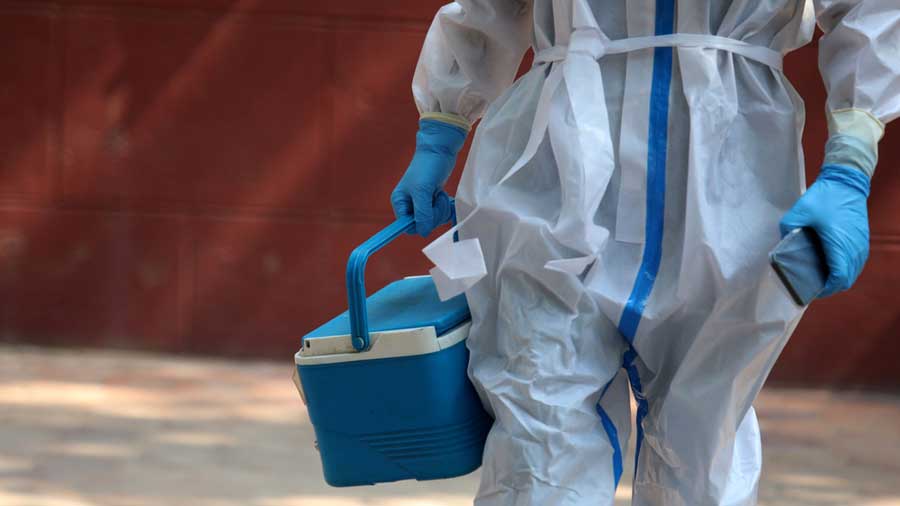 ---
---
A mathematical measure of the new coronavirus epidemic's growth in India has dipped below 1 for the first time, researchers said on Thursday but cautioned against attempts to draw any inferences from the change.
An analysis by the researchers at the Institute of Mathematical Sciences, Chennai, has found that the R value — a measure of the epidemic's growth speed — fell from 1.04 estimated over September 13 to 17 to 0.93 estimated over September 19 to 22.
The reduced R reflects a fall in the numbers of coronavirus disease patients under medical supervision for six successive days, as reported by the Union health ministry earlier this week, resulting from daily recoveries exceeding new cases detected.
"We still see large numbers of new infections every day — but R has gone below 1 for the first time since local transmission started here in early March," said Sitabhra Sinha, a computational physicist who led the analysis. "The number of active patients has been decreasing for several days."
India on Thursday recorded 86,508 new cases but the number of active patients declined to 966,382 from 968,377 on Wednesday. India's total number of lab-confirmed infections is now over 5.73 million, of whom 4.67 million patients have recovered and 91,149 have died.
But Sinha and medical researchers tracking the epidemic warn that the trend has been observed for too short a period and it is unclear whether other factors, if any, such as the number of samples tested daily might have influenced the change.
"We cannot yet make any inferences from this dip — we'll have to wait, possibly for weeks," Sinha told The Telegraph, pointing out that the R value for Delhi had dipped below 1 for about a month during July-August, but increased and remains above that level.
The analysis also found that R values for the five states with the largest numbers of active patients have also fallen below 1. Maharashtra, for instance, has an R of 0.86 while the values for other states are 0.91 in Karnataka and Uttar Pradesh, 0.80 in Andhra Pradesh, and 0.99 in Tamil Nadu.
Bengal, Jammu and Kashmir, Madhya Pradesh and Punjab are among states with R slightly above 1.
"We cannot make any interpretations from this data without looking at the numbers of the samples tested and what tests were used," said a community medicine specialist and member of a research group on epidemiology and surveillance set up by the Indian Council of Medical Research.
Diagnostic labs across the country are using two types of tests — one called the PCR test looks for viral genetic material and is considered reliable while the other so-called antigen test looks for viral protein components and is less reliable.