36 deaths in university in a month
Covid havoc at Aligarh Muslim University, call for scrutiny
The varsity has lost more than three dozen present and former teachers and other employees, 16 of whom lived on campus or in the neighbourhood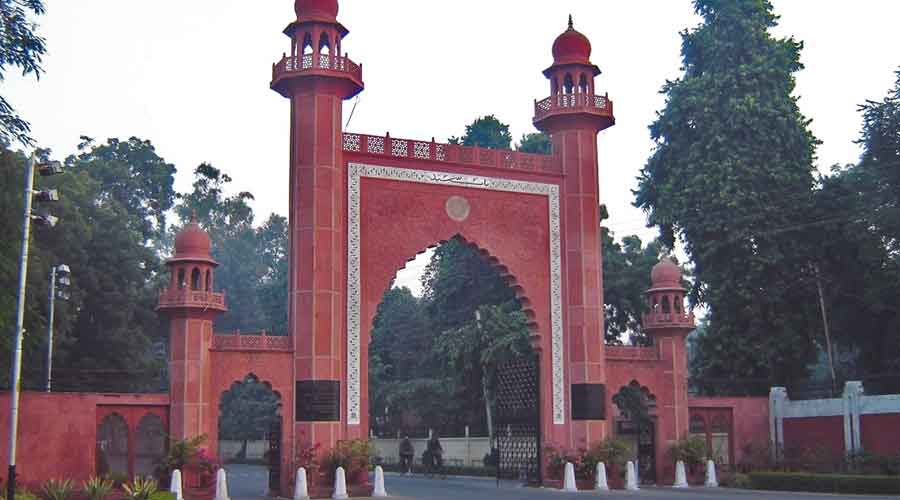 ---
New Delhi
|
Published 10.05.21, 01:42 AM
|
---
Aligarh Muslim University has lost more than three dozen present and former teachers and other employees, including at least one doctor from the campus hospital, to Covid in the past one month.
All of them – including the former teachers and the 16 serving teachers who died -- lived on the campus and its neighbourhood, university sources said.
University honorary secretary Najmul Islam said one possible reason for the high toll could be the inflow of Covid patients at the on-campus J.N. Medical College and Hospital, the principal healthcare facility for Aligarh and surrounding districts.
Islam, himself infected and in isolation at his campus quarters, told The Telegraph that no one from AMU had died during the first wave last year.
Vice-chancellor Tariq Mansoor on Sunday wrote to the Indian Council of Medical Research seeking an analysis of swab samples, to be sent from the campus, to establish whether any particular coronavirus variant was causing such severe disease.
No deaths have been reported from among the medical students, who are the only students on the campus now.
Shakeel Ahmed Samdani, dean of the faculty of law, died at the campus hospital on Saturday. Khalid Bin Yusuf, who held a PhD for his work on the Rig Veda, died on Wednesday.
"Shadab Ahmad Khan, a doctor, and Rafiq-ul-Jaman Khan, a computer science professor, died of Covid at the hospital on Friday," university spokesperson Shafey Kidwai said.
Among the others to die of the infection were computer science professor and former proctor Jamshed Siddiqi, Sunni theology teacher Ehsan-Ullah Fahad, Urdu teacher Maulana Baksh Ansari, engineering teacher Mohammad Ali Khan, Arabic teacher Gufran Ahmad, English teacher Mohammad Yusuf Ansari, BEd teacher Nabi Ahmad and psychology teacher Sajid Ali Khan.
Shoeb Jaheer, a doctor at J.N. Medical College, is being treated at a Delhi hospital while anaesthetist Hammad Usmani is being treated at the campus hospital.
Many are under treatment in home isolation on the campus.
"The campus hospital is the only one in Aligarh and adjoining districts that offers good infrastructure and treatment. So, a large number of infected people from four or five districts are coming here," Najmul Islam said.
"The hospital and the trauma centre are in one corner and the patients have to travel through the campus to reach them."
He expressed condolences over the deaths of AMU members and others not linked to the university.
Asked why Banaras Hindu University did not face such a problem despite having a medical college on campus, he said: "I don't know the numbers but coronavirus patients are dying everywhere. The AMU community is closely connected through several media and social groups, so news from here travels faster compared with any other university in India."
Vice-chancellor Mansoor's letter to ICMR director-general Balram Bhargava says: "This is to bring to your notice that 16 serving faculty members of Aligarh Muslim University along with a number of retired teachers and other category of employees living on campus and adjoining localities have succumbed to Covid-19.
"This is giving rise to suspicion that a particular viral variant may be circulating in the Civil Lines area of Aligarh in which AMU and many other adjoining localities are situated."
The letter requests an analysis of AMU samples to see what coronavirus variants are "circulating in Aligarh, which may be giving rise to greater severity of disease".
Some others connected to AMU have died of Covid outside Aligarh.
Late VC Mahmood Ur Rahman's wife Afshan Rahman passed away at the Jamia Hamdard hospital in Delhi last week. Sayyad Raja Haider, director of Delhi's Ghalib Institute and a former AMU student, died two weeks ago at a Delhi hospital.