Adultery: the ancient double standards
Justice Chandrachud said adultery has been regarded as an offence throughout history, either as a religious transgression or a private wrong, or as a combination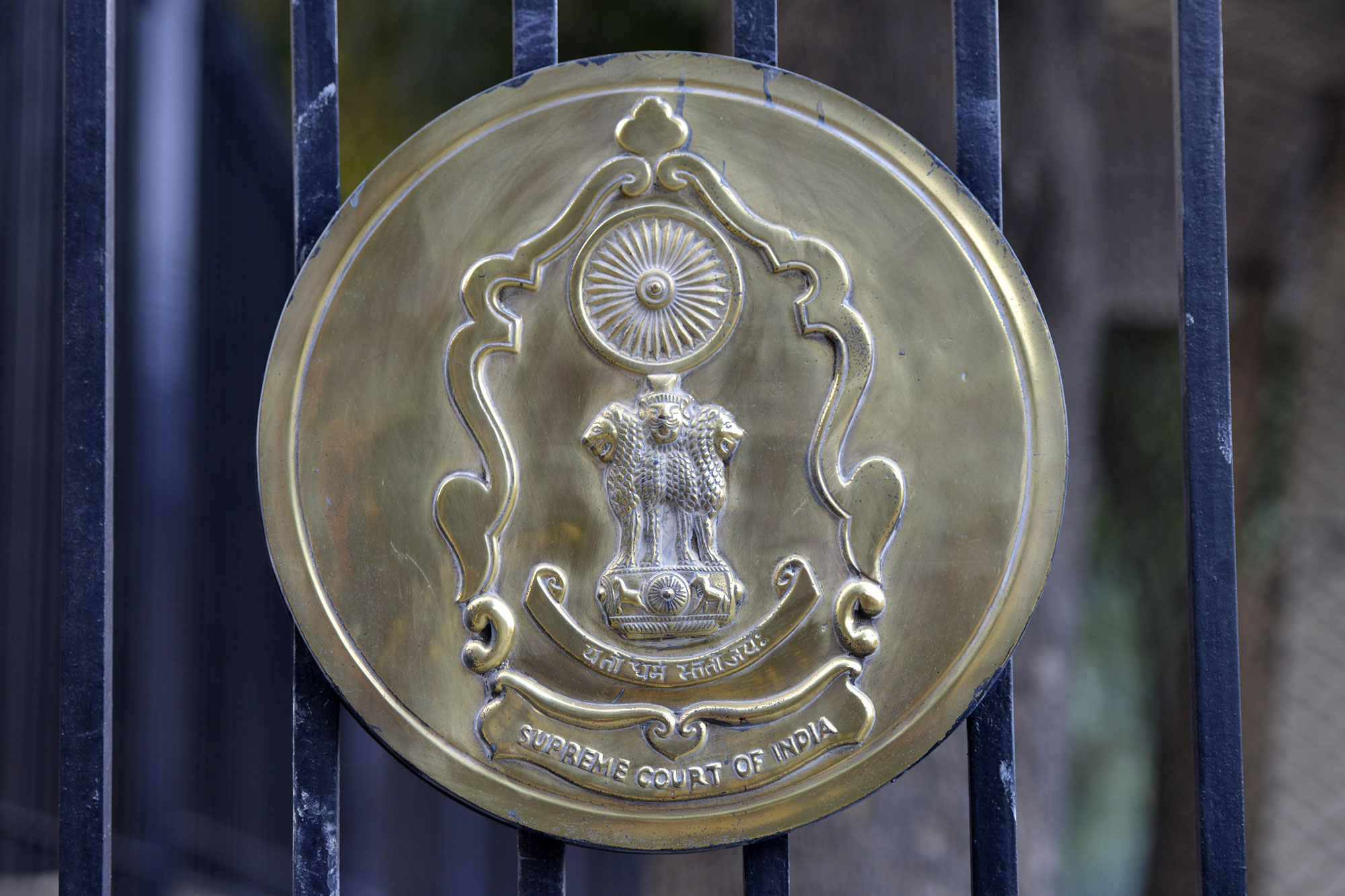 ---
---
The Supreme Court on Thursday cited international jurisprudence to note that adultery had been decriminalised in swathes across the globe, including parts of America, as it struck down two legal provisions related to such extramarital relationships.
The bench also spoke of how ancient regimes, such as in Babylon and in Rome, treated adultery.
Three of the judges — Justices R.F. Nariman, D.Y. Chandrachud and Indu Malhotra — dealt with the issue in concurring but separate judgments as the five-judge constitution bench unanimously struck down the penal code's Section 497 that dealt with the offence of adultery and Section 198(2) of the Criminal Procedure Code that dealt with prosecution of offences against marriage.
The court said adultery as a crime was no more prevalent in China, Japan, Australia, Brazil and many west European countries. "The diversity of culture in those countries can be judicially taken note of," the bench observed.
Justice Nariman said adultery continued to be a criminal offence in Afghanistan, Bangladesh, Indonesia, Iran, the Maldives, Nepal, Pakistan, the Philippines, the UAE, some US states, Algeria, Congo, Egypt, Morocco and some parts of Nigeria.
But a number of jurisdictions had done away with adultery as a crime, including New Zealand, Scotland, the Netherlands, Denmark, France, Germany, Austria, the Republic of Ireland, Barbados, Bermuda, Jamaica, Trinidad and Tobago, and Seychelles, apart from the countries mentioned earlier.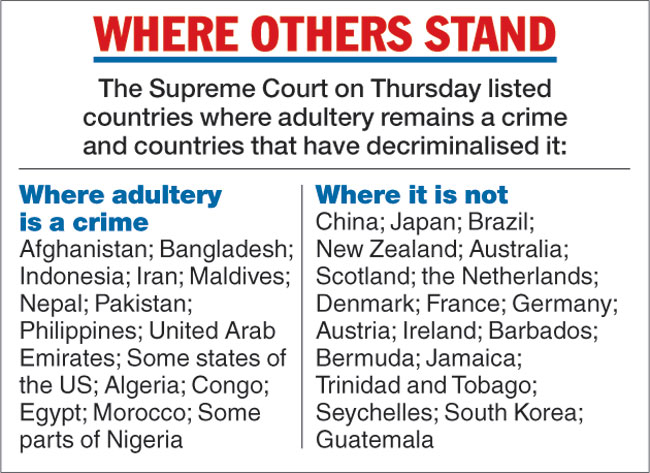 In South Korea and Guatemala, constitutional courts have struck down provisions similar to Section 497, Justice Nariman said.
Justice Malhotra said 17 of America's 50 states still treated adultery as a criminal offence, with the characterisation of the offence varying from state to state.
Justice Chandrachud said adultery has been regarded as an offence throughout history, either as a religious transgression — a crime deserving harsh punishment — or a private wrong, or as a combination of both.
The earliest recorded injunctions against adultery, the judge said, are found in the ancient Code of the Babylonian King Hammurabi that dates back to around 1750BC. The Code prescribed that a married woman caught in an adulterous relationship be bound to her lover and thrown into the water so that they drown together.
Assyrian law, however, considered adultery a private wrong for which the husband or father of the woman committing adultery could seek compensation from her partner.
Justice Chandrachud said a sexual double standard existed in ancient Graeco-Roman societies where adultery constituted a violation of a husband's exclusive sexual access to his wife, for which the law allowed for acts of revenge.
In 17BC, Emperor Augustus passed the Lex Julia de adulteriis coercendis, which stipulated that a father was allowed to kill his daughter and her partner if they were caught committing adultery in his or her husband's house.
"While in the Judaic belief adultery merited death by stoning for both the adulteress and her partner, Christianity viewed adultery more as a moral and spiritual failure than as a public crime," Justice Chandrachud said.
"The penalties of the Lex Julia were made more severe by Christian emperors. Emperor Constantine, for instance, introduced the death penalty for adultery, which allowed the husband the right to kill his wife if she committed adultery. Under the Lex Julia, adultery was primarily a female offence, and the law reflected the sentiments of upper-class Roman males," the judge added.