Coronavirus updates: Highest number of patiensts recovered in past 24 hours
Cases rise to 42,836, death toll now 1,389; Bengal has highest mortality rate in nation, says IMCT; J&K admin announces night curfew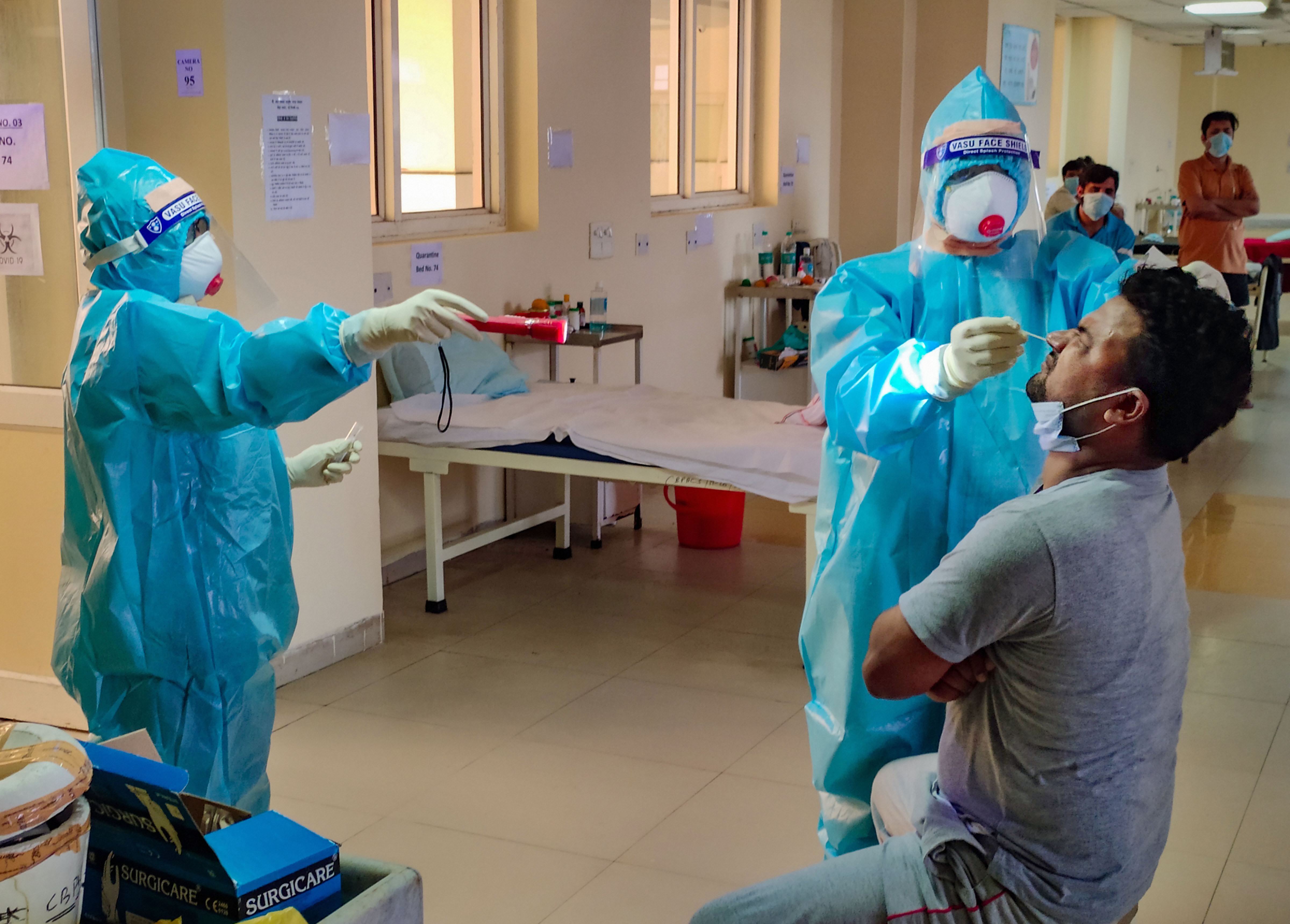 Medics collect samples from a Covid-19 patient to test the status of his infection at Chaudhary Brahm Prakash Ayurved Charak Sansthan, in New Delhi, Monday, May 4, 2020.
PTI
---
New Delhi
|
Published 04.05.20, 06:31 AM
|
---
Cases rise to 42,836, death toll now 1,389

The death toll due to Covid-19 rose to 1,389 and the total number of cases climbed to 42,836 in the country on Monday, registering an increase of 83 deaths and a record jump of 2,573 cases in the last 24 hours, the Union Health Ministry said.
The number of active Covid-19 cases stood at 29,685, while 11,761 people have recovered and one patient has migrated, it said.
'Thus, around 27.45 per cent people have recovered so far from the disease,' a senior health ministry official said.
The total number of Covid-19 cases also include 111 foreign nationals.
A total of 83 deaths deaths were reported since Sunday evening, of which 28 fatalities were reported from Gujarat, 27 from Maharashtra, nine from Madhya Pradesh, six from Rajasthan, three from Andhra Pradesh, two each from West Bengal and Uttar Pradesh, and one each from Haryana, Punjab, Tamil Nadu, Telengana, Karnataka and Uttarkahand, the ministry said.
Maharashtra has recorded the highest number of fatalities at 548. Gujarat comes second with 290 deaths followed by Madhya Pradesh at 165, Rajasthan at 71, Delhi at 64, Uttar Pradesh at 45, Andhra Pradesh at 36 and West Bengal at 35.
The death toll reached 30 in Tamil Nadu and 29 in Telengana, while Karnataka has reported 26 fatalities due to the respiratory disease, it said.
Punjab has registered 21 Covid-19 deaths, Jammu and Kashmir eight, Haryana five and Kerala and Bihar have reported four deaths each. Jharkhand has recorded three Covid-19 fatalities.
Meghalaya, Himachal Pradesh, Odisha, Assam and Uttarakhand have reported one fatality each, according to the ministry data.
According to the health ministry data updated on Monday evening, the highest number of confirmed cases in the country are from Maharashtra at 12,974, followed by Gujarat at 5,428, Delhi at 4,549, Tamil Nadu at 3,023, Madhya Pradesh at 2,942, Rajasthan at 2,886 and Uttar Pradesh 2,742.
Andaman & Nicobar 33
Andhra Pradesh 1650 
Arunachal Pradesh 1 
Assam 42 
Bihar 525 
Chandigarh 102 
Chhattisgarh 57 
Delhi 4549 
Goa 7
Gujarat 5248 
Haryana 463
Himachal Pradesh 41
Jammu & Kashmir 701 
Jharkhand 115 
Karnataka 651 
Kerala 499 
Ladakh 41 
Madhya Pradesh 2837 
Maharashtra 12974 
Manipur 2 
Meghalaya 12 
Mizoram 1 
Odisha 169 
Puducherry 10 
Punjab 1232 
Rajasthan 3016 
Tamil Nadu 3550
Telangana 1082
Tripura 14
Uttarakhand 60
Uttar Pradesh 2742
West Bengal 1259
'Our figures are being reconciled with the ICMR,' the ministry said on its website.
State-wise distribution is subject to further verification and reconciliation, it said.
2 trains from Bengaluru to Jaipur, Patna
Two trains will depart from Bengaluru on Monday to take workers and people stranded in Karnataka due to the Covid-19 lockdown, while chief minister B. S. Yediyurappa said free bus services for labourers stuck within the state to reach their native places will be extended for two days.
The trains will depart on Monday to Jaipur in Rajasthan and Patna in Bihar, the government said in a statement, adding food and water arrangements have been made for passengers before the travel.
Also sharing details about the labourers and people traveling to other states, the statement said, on Sunday two trains left for Patna in Bihar, and one each to Ranchi in Jharkhand and Bhubaneswar in Odisha.
Four trains carrying 4,800 people have left for their destination on Sunday, it said.
Trains have been operated from Kerala and Telangana in the past few days to various destinations for the benefit of guest workers stranded there.

ICMR deploys IBM's AI to expedite testing
Indian Council of Medical Research has deployed IBM's artificial intelligence tool Watson Assistant to expedite and simplify responses from testing to provide accurate and updated data on Covid-19, the IT company said on Monday.
The virtual chat assistant will give responses based on the final guidelines issued by ICMR and also filter old rules that remain valid for handling tests, sample collection, diagnostics, data entry etc related to coronavirus cases.
ICMR director-general Balram Bhargava said that it is critical to remain focused on testing, diagnosis and treatment of coronavirus patients in order to lower the growth curve.
He said with the number of on-field testing teams expanding across the nation as part of India's Covid-19 measures, collaboration with IBM will help automate responses from the field and facilitate access to accurate and updated data on the coronavirus diagnostics and reporting.
'This will help augment our teams' response time and allow them to concentrate on priorities like developing and updating testing and treatment protocols and guidance for Covid-19,' Bhargava said. 13 BSF personnel test positive
As many as 13 personnel of border guarding force Sashastra Seema Bal (SSB) have tested positive for coronavirus till now, officials said on Monday.
They said while nine infected officials belong to the 25th battalion of the force based in Ghitorni area of the national capital, the rest are from other locations.
All the personnel have been put in hospital isolation facilities, they said.
The about 80,000 personnel strong SSB is primarily tasked to guard the 1,751 km long India-Nepal and 699 km of the India-Bhutan borders apart from rendering a variety of roles in the internal security domain of the country.
It is one of the paramilitary force or Central Armed Police Force (CAPF) under the Union home ministry.
3,000 migrant workers return to UP
Over 3,000 labourers stuck in Maharashtra due to the coronavirus lockdown were brought to Uttar Pradesh in three special trains on Monday.
A day before, over 2,000 workers around 800 from Maharashtra and 1,205 from Gujarat's Ahmedabad-- were brought to the state in the special Shramik trains.
According to officials, two trains with 2,127 labourers reached Gorakhpur from Maharashtra's Bhiwandi and the Vasai Road railway stations in the early hours on Monday.
In Lucknow, over 1,021 stranded labourers arrived from Nagpur at 8.30am.
They were screened for coronavirus and sent to their homes.
Uttar Pradesh State Road Transport Corporation deployed 44 buses to carry the migrant workers who arrived in the state capital to their destinations, Lucknow Depot regional manager P.K. Bose said.

Bengal has highest mortality rate in nation: IMCT
Bengal has the highest mortality rate in the country at 12.8 per cent, inter ministerial central team (IMCT) leader Apoorva Chandra wrote in his final observations to state chief secretary Rajiva Sinha, before leaving for Delhi on Monday.
'This extremely high mortality rate is a clear indication of low testing, weak surveillance and tracking,' Chandra said in the letter.
A discrepancy has been brought to the fore in the number of Covid-19 cases reported by the state in its medical bulletins and its communication with the Union government, Chandra noted in the letter.
The team, led by Chandra, returned to the national capital after having completed two weeks of stay in the city.
Eleven people died due to Covid-19 in West Bengal in the last 24 hours, taking to 61 the total number of people to have succumbed to the disease in the state, Chief Secretary Rajiva Sinha said on Monday.
The number of active coronavirus cases in the state rose to 908 with 61 more people testing positive for the infection, he said.
Altogether 218 people have been discharged from hospitals across the state following their recovery.
According to the bureaucrat, 2,201 samples have been examined since Sunday evening. The number of samples tested for COVID-19 so far stands at 25,106.
West Bengal has reported a total of 1,259 Covid-19 cases, Sinha said.
The Union health ministry, however, put the total figure at 963 for the state.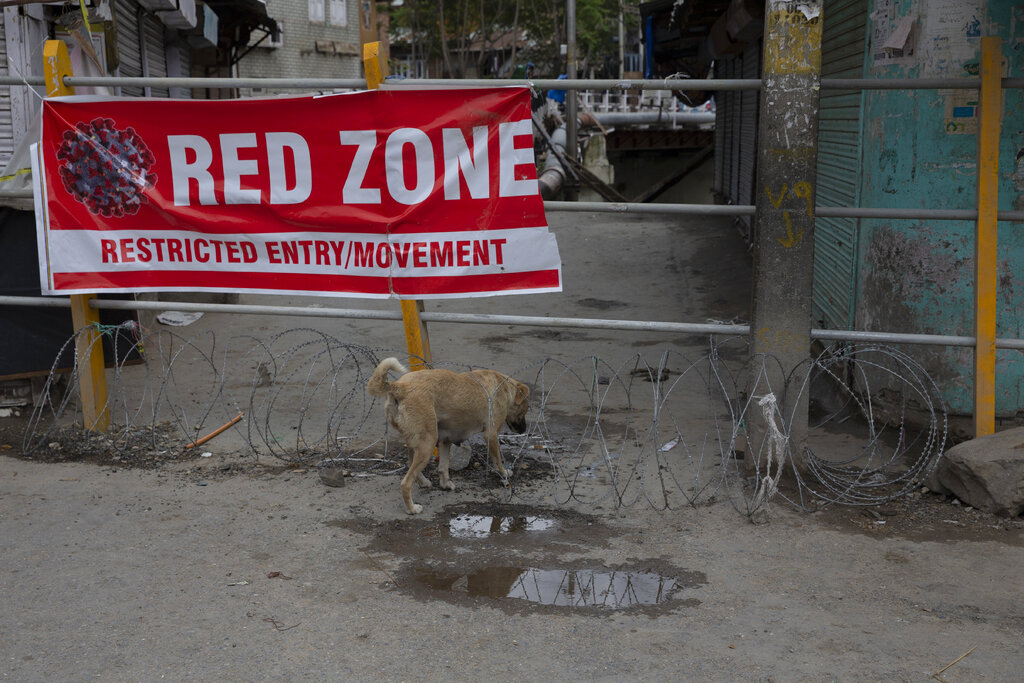 J&K admin announces night curfew

The Jammu and Kashmir administration on Monday announced a night curfew from 7 pm to 7 am everyday during the third phase of the ongoing lockdown to curb the spread of Covid-19 in the Union Territory.
'Prohibitions (Curfew) on movement in ALL areas between 7 PM and 7 AM. No movement without passes. Medical emergencies exempted,' government spokesman Rohit Kansal said in a tweet.
Chief Secretary B V R Subrahmanyam issued a detailed order on permissible and non-permissible activities during the lockdown period from Monday to May 17.
'The movement of individuals for all non-essential activities between 7 pm and 7 am is barred. District Magistrates shall issue specific prohibitory orders in this regard under Section 144 of CrPC,' the order said.
According to the order, suspension on air travel will continue except for medical services, air ambulances, security purposes and those purposes permitted by the home ministry.
Train services and all road transport services for passengers shall also remain suspended, the order said.
'All schools, colleges, universities, educational/ training/ coaching institutions etc. will remain closed. However, online/distance learning shall be permitted,' the order reads.
Hospitality services, cinema halls, shopping malls, gymnasiums, sports complexes, swimming pools, entertainment parks, theatres, bars, liquor shops, restaurants, spas, saloons, parlours, barber shops and auditoriums and assembly halls shall also remain closed, the order said.
HC directs Delhi govt to ensure Covid-19 results get declared within 48 hours

The Delhi High Court directed the AAP government here on Monday to ensure that coronavirus samples sent to the accredited labs are processed swiftly and the results declared within 24-48 hours.
A bench of Justices Hima Kohli and Subramonium Prasad issued the direction on a plea by a lawyer, Rakesh Malhotra, seeking directions to the Centre and the Delhi government to ensure swift testing of coronavirus or Covid-19 and declaration of results within 48 hours.
The bench also directed the Delhi government, represented by additional standing counsel Satyakam, that it 'shall continue updating its website on a regular basis to reflect the correct number of tests that are being conducted for Covid-19 in Delhi, mention the number of cases that are positive or negative and state the number of results that are pending after the tests are conducted'.
With the directions, the court disposed of Malhotra's plea in which he had contended that swift testing and declaration of results was necessary to identify the coronavirus patients in time and prevent community spreading of Covid-19. As many as 1,074 Covid-19 patients have recovered in the last 24 hours, the highest number of recoveries recorded in one day, the health ministry said on Monday.
Addressing a press briefing, Joint Secretary at the health ministry Lav Agarwal said the recovery rate stands at 27.52 per cent with 11,706 Covid-19 patients cured till now.
In the last 24 hours, 1,074 Covid-19 patients have recovered, the highest number of recoveries in one day, Agarwal said.
He further said the outcome ratio of Covid-19 -- the ratio of recoveries and deaths of closed cases -- was recorded at 90:20.
'The outcome ratio on April 17 was 80:20 which is now 90:20 which can be seen as an improvement,' Agarwal said.
Agarwal also said that the Covid-19 curve is relatively flat as of now and it was not right to talk in terms of when the peak would come.
If we collectively work then peak might not ever come while if we fail in any way we might experience a spike in cases, he said.
Agarwal assured that there is no shortage of testing kits.
'On Sunday, 57,474 tests were conducte. We have progressively increased our testing capacity as per need,' he said.
Amitabh Kant, Chairman Empowered Group dealing with civil society, NGOs, industries and international partners, said in 112 aspirational districts, 'we worked with the collectors and in these 112 districts only 610 cases have been reported which is 2 per cent of the national level infection'.
In these 112 districts, 22 per cent of India's population resides, he said.
In a few districts like Baramulla, Nuh Rachi, YSR, Kupwara and Jaisalmer more than 30 cases have been reported, while in the rest of the places very few cases are there, Kant, who is also the CEO of NITI Aayog, said.
Kant said the telemedicine service is now available on the Aarogya Setu application.
He said 90 million people have installed the Aarogya Setu app till now. 'Arogya Setu Mitra which has telemedicine features is also there,' he said.
The mobile application helps users identify whether they are at risk of the Covid-19 infection. It also provides people with important information, including ways to avoid coronavirus infection and its symptoms.
'The application enables people to assess the risk of exposure to Covid-19 infection based on their interaction with others, using cutting edge bluetooth technology, and artificial Intelligence enabled algorithms,' he said.
Kant said the Empowered Group 6 has mobilised over 92,000 NGOs and CSOs and appealed them to assist state governments and district administrations in identifying hotspots and delivering essential services to the vulnerable including the homeless, daily wagers and migrant workers.
Bengal adds 72 more areas to list of containment zones; total 516

West Bengal has added 72 more places to the list of containment zones, taking the total number of such areas in the state to 516, state Home Secretary Alapan Bandyopadhyay said on Monday.
The state capital currently has 318 containment zones, followed by North 24 Parganas at 81, Howrah at 74, Purba Medinipore at nine.
All three districts and the state capital fall in the red zone.
'At the moment, there are 516 containment zones in West Bengal, most of them in Kolkata. We are not going to allow any form of activity in these zones other than those essential.
'The relaxations, which have been announced by the Centre and the state governments at this stage of lockdown, will not be implemented in these areas,' Bandyopadhyay said.