PM announces emergency relief fund; first death in Kerala
Kejriwal urges migrant workers leaving Delhi to stay back; Arterial roads, ambulances sanitised in Mumbai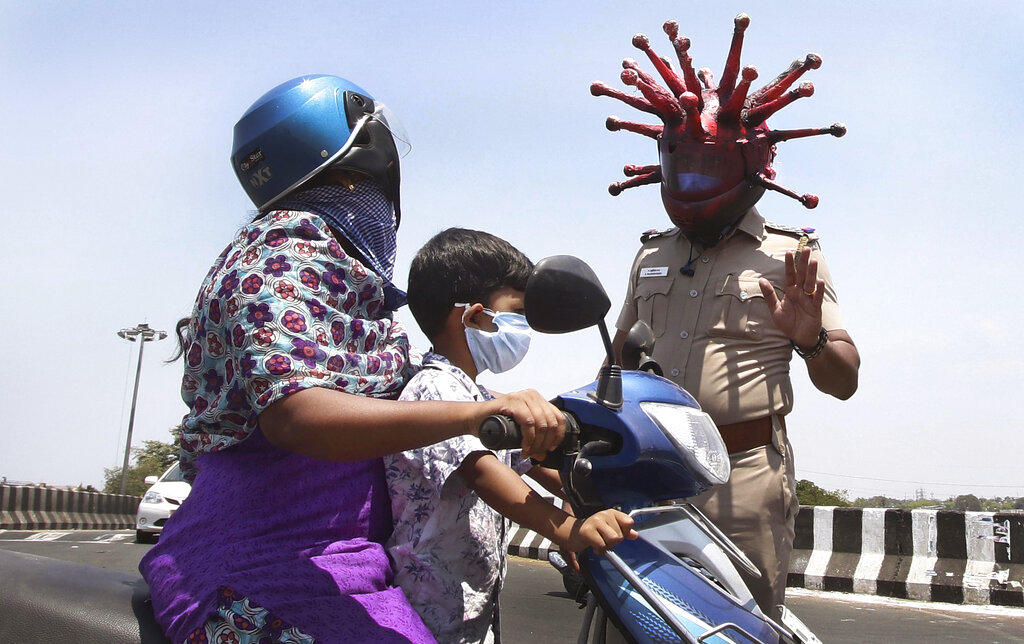 ---
---
Gujarat: 6 more test positive, tally 53
With six more persons testing positive for coronavirus in Gujarat, the number of such cases in the state has risen to 53, an official said on Saturday.
The six new cases were reported since Friday evening, the official said.
'As many as six new cases were reported since last evening, taking the number of such cases in the state to 53,' Principal Secretary (Health) Jayanti Ravi said.
Three COVID-19 patients have so far died in the state- one each in Surat, Ahmedabad and Bhavnagar.
Himachal Pradesh: Door-to-door delivery of essentials in Hamirpur
Door-to-door delivery of essential commodities which began in Himachal Pradesh's Hamirpur town will now be extended to other urban and municipal areas of the district amid the curfew to combat the coronavirus threat, an official said on Saturday.
Deputy Commissioner Harikesh Meena said the supply of fruits, milk and vegetables has started arriving in the district from the neighbouring state, Punjab.
About 250 quintals of fruit and vegetables reached Hamirpur and about 105 quintals of the essentials in Nadaun on Friday, he added. Authorities began supplying essential commodities at doorsteps in Hamirpur town on Friday.
Himachal Pradesh is currently under the grip of an indefinite curfew since March 24 to check the spread of the coronavirus.
Meena said at present there are about 10,000 migrant labourers in Hamirpur, who mostly work in the construction sector.
To meet the food needs of these people, a project had been already started and these families will be delivered packets of ration within a day or two, he said. Such packets will contain wheat, rice, pulses, oil and spices costing about Rs 800 per packet, he added.
Maharashtra: 14 more test positive, tally 167
The number of coronavirus patients in Maharashtra rose to 167 with 14 persons testing positive for the infection till Saturday evening, the health department said.
Twelve persons in Mumbai and two in Nagpur tested positive during the day.
On Friday, 28 new coronavirus cases had been detected in the state.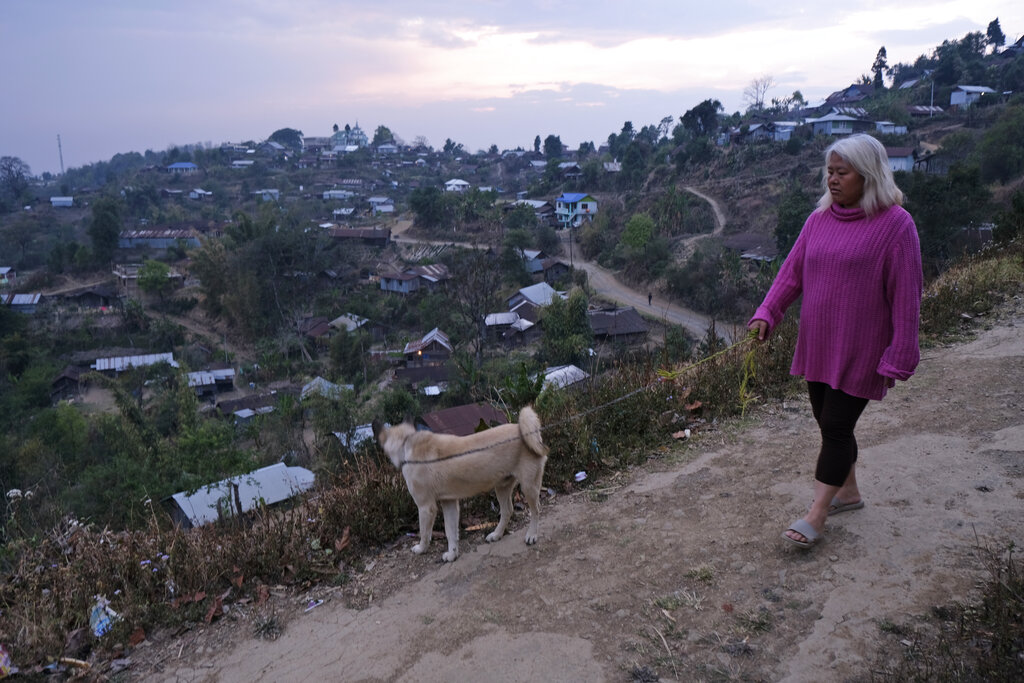 Delhi: Lowest PM10 levels in 6 months, temperature falls due to rains
The sun shone bright in a cloudless blue sky in the national capital which recorded a significant drop in the mercury on Saturday due to intermittent rains over the last two days.
The city and its surrounding areas also recorded lowest concentrations of PM10, particulate matter 10 micrometers or less in diameter, since August 18 last year. At 10 am, PM10 levels in Delhi-NCR stood at 32.5 microgram per cubic meter, the lowest since 15.9 g/m3 recorded on August 18 last year.
The city's overall air quality index at 11 am stood at 40, which falls in the 'good' category.
Environment and weather experts attributed the improvement in the air quality to the 21-day lockdown enforced to contain the spread of the coronavirus and rains and gusty winds due to successive western disturbances. They said the air quality is expected to oscillate in the good or satisfactory categories due to the reduction in local sources of pollution -- vehicular pollution, construction dust, stack emissions etc -- due to the lockdown.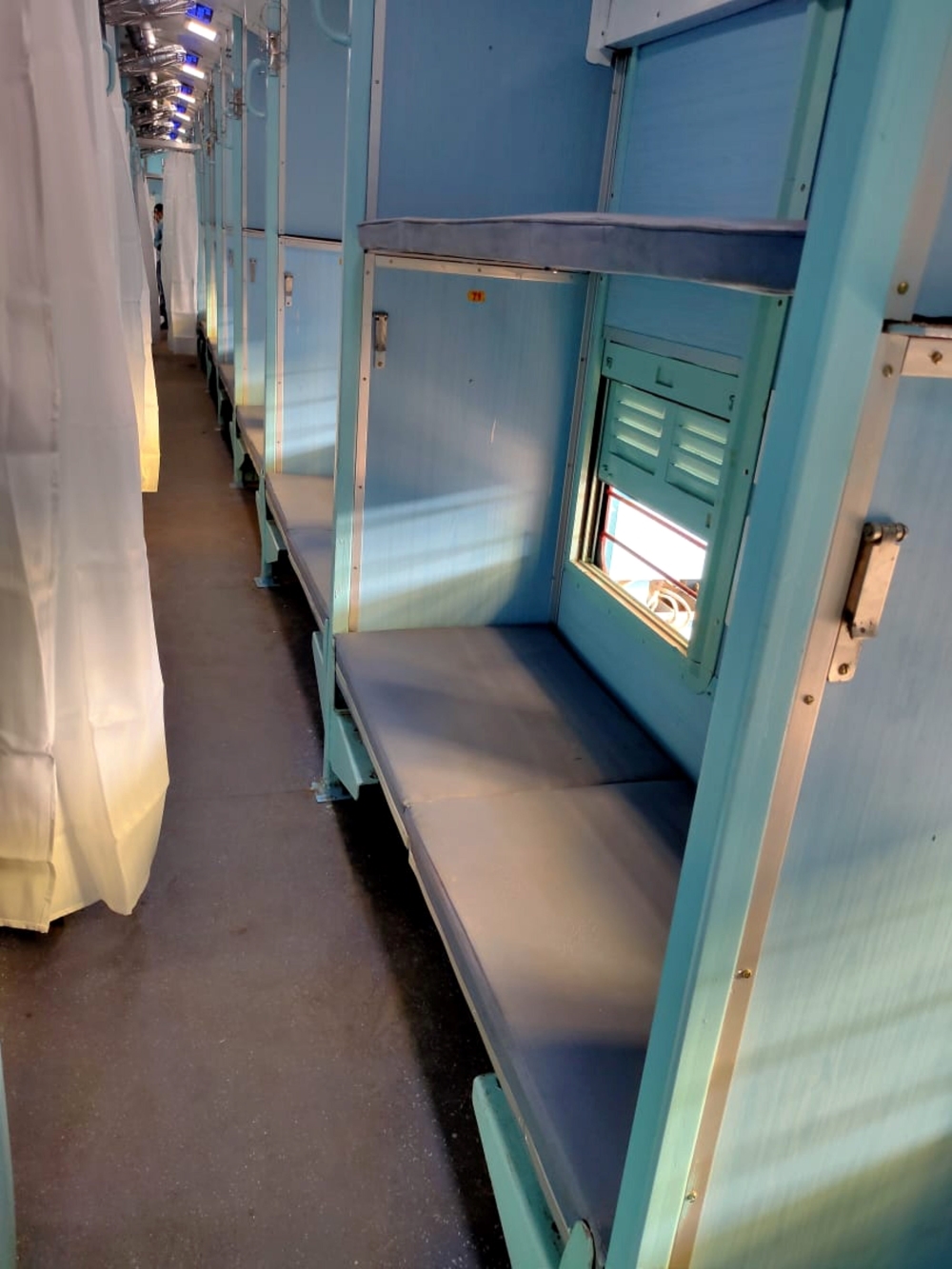 Prime Minister Narendra Modi on Saturday announced the creation of an assistance and emergency situation relief fund where people can contribute and help in the government's fight against coronavirus.
The Prime Minister's Citizen Assistance and Relief in Emergency Situations Fund will go a long way in creating a healthier India, he said on Twitter.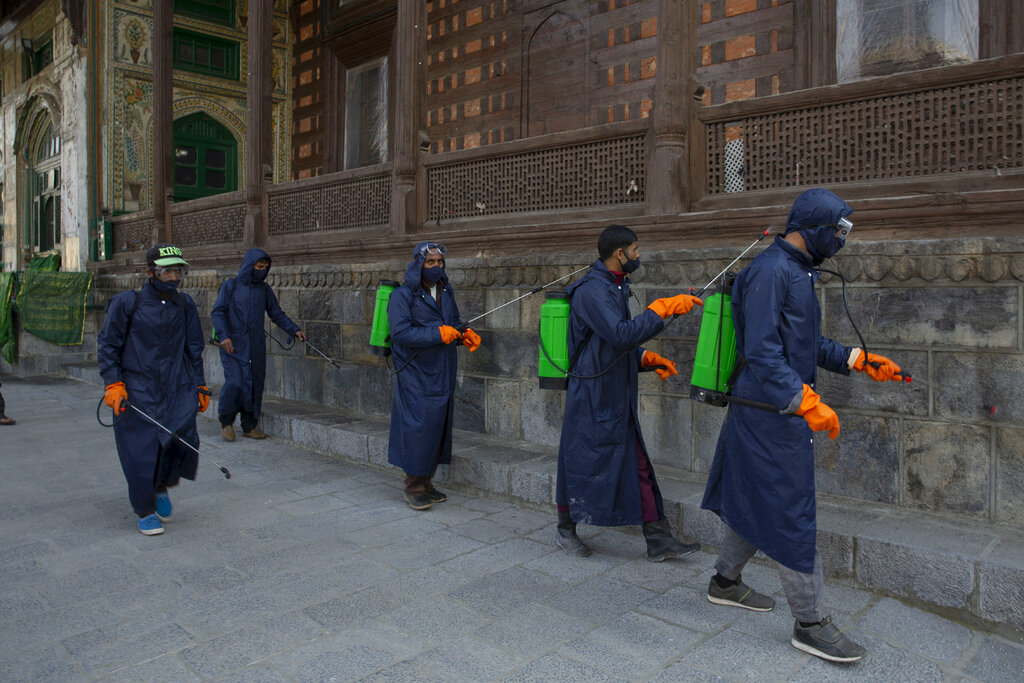 Delhi: CM urges migrant workers to stay back
Chief Minister Arvind Kejriwal on Saturday appealed to migrant workers not to leave Delhi due to the coronavirus lockdown, assuring them that his government is arranging food and shelter for them.
Addressing a press conference online, he said AAP government ministers and party's MLAs were visiting different areas and appealing to migrant workers to not to go to their home states.
He said sight shelters, with food and water facility, have been set up in the city's border areas to accommodate the migrant workers who are leaving for their home states on foot. But they are concerned as they believe the lockdown period will be long, he added.
He said over 800 centres in the city are distributing free food to the poor and the needy.
As many as 1,000 fair price shops in the city have started distribution of 7.5 kg free ration per individual, he said.
About 71 lakh people will get free ration, he said.
Goa: 2.5k volunteer passes issued for home delivery
Goa Chief Minister Pramod Sawant on Saturday said his government had released 2,500 volunteer passes for home delivery of essential items during the 21-day lockdown to combat the novel coronavirus outbreak.
The state has three COVID-19 patients currently.
'We have kept grocery shops open 24x7 but our Govt is promoting home delivery mechanism. We have issued over 2500 volunteer passes. I request everyone to stay at home and opt for home delivery,' he tweeted.
Police have been told to ensure people maintain social distancing rules in force while standing in queue at shops to buy essential items, an official said.
People from all walks of life expressed their desire to donate to India's war against COVID-19.

Respecting that spirit, the Prime Minister's Citizen Assistance and Relief in Emergency Situations Fund has been constituted. This will go a long way in creating a healthier India.

— Narendra Modi (@narendramodi) March 28, 2020
Manipur: 45 detained for violating lockdown orders
Manipur Police has detained 45 people over the last few days for violating norms during the ongoing lockdown to contain the spread of the deadly COVID-19, officials said.
The state has been witness to mass gatherings and panic buying since the lockdown was imposed earlier in the week, they said.
Manipur DGP L M Khaute had on Friday evening urged people to stay at home and warned of strict legal action against those not adhering to the guidelines.
The state's cyber crime wing had earlier asked people not to spread fake news and information about coronavirus on social media platforms.
A state government official said that out of the 486 people placed under home quarantine, 331 have completed their stipulated period.
Manipur has reported one positive COVID-19 case so far. The official said that a total of 20 people are under quarantine at government-run facilities in the state.
Railways manufactures prototype of isolation ward in non-AC coaches
The railways has manufactured a prototype of an isolation ward for treating coronavirus patients by converting non-air-conditioned train coaches, it said on Saturday.
Once the best practices were finalised in the next few days, each railway zone would manufacture a rake with 10 coaches every week, the national transporter added.
'Then we will serve the hinterlands or whichever region needs the coaches,' Northern Railway Spokesperson Deepak Kumar said.
To make the modified isolation ward, the middle berth was removed, the lower portion of the compartment plugged by plywood and a provision of partition provided from the aisle side for the isolation of the compartment, the railways said.
It has also provided 220-volt electrical points in each compartment for medical instruments.
'People from all walks of life expressed their desire to donate to India's war against COVID-19,' he said, adding the fund has been constituted respecting that spirit.
Mumbai: Arterial roads, ambulances sanitised
The Brihanmumbai Municipal Corporation on Saturday sanitsed 23 arterial roads in different parts of the city, during the 21-day COVID-19 lockdown.
Maharashtra has recorded 167 cases of coronavirus, of which Mumbai has the highest number of patients at 63.
The civic body sanitised Seven Hills Hospital, which is being used as a quarantine facility, an official said.
Vehicles parked at the hospital and baggage of all international travellers, who are quarantined there, were also sanitised, he said.
Similarly 362 ambulances, used to transport COVID-19 patients, were sanitised at state-run Kasturba Hospital, which has been treating positive patients since the outbreak.
The civic body also sanitised 23 arterial roads in different parts of the city, he added.
Uttar Pradesh: 5 new cases in Gautam Buddh Nagar
Five more people tested positive for coronavirus -- three in Noida and two in Dadri -- on Saturday, taking the tally of COVID-10 cases in Uttar Pradesh's Gautam Buddh Nagar to 22, officials said.
Two of the new-found cases are from Accheja village in Dadri, while one each has been detected in Noida's Sector 37, 44 and 128, according to a statement from District Magistrate B N Singh.
'The village in Dadri and the sectors concerned in Noida are being temporarily sealed for a period of 48 hours so that sanitisation work could be carried out there. No entry into or exit from the society or the sector would be allowed during this period except for emergencies, Singh stated in an order.
The UP government had on Friday evening put the total number of cases in the state at 50, including 18 in Gautam Buddh Nagar, even as the Health Department officials here had said that the total cases were 17.
One person had tested positive at a private laboratory on Friday whose sample was re-sent for assessment of COVID-19, official sources had said.
Jammu and Kashmir: 7 more people test positive, tally 27
Seven people tested positive for coronavirus in Kashmir on Saturday, taking the total number of cases in Jammu and Kashmir to 27, officials said.
Contacts of the fresh positive cases are being traced, they said.
'Seven more positive cases in Srinagar today. Four cases had a history of contact with already positive cases of religious congregation while the other three had travel history outside J&K,' government spokesman Rohit Kansal said.
'Tough to be harbinger of unpleasant news. But being informed is being prepared,' he posted on Twitter.
Of the total 27 cases, 21 have been reported in the Kashmir Valley, while six in Jammu region.
Gujarat: 1,800 people stranded in Uttarakhand to return in 28 buses
As many as 1,800 people from Gujarat, who were stranded in Uttarakhand due to the nation- wide lockdown imposed to curb the spread of coronavirus, will be brought back to Ahmedabad in 28 buses by Saturday night, a senior official said.
The buses have been arranged by the Gujarat government, the official said.
'Around 1,800 people from different districts of Gujarat were stranded in Haridwar in Uttarakhand due to the lockdown. They are being brought back in 28 buses thanks to the efforts of Union ministers Amit Shah and Mansukhbhai Mandaviya, and Chief Minister Vijay Rupani,' Secretary to the chief minister, Ashwani Kumar, said.
'They will reach Ahmedabad by Saturday night. Their health checkup will be conducted at the Gujarat border. After reaching Ahmedabad, they will be taken to their respective home districts,' he said.
These people are from Surat, Vadodara, Rajkot, Bhavnagar, Jamnagar and Kheda districts, the official added.
Kumar said that buses have also been arranged for around 10,000 labourers from outside the state or from different parts of Gujarat, who have been walking to their native places due to the lockdown. These buses will take them either up to the Gujarat border (for those from other states) or up to their home districts in Gujarat.
Cases climb to 873, toll 19
A total of 149 new coronavirus cases, including two deaths, have been reported since Friday, taking the overall positive cases in the country to 873, Health Ministry officials said on Saturday.
Lav Agarwal, the Joint Secretary in the Health Ministry, said the government is focussing on high disease-burden hotspots and is working in-tandem with states to implement rigourous contact-tracing, community surveillance and containment strategies.
The focus is also on setting up dedicated Covid- 19 hospitals in every state, he said, adding 17 states have so far started work on this.
'We are constantly engaged in discussion with states for earmarking dedicated Covid-19 hospitals,' said Agarwal.
'All patients having severe acute respiratory illness are being tested for Covid-19, An ICMR official said.
A reduction in the viral-load has been observed in Covid- 19 patients who have been given Hydroxychloroquine drug, said Raman R Gangakhedkar, the Head of Epidemiology and Communicable diseases at ICMR.
Rajasthan: 4 more test positive, tally 54
Four more persons were tested positive for the coronavirus in Rajasthan on Saturday, taking the total number of cases to 54 in the state, an official said.
Among the four cases, three are staff members of a private hospital in Bhilwara, where some doctors and nurses had tested positive earlier, whereas another is a resident of Ajmer district, they said.
The person found positive in Ajmer is a salesman who had travelled to Punjab and returned back on March 22, Additional Chief Secretary (Health) Rohit Kumar Singh said. He said the total number of coronavirus cases in the state has risen to 54.
The entire state is under the lockdown from March 22 to prevent the spread of the deadly virus. A massive survey and screening is underway to trace out the contagion, officials said.
Kerala reports first death

Kerala reported its first COVID-19 death on Saturday after a 69-year-old man being treated for the virus died at Ernakulam Medical College Hospital.
The man, hailing from Ernakulam, was admitted to the isolation ward on March 22 after his return from Dubai, the government hospital said in a statement.
He was admitted with symptoms of pneumonia but later tested positive for coronavirus, it said.
He was also suffering from heart disease and high blood pressure and had udergone a bypass surgery earlier, the statement said.
He breathed his last at 8 AM.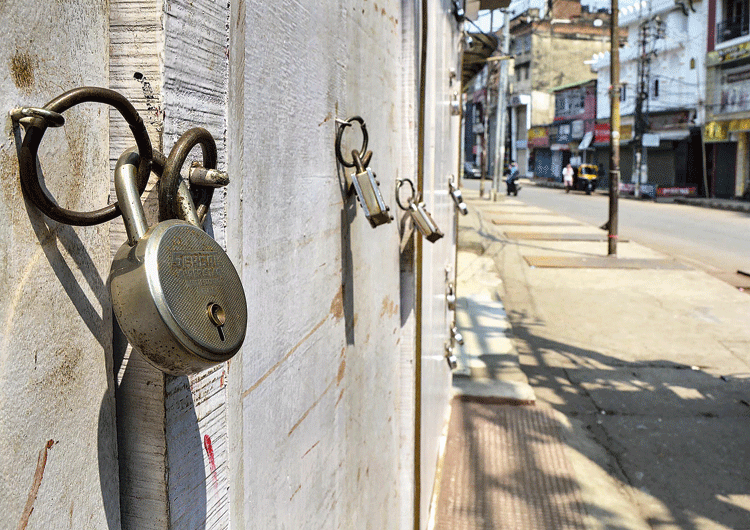 Tamil Nadu: 2 more test positive
Two more people tested positive for coronavirus in Tamil Nadu on Saturday, taking the total number of cases in the state to 40, the government said.
Both men had recently returned from abroad.
While a 42-year-old man, a resident of Kumbakonam, had arrived here from the West Indies, the other, a 49-year-old. had come to the city from the United Kingdom.
The Kumbakonam resident is being treated at Thanjavur Government Medical College Hospital and the other man at a private hospital in Vellore.
Assam: Cops open fire in air to quell unrest at market
Police opened fire in the air in Assam's Bongaigaon district on Saturday morning to disperse an unruly mob at a market that attacked the security personnel when asked to abide by the lockdown order, an officer said.
None was injured in the melee, he said.
People had gathered in large numbers at meat and poultry shops of Bhawlaguri market in the district without maintaining social distancing norms.
As police intervened, most of them dispersed only to return with machetes and stones to attack the officers on duty.
The police personnel, when pelted with stones, resorted to lathicharge and opened fired in the air to quell the unrest.
Additional police forces rushed to the site and cordoned off the entire area, the officer said, adding that four persons have been arrested in this connection.
On Friday, too, both vendors and customers at Folimari Budhbari market in Dhubri district had attacked police personnel, who were trying to enforce the lockdown order - imposed by the government to contain the spread of Covid-19.
Rajasthan: 10 people hide themselves in tanker to reach state
Ten migrant labourers were on Saturday found travelling to Rajasthan from neighbouring Thane district by hiding themselves inside an empty milk tanker amid the ongoing nationwide lockdown, police said.
All the 10 persons, including some women, were detained by the police at Talasari in Palghar district, located along the Maharashtra-Gujarat border, an official said.
'Ten persons, including some women, hid themselves inside the milk tanker. They started their journey from Kalyan in neighbouring Thane district and wanted to go to their home state of Rajasthan. They chose this method as regular transport vehicles are currently not available due to the lockdown,' spokesperson of Palghar police, Hemant Katkar, said.
'When the vehicle reached Talasari check-post, the police sensed something amiss and checked the tanker. During the search, they found the ten persons hiding inside,' he added.
All of them are labourers from Rajasthan working in and around Mumbai, Katkar said.
Haryana: Govt steps up efforts to deal with coronavirus crisis
From purchasing new ventilators to assigning ambulances for COVID-19 patients, the Haryana government has stepped up its efforts to deal with the coronavirus crisis.
Steps have been taken to increase the strength of doctors and paramedical staff, ensure adequate supply of medicines, set up isolation beds and helpline numbers and rope in services of volunteers as part of the state's preparations to fight the deadly disease.
Nineteen positive cases of coronavirus have been reported in the state so far - 10 in Gurgaon, four in Panipat, two in Faridabad and one each in Palwal, Panchkula and Sonipat.
Delhi: Helpline set up for stranded J&K residents
The Jammu and Kashmir administration has set up a dedicated helpline centre in Delhi to address the issues faced by stranded residents of the Union Territory due to the ongoing countrywide lockdown, an official spokesperson said on Saturday.
The 24x7 helpline with three telephone numbers -- 011-24611210, 24611108, 24615475 -- has been established in Jammu and Kashmir Resident Commission, New Delhi to address the issues of the local residents stranded in the national capital and elsewhere in the country, the spokesman said here. J&K residents facing any issue due to lockdown may contact the helpline (for redressal of their problems), the spokesman said.
Additional Secretary Rimpy Ohri is supervising the overall functioning of the centre in Delhi, he said.
He said hundreds of students from across the country have already been facilitated by the commission to return to their home districts while several have been facilitated to stay at various dedicated hotels in Delhi.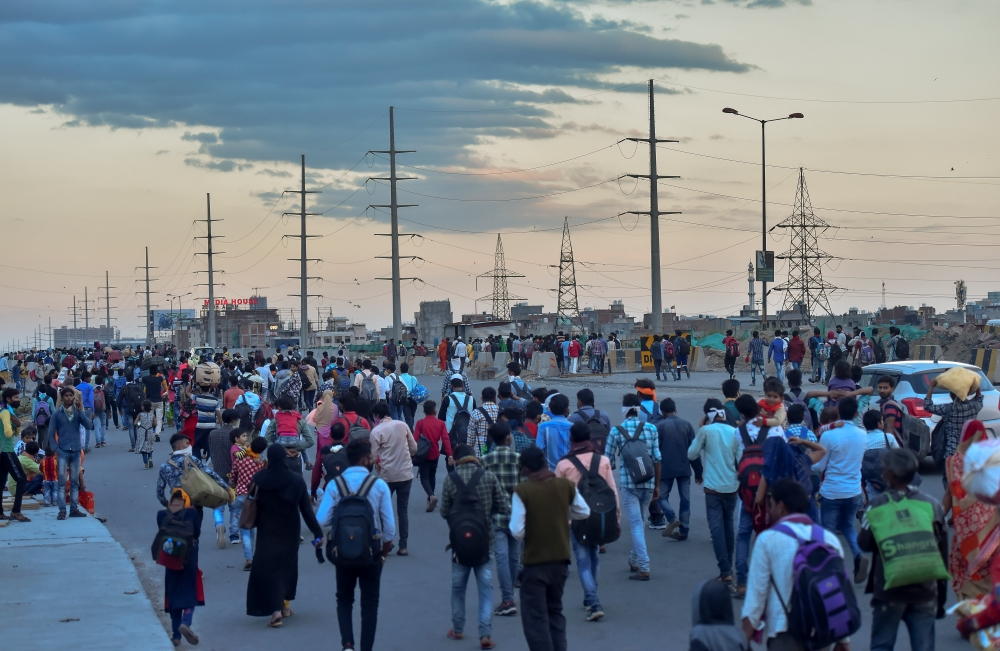 Delhi: Minister hits the streets, urges migrant workers not to leave city
Delhi minister Rajendra Pal Gautam hit the streets in the national capital on Saturday to urge lockdown-hit migrant workers not to leave the city.
The social justice minister reached the Anand Vihar area around 12:30 pm and addressed migrant workers, labourers and daily wagers, who usually come to Delhi in search of a livelihood, with the help of a mic installed in his car.
'Chief Minister Arvind Kejriwal has sent me here. I appeal to you please don't leave Delhi, please return to your places,' he said.
The minister said the Delhi government has made arrangements to give them shelter and free food.
'You will be given free food in nearby schools. Those who don't have a place to live can stay in night shelters,' he said.
With the 21-day lockdown enforced to contain the spread of coronavirus leaving them without work and food, thousands of migrant workers, daily wagers and labourers from different states have started walking back home as public transport remains off the roads.
According to official data, Delhi has around 15 lakh migrant daily wage workers.
Delhi: People can apply for movement passes on police website
The Delhi Police on Saturday said people can apply for movement passes on their website during the 21-day nationwide lockdown.
According to a senior police officer, the applicants can visit the website of the Delhi Police to apply for a movement or curfew pass.
A movement pass is required for those in essential services to move without any hassle during the lockdown.
Maharashtra: Special facilities for coronavirus treatment
Maharashtra minister Amit Deshmukh has said that facilities will be created at three hospitals in the state for treatment of coronavirus patients.
These facilities will be created by the J J Group of Hospitals, he said.
Mumbai, a 300-bed facility with 60-bed ICU will be set up at St George Hospital for treatment of coronavirus patients, while the G T Hospital will have 250 beds and 50-bed ICU for this purpose, the Medical Education Minister said.
In Pune, a 700-bed hospital with 100 beds for ICU will be put in place, he said.