Delhi braces for a surge in Covid cases
Kejriwal govt launches app, stresses benefits of home isolation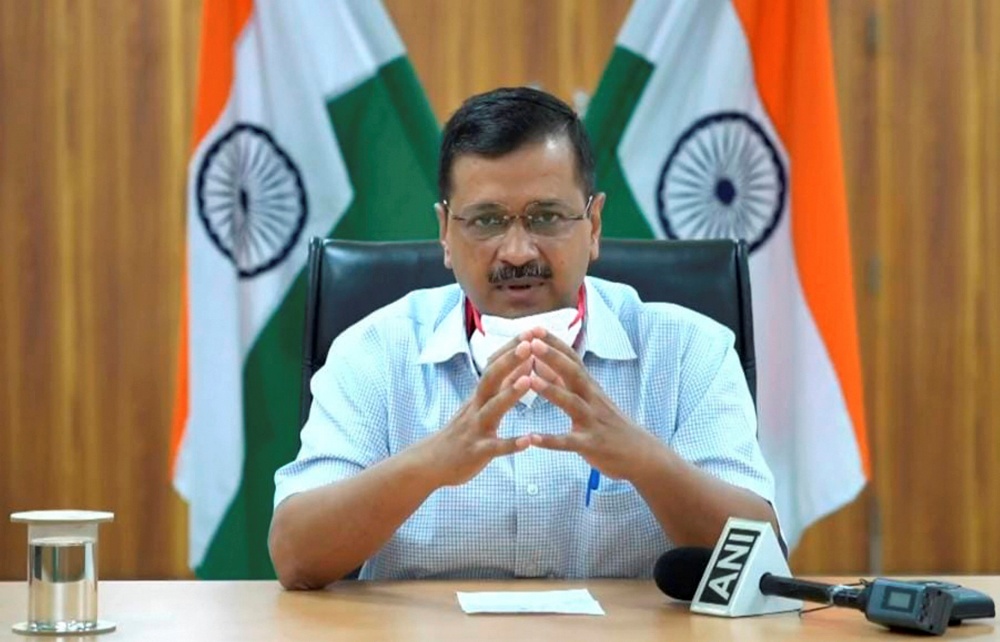 Arvind Kejriwal at the launch of the app in New Delhi
(PTI photo)
---
New Delhi
|
Published 02.06.20, 07:00 PM
|
---
Delhi is preparing for the worst as the number of confirmed Covid-19 cases and deaths increase in the city.
The Delhi Disaster Management Authority (DDMA) is asking all district magistrates to identify spots to increase the capacity of beds for patients, as well as land for burials and cremations at a time chief minister Arvind Kejriwal has been talking about available beds and ventilators.
On Monday, the capital crossed the 20,000 mark of confirmed cases. In the last seven days, Delhi has seen more than 6,000 new cases and nearly 90 deaths. After Maharashtra and Tamil Nadu, Delhi is the worst affected by the pandemic.
"Cases of corona are rising in Delhi, like I have mentioned earlier, but we need not worry or panic because we have sufficient arrangements for your treatment," Kejriwal said on Tuesday. He also claimed that the Delhi government was four steps ahead of the coronavirus.
Kejriwal launched a mobile application, called Delhi Corona, to track availability of hospital beds and ventilators in the city. The app will be updated twice a day on the numbers across the city.
In all his video addresses since May 25, the chief minister has spoken about the availability of beds and ventilators in hospitals across the city. Four days later, he was sharing numbers of beds while promoting home isolation, trying to convince people that more than 80 per cent of Covid-19 infections can be taken care at home.
All these measures indicate that the state government is bracing for a steep rise in infections.
"In some cities and even in big countries, corona spread was massive. What was the biggest problem there? It was like if they had 20,000 cases they had only 8,000 beds. They faced a shortage of beds, ventilators, ICUs and health infrastructure. And due to this, people couldn't be treated and died in big numbers," said Kejriwal, adding that Delhi wouldn't face such problems because his government had made adequate arrangements.
According to the app, the state government has arrangements of 6,731 Covid-dedicated beds of which 3,912 are vacant. Similarly, 309 ventilators are available and 210 are not in use.
The DDMA letter by additional CEO Rajesh Goyal on Monday directed district magistrates to "enhance capacity of patient beds" and "identify additional cremation/burial grounds". The "top most priority" information is to be submitted by Wednesday.
For putting up extra beds for Covid-19 patients, the DDMA has suggested indoor, air-conditioned locations, preferably large multipurpose halls, banquet halls and indoor stadiums.
The letter also requested district magistrates to submit "locations of cremation/burial grounds as well as additionally identified locations/lands for cremation/burial grounds which are reasonably away from the residential areas".
While the Delhi government officially puts the number of deaths at 523, as of June 1, the municipal corporations which oversee cremation grounds allege that the total death toll is more than 1,100. These deaths also include the number of suspected Covid-19 cases which were cremated or buried as per the Covid-related death protocol.