Covid: Puri Rath Yatra without devotees
Only 500 servitors will pull each of the three gigantic 45ft-high wooden chariots of the 12th-century Jagannath temple deities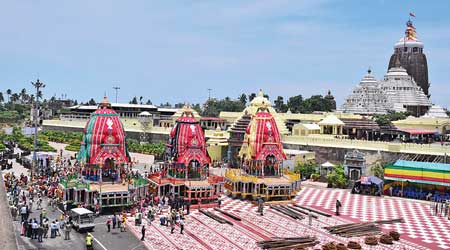 ---
Bhubaneswar
|
Published 12.07.21, 02:19 AM
|
---
Only 500 servitors will pull each of the three gigantic 45ft-high wooden chariots of the 12th-century Puri Jagannath temple deities on Rath Yatra on Monday.
Last year also, 500 servitors had pulled each of the three chariots on Rath Yatra. Supreme Court guidelines allow up to 500 servitors to pull each of the three chariots. The apex court has allowed the conduct of the Rath Yatra without devotees like last year.
The Shree Jagannath Temple administration has listed names of 3,000 servitors for various tasks connected with the yatra, the biggest religious festival of Odisha. While 1,500 servitors will pull the three chariots, the rest will be used as reserve and engaged in other sevas like carrying the massive idols of the deities, each around 7ft tall with arms, from the temple's sanctum sanctorum to install them on the chariots.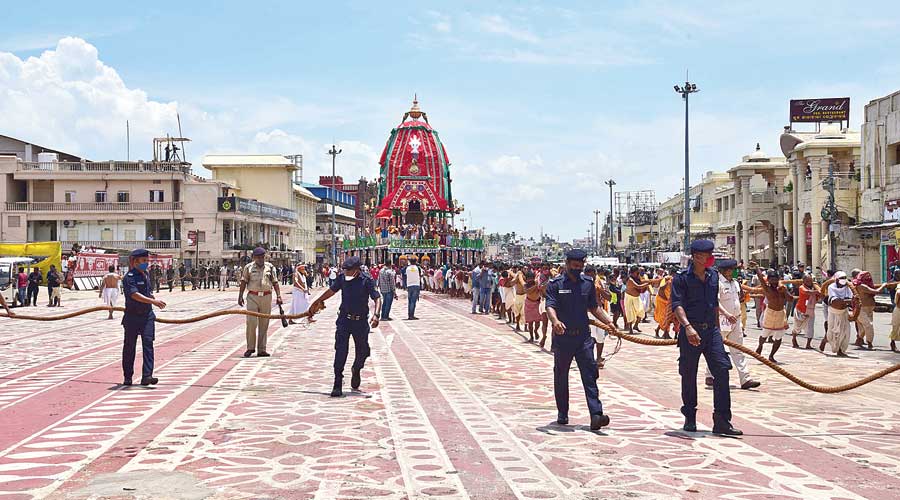 The East Coast Railway's engineering department has estimated the weight of each of the three chariots between 200 and 300 tonnes. The chariots become heavier and all the more difficult to pull when devotees crowd their decks as they are pulled along the 2.5km Grand Road.
The chariot of Lord Jagannath, popularly known as Nandigosh, is the heaviest among the three.
"We do follow a systematic method to calculate the weight. We put 12 jacks to lift Nandigosh, the chariot of Lord Jagannath, two to three feet above the ground for jobs like repairing the axel and wheels. Each jack is capable of lifting 25 tonnes. So, roughly the chariot of Lord Jagannath weighs around 280 tonnes to 300 tonnes.
"The weight of the chariot of Lord Balabhadra (Taladwaja) is around 250 tonnes as we use 10 jacks to lift it. The chariot of Goddess Subhadra (Darpadalan) is around 200 tonnes and eight jacks are used to lift it. I can't tell you how servitors pull such gigantic chariots without the help of machines or elephants. It is nothing short of a miracle," East Coast Railway engineering department's senior section engineer, Puri Coaching Depot, Chidananda Acharya, told The Telegraph.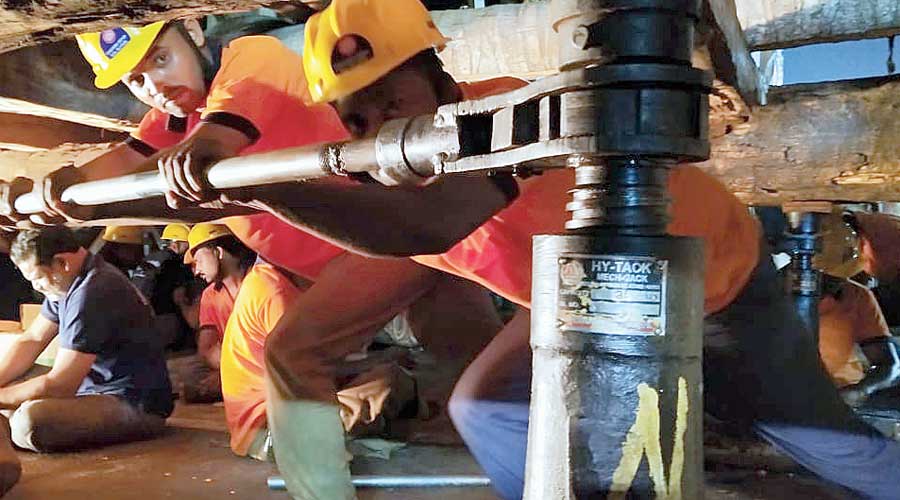 Nearly 10,000 cubic feet of wood is used in the making of the three chariots. Heavy iron pieces are fitted into them at different points for support and strength.
Jagannath Swain Mohapatra aka Jaguni, the 70-year-old daitapati (servitor), who had performed a puja at the residence of chief minister Mamata Banerjee on February 26, feels that the love and devotion of servitors for the deities makes the chariots roll on during the Rath Yatra.
The senior servitor told this newspaper, "It's the faith of servitors that does the miracle. Though we servitors generally have a good physique, which is important to be able to serve Lord Jagannath and his siblings properly, it is pure love for him and His blessings that make the wheels of the chariots move."
Mohapatra who walks for an hour daily to keep himself fit during the pandemic.