Covid cases shut down cancer hospital OPD
18 patients undergoing chemotherapy, 36 attendants and one staff nurse test positive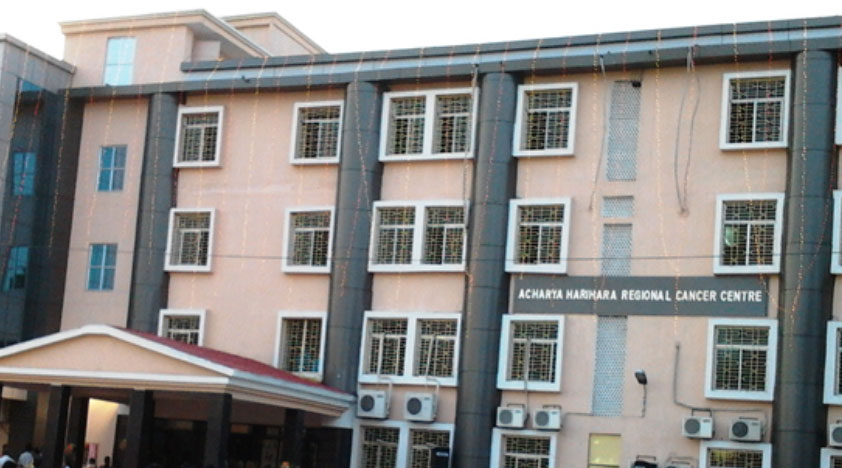 Acharya Harihar Regional Cancer Centre in Cuttack
Picture source: ahrcc.in
---
Bhubaneswar
|
Published 04.07.20, 03:27 AM
|
---
A state-run cancer hospital in Cuttack has shut down its OPD and other facilities after it reported 55 positive cases of coronavirus on Thursday.
Altogether 18 patients, who are undergoing chemotherapy, 36 attendants and a staff nurse have tested positive for Covid-19 at the Acharya Harihar Regional Cancer Centre in Cuttack, considered one of eastern India's premier government–run cancer care facilities. The cancer hospital accounted for 55 of the 77 positive cases reported from different medical institutes of the state on Thursday.
Odisha health secretary P.K. Mohapatra told The Telegraph, "We have shut down the outpatient department (OPD) and closed down some other facilities at the cancer institute. The process of disinfecting the premises is going on. All the patients have been shifted to isolation wards. No death has been reported and all the Covid-19 patients are recovering."
On the sudden spurt in cases, Mohapatra said, "Some patients came for treatment to the cancer institute from Ganjam and the virus spread from them. Now, we are taking some measures to streamline things."
Sixteen people had tested positive for Covid-19 at the hospital last month.
On June 29, nurses had staged a demonstration demanding quarantine facilities on the hospital premises and said they were not feeling safe to return home.
However, shutting down of the OPD and other facilities has created problems for cancer patients who are in need of immediate treatment.
Similarly, other hospitals like SCB Medical College in Cuttack and All India Institute of Medical Sciences (AIIMS) in Bhubaneswar have also been affected by the pandemic.
Sharing his concern, Mohapatra said, "Eleven positive cases have been reported from SCB Medical College. We are taking all steps to protect our frontline health workers."
Among those affected was a lady doctor of SCB Dental College. "We have collected the swab samples of a number of employees of SCB Medical College, including professors, for testing as they had come in contact with the Covid-19 patients," said a senior official.
Another 11 cases were reported from AIIMS Bhubaneswar on Thursday.
A coronavirus patient, who had been undergoing treatment at Ispat General Hospital in Rourkela, also passed away on Thursday. 
Last month, as many as 40 frontline health workers, including doctors, tested positive for Covid-19. Some of them were doctors from AIIMS Bhubaneswar. "All of them got infected while treating patients," said a senior doctor at AIIMS.
Meanwhile, the Odisha government has intensified efforts to ensure that all the hospitals adhere to the Covid-19 guidelines and warned that those that don't follow the standard operating procedure will be closed down.
The state government on Friday announced that the price of a RT-PCR test, the confirmatory test for Covid-19, would be capped at Rs 2,200.
The state also plans to set up a plasma bank to aid in coronavirus treatment.
"We have decided to begin modern plasma therapy for the treatment of Covid-19 patients. A technical committee will be constituted for the successful implementation of the initiative," said a senior official.