Covid: AIIMS to hold postgraduate entrance test on June 16
Protesting candidates cite health risks and lockdown restrictions and suggested the exam could turn into a 'super-spreader event'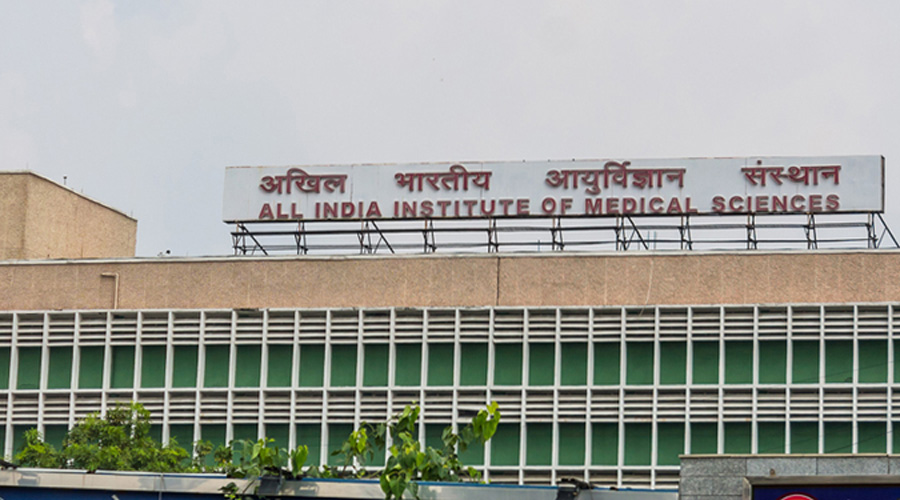 ---
---
The All India Institute of Medical Sciences has decided to hold its postgraduate entrance test on June 16, prompting protests by thousands of candidates who have cited the health risks and lockdown restrictions and suggested the exam could turn into a "super-spreader event".
They have also underlined that all other national-level exams have been postponed amid the surging pandemic, and that many of the candidates have volunteered for  Covid duty on an appeal from the government amid an implicit assurance about their exams being deferred.
AIIMS is the first authority to schedule a national-level exam amid the second wave of the pandemic.
The June 16 Institutions of National Importance Combined Entrance Test (INICET) is meant to fill the 850 MD and MS seats in the 6 functioning AIIMS and 3 other medical "institutions of national importance" — PGIMER Chandigarh, Jipmer Puducherry and Nimhans Bangalore.
Other medical colleges select their postgraduate students through the NEET-PG, which has been postponed beyond August 31.
There's no clarity whether Class XII board exams would be held at all. The Union Public Service Commission has postponed its civil service entrance exams from June 27 to October 10.
The National Testing Agency has put off the JEE Main and the National Eligibility Test for would-be assistant professors, and the IITs have deferred the JEE Advanced. The NEET (undergraduate medical entrance exam) is scheduled in August but might well be postponed.
Nearly 30,000 MBBS graduates on Sunday protested on Twitter under the tag #postponeINICET to express their many concerns, from the risk of catching Covid to the difficulties of reaching the exam centres in locked-down states.
About 80,000 MBBS graduates have registered for the INICET, originally scheduled on May 8 but deferred because of the resurgent Covid. On May 28 night, AIIMS announced the revised date on its website.
What has triggered charges of a "double standard" is that on May 30, AIIMS cited the pandemic to indefinitely postpone its BSc (nursing) entrance exam from June 14.
Many INICET candidates have underlined how a meeting chaired by Prime Minister Narendra Modi had on May 3 decided to postpone the NEET-PG indefinitely beyond August 31, and said the students would be informed one month in advance about any revised date.
That meeting had encouraged NEET-PG candidates to join the Covid workforce, saying those providing 100 days' service in pandemic management would receive priority during regular government recruitments.
Most of the INICET candidates figure among the 1.7 lakh NEET-PG candidates.
"The government called us for 100 days' duty and offered PM Samman certificates and assured us (implicitly) that medical exams will not be conducted before August 31," said Dr Chinmayee from Bangalore, who has registered for both NEET-PG and INICET.
"Following this, AIIMS authorities too postponed the INICET. But on May 28, out of nowhere, they announced the exam would be held on June 16 at just 19 days' notice."
Chinmayee said many candidates who had joined Covid duty stood disadvantaged because of the abrupt announcement.
"They are working 10 to 12 hours a day. Many have not been able to meet their families. Don't they need enough time to refocus on their exam preparations?" she said.
A medical graduate from Calcutta said the INICET candidates had chosen exam centres near their home during registration but many of them had since moved elsewhere to join Covid duty or other kind of work. He said these students would find it particularly difficult to reach their exam centres amid the lockdowns.
"Even if the students reach the city (where their centre is located) by train or flight, they will struggle to get local transport," he said.
"In Calcutta (where the Covid restrictions have been extended till June 15), no hotel will be open till June 15 night; so they can't get accommodation. There may not be any public transport or taxis on June 16 morning to reach the exam centres."
The students must reach the centre before 8am for the three-hour exam that starts at 9am.
In Odisha, the lockdown has been extended till June 16, and in Maharashtra and Andhra Pradesh, till June 15. These and many other states might extend the restrictions to or beyond June 16.
A student from Maharashtra asked why the exam could not be put off till September or October.
"AIIMS as an institution of national importance should set an example. What message is it trying to send out by holding the exam in the middle of the second wave of Covid? This exam may become a super-spreader event," he said.
An email sent to AIIMS director Randeep Guleria seeking the reason for holding the test in June when the NEET-PG has been postponed beyond August 31 has remained unanswered.