Two bogies are given — to take bodies home
The 16 victims, exhausted by an overnight trudge of 36km, had been sleeping on the tracks when they were run over near Karmad in Aurangabad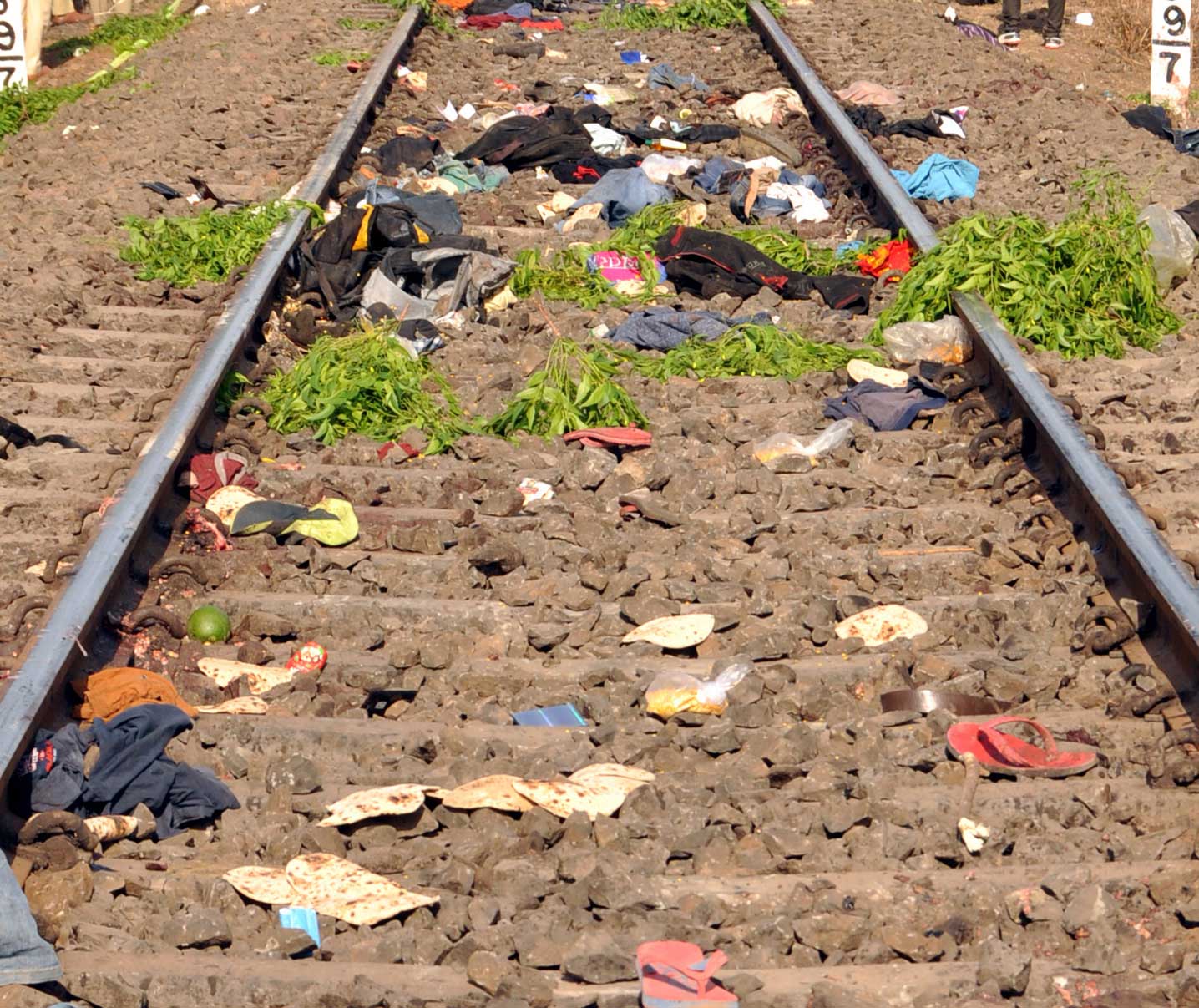 Rotis lie on the tracks in Aurangabad where the 16 workers were killed.
(AP picture)
---
Shahdol
|
Published 09.05.20, 08:06 PM
|
---
The chance to board a train home would have saved their lives. They got the chance only after they were dead.
The bodies of the 16 labourers who had set out on foot from Maharashtra for their homes in Madhya Pradesh, only to be mowed down by a goods train while sleeping on the tracks on Friday, arrived in their home districts of Shahdol and Umaria by train on Saturday.
Two bogies attached to a special train first brought the dead to Jabalpur, from where one of the bogies was sent to Shahdol and the other to Umaria, a police officer said.
One bogie with five bodies reached Umaria around 3pm, from where district officials sent them to their villages in ambulances. The five dead belonged to the villages of Chilhari and Maman.
The other bogie reached Shahdol around 4pm with 11 bodies, to be received by local MP Himadri Singh and senior officials. The dead belonged to the villages of Antoli and Shahargarh.
Last call
It appears the 16 hoped to walk only a part of the distance and then catch a train — that too only a few hours after the 5.15am accident that killed them.
Gajraj Singh, resident of Antoli in Shahdol, said his son Brajesh, 28, had told him on Thursday that he would be reaching the village by a special train soon.
That phone call was the last conversation he had with sons Brajesh and Shivdayal, 25, both of whom died in the tragedy.
"Only a day before the accident, my sons told me they had left on foot to board a train from Maharashtra and would reach Shahdol soon," Gajraj said.
"They told me they would get on the train on Friday. But instead of my sons, the news of their death has reached me."
While some trains are being run to take the migrant workers home, their number has been inadequate, forcing many to try to walk home.
The 16 victims, exhausted by an overnight trudge of 36km, had been sleeping on the tracks when they were run over near Karmad in Aurangabad district.
They were perhaps unaware that the movement of goods trains had not ceased despite the lockdown.
The labourers had set off from Jalna, where they worked in a steel factory. Only four from the group of 20 survived. Three of the survivors were sleeping a short distance away from the tracks; the fourth suffered injuries.
In both Umaria and Shahdol, district officials accompanied the ambulances carrying the bodies to the villages, where the last rites were to be performed.
A pall descended on the home of Antoli resident Ramniranjan Singh, who has lost two sons, aged 20 and 18.
"I have lost my support system; I don't know how I will continue to live," the father of Nirvesh and the teenaged Ravendra said.
Senior officials and Beohari MLA Sharad Kol visited the village.
"We will probably hold a common funeral in the village," an official said. 
3 workers dead
Three migrant workers on their way to Utttar Pradesh from Maharashtra, mostly on foot, died in Barwani district of Madhya Pradesh on Saturday, officials said.
Autopsy reports are awaited but doctors said fatigue and dehydration might have caused the deaths.
The workers were identified as Lalluram, 55, of Allahabad district; Prem Bahadur, 50, of Siddharth Nagar district; and Anees Ahmed, 42, of Fatehpur district.
They had started walking home from different towns in Maharashtra where they worked. On the way, they took a lift from passing vehicles whenever they could. They were taken to hospitals by fellow travellers, but all three were declared dead on arrival.