Chaos outside Delhi liquor shops
Customers had no clue which shops were open and roamed the streets in search of one, leading to long queues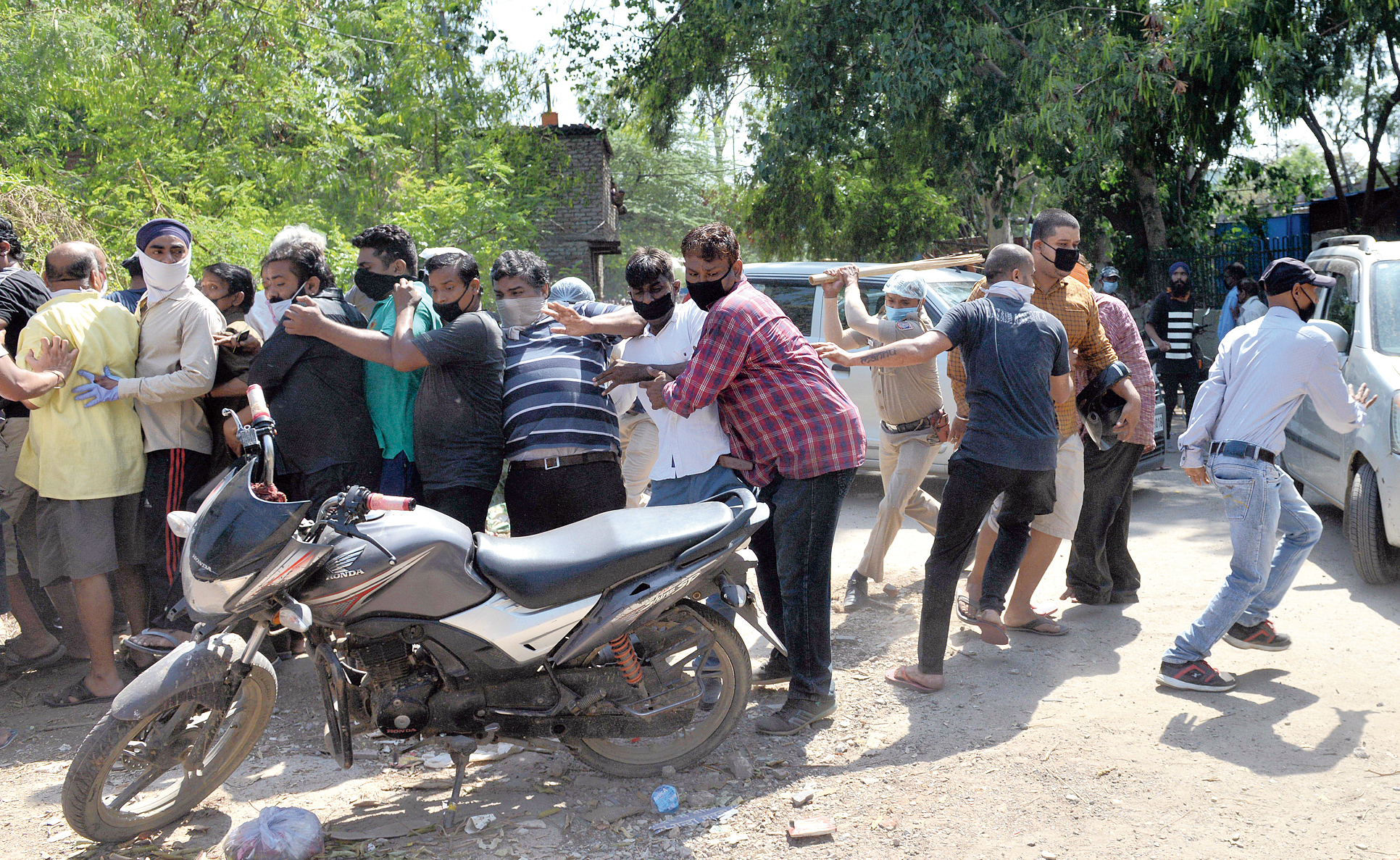 ---
---
District magistrates of most of the capital's 11 districts expressed fears about the possible fallout of a collapse of social-distancing norms outside several liquor shops where sales resumed after 47 days as part of relaxations in the nationwide lockdown from Monday.
The Delhi government had allowed around 150 shops owned by some of its PSUs to open — or less than a third of the total number of outlets in the city.
Customers, however, had no clue which shops were open and roamed the streets in search of one, leading to long queues. Police had to forcibly disperse the crowds and shut shops at several places.
A district magistratetold The Telegraph he was yet to receive a list of shops permitted by the excise department to function in his district. "In Delhi, the excise department exclusively deals with the sale of liquor, and district administrations have no control over this. Late last night some shops were authorised to open. As we don't have a list of shops, there wasn't a single constable of even a civil defence volunteer outside most shops," he said.
"Social distancing collapsed. Even if a few people were infected in the crowds that thronged shops today, thousands may have been infected. This is criminal negligence. This could have been avoided if the reopening of shops was planned properly and, if a plan was not in place, then deferred, as it was not a question of life and death, but merely of revenue."
Delhi earns around Rs 5,000 crore in revenue from liquor sales every year, a tenth of which has been lost due to the lockdown.
Late on Monday night, the Delhi government announced a 70 per cent special corona fee on the MRP of all alcoholic beverages from Tuesday.
A source, who attended Monday's video-conference of district magistrates with excise commissioner Ravi Dhawan and additional chief secretary (home) Satya Gopal, said several DMs echoed the views above. Dhawan did not respond to a call and message from this paper.
Chief minister Arvind Kejriwal said in a webcast on Monday evening: "This (overcrowding) puts families of those people at high risk too. These actions are not acceptable. If needed, we will have to take stringent decisions like sealing areas where the social-distancing protocol is not followed by the people, and I will have to withdraw all the relaxations announced yesterday."
He added: "If there are violations, we will have no option but to revoke these relaxations. Shopkeepers should take responsibility for the same, or we will have to seal those shops where violations are being reported."
A police source said that shops have been ordered to ensure they have staff to manage the crowds and have a public announcement system in place. Dhawan complained to the police commissioner that at many places, police were not letting shops open despite following guidelines.
A revenue official said the chaos was likely to continue on Tuesday. "We're getting information from TV on where crowds are gathering."
Only 118 shops have been allowed to open on Tuesday and the excise department is considering allowing some private shops to open too in the days to come.
The BJP has demanded that liquor sale be stalled for now.