Quarantine caste abuse complaint
Siraj denied the allegation and said the quality of food was bad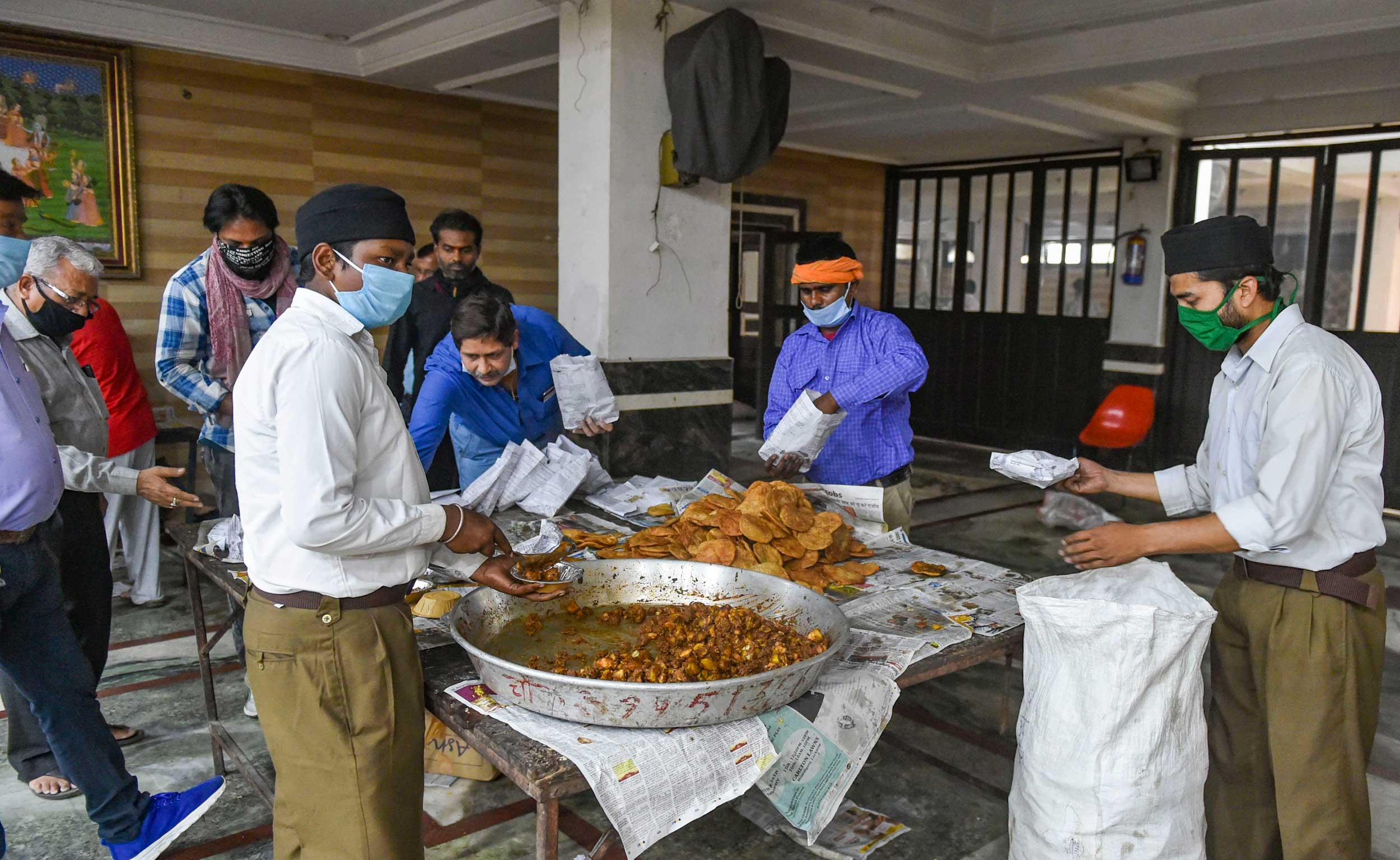 Volunteers pack food for the needy during the nationwide lockdown in Lucknow on Friday. Siraj could face up to one year in jail if the charges against him are proved.
(PTI)
---
Lucknow
|
Published 14.04.20, 10:28 PM
|
---
A quarantined person in Uttar Pradesh's Kushinagar district has been booked by police on the charge of refusing food cooked by a Dalit and verbally abusing her because of her caste.
Siraj Ahmad, who is in a primary school turned quarantine centre at Bhujauli Khurd village under Khadda block of Kushinagar that is adjacent to chief minister Yogi Adityanath's home district Gorakhpur, had also allegedly flouted the pandemic-related isolation norms to go home twice a day for meals.
Ram Krishna Yadav, the station house officer of Khadda in the east Uttar Pradesh district, said: "We have registered a case against Siraj Ahmad on the complaint of Subhash Gautam, the husband of Leelawati Devi, the cook (who is also the local panchayat chief).
"Of the five persons at the quarantine facility, two (Siraj and another migrant worker from Delhi) had refused to accept food cooked by someone from a Scheduled Caste. Later, one of them realised his mistake and apologised, but the other person stuck to his guns. He also refused to follow the protocol and continued going home for lunch and dinner."
Yadav told reporters on Tuesday that Siraj had been booked under the SC-ST (Prevention of Atrocities) Act. He will be arrested as soon as he is discharged from the quarantine centre, Yadav said, adding that none would be allowed to step out for home food.
Siraj could face up to one year in jail if the charges against him are proved.
Gautam, the complainant, said: "My wife cried inconsolably when two persons at the centre used foul words against her and told her that she was from a low caste. They said their relatives and fellow villagers had told them that they would be ostracised if they had meal cooked by a Dalit."
Sources said economic reasons and food habits could also be at play. Bhujauli Khurd, 360km east of Lucknow, is populated mostly by Muslims and Dalits. The Muslims are comparatively better off.
The five persons at the quarantine centre had returned to the village on March 30 from Delhi, where they worked at different places. They are to spend 28 days in the quarantine centre.
Vijay Dubey, the local BJP MP who had visited the centre on April 11, said: "I had told all five to stop vitiating the social atmosphere in the area during the lockdown and also guard against spreading the coronavirus. I had taken lunch there cooked by Leelawati. But one of them continued insulting the Dalit cook after we left."
Siraj denied the allegation and said the quality of food was bad.
"The police had initially asked all of us to go to our homes for lunch and dinner. Later, they tried to force us to accept the food cooked at the centre. I had refused to take it because its quality was very bad," he told reporters on Tuesday.