Sky 'action' back, 630 cancelled
The first flight in the country took off from Delhi at 4.45am followed by Mumbai at 6.45am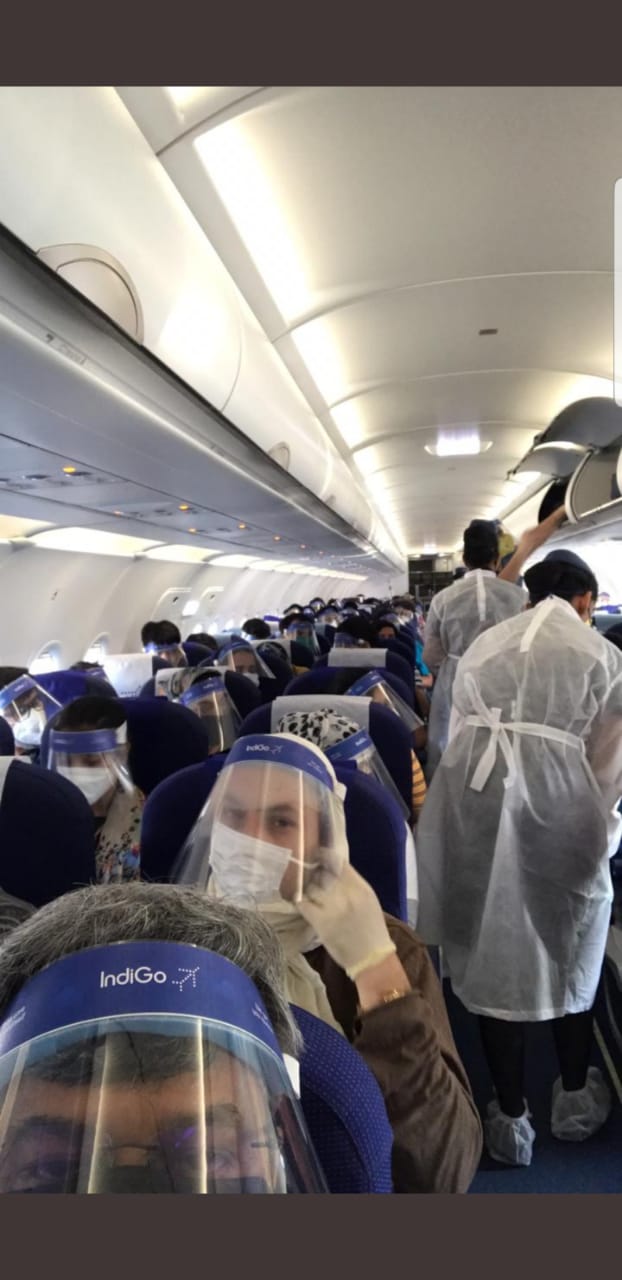 Low-cost airline IndiGo operated close to half of the flights, sources added but it was hard to come up with exact numbers amid the confusion
Picture courtesy: a passenger
---
New Delhi
|
Published 26.05.20, 12:00 AM
|
---
Passenger flights took to the skies in India for the first time in two months amid chaos, a rash of last-minute cancellations and an outpouring of vitriol on social media over a poorly coordinated resumption plan that left hundreds of passengers fuming outside airports.
"From no domestic passenger flights yesterday to 532 flights & 39,231 passengers today, action has returned to Indian skies. With Andhra Pradesh set to resume operations from tomorrow & West Bengal from 28 May, these numbers are all set to increase further," civil aviation minister Hardeep Puri tweeted, oblivious and seemingly unconcerned about the harrowing scenes outside airports with stranded fliers unsure of when they would get to board a flight home.
IndiGo, India's biggest carrier, SpiceJet and Vistara, a joint venture between Tata Group and Singapore Airlines, had planned to operate about a third of their seat capacity amid strict rules.
Aviation industry sources said around 630 domestic flights were cancelled on Monday after the Centre announced late last night that there would be no flights in Bengal and Andhra Pradesh, and limited operations at Mumbai, Chennai and Hyderabad.
Low-cost airline IndiGo operated close to half of the flights, sources added but it was hard to come up with exact numbers amid the confusion.
Some degree of chaos had been expected since the airlines were officially informed just five days ago that they could restart domestic flights. But a burst of fresh restrictions imposed at major airports like Mumbai and Chennai forced airlines to scramble late on Sunday and revise schedules.
IndiGo president and chief operating officer Wolfgang Prock-Schauer visited the Delhi airport to observe operations on Monday. He said the airline's operations were running smoothly and passengers were feeling relaxed as there was much less air traffic on Monday.
"We visited some of the boarding gates. Passengers are well informed (about rules and regulations). Despite the short lead time we got from the central authorities and the states, we were able to disseminate this information," he added.
SpiceJet chairman and managing director Ajay Singh said: "We are delighted to have resumed our flight operations in a completely smooth manner and by following every safety guideline and protocol laid down by the government."
Delhi airport was forced to cancel over 82 inbound and outbound flights. Mumbai airport, the busiest in the country, said it would handle only 50 flights daily after the Maharashtra government said it wanted to be careful because of the rising Covid-19 cases in the state.
The state government in Tamil Nadu — which has recorded the second highest number of Covid cases in the country — permitted only 25 arrivals at Chennai airport but set no limits on departures. Hyderabad will handle just 30 flights every day from Monday, the Telangana government said.
On average, over 3,300 domestic flights take off and land each day in the country.
The first flight in the country took off from Delhi for Pune at 4.45am. Mumbai re-started operations with a flight to Patna at 6.45am.
Passengers saw the change at the airport gates itself: flight attendants wore hazmat suits; they had to print out boarding passes from special ticket dispensers and then hold it up in front of a screen at the security check-in with a guard peering at it from the other side before letting them in. Before boarding the plane, they were handed face shields.
Some flights were fairly empty; others were crowded with middle seats taken.
Puri had said a few days ago that airlines could not operate with just 66 per cent seat occupancy. Once the Centre decided to cap fares, the airlines abandoned all qualms about social distancing.
Calcutta flights
Twenty flights will operate every day from Calcutta airport from May 28, officials said on Monday. Ten flights will take off from the city and 10 would land, they said. The earlier plan was to have around 80 flights take off from Calcutta and a similar number arrive.
The state government has requested the civil aviation ministry to reduce the number of flights. The state has said the severe damage caused by Cyclone Amphan has left it unable to deploy enough personnel for the health checkups of arriving passengers. Nor can it provide adequate transport for a large number of passengers.
The 20-flight schedule will continue till May 31. From June 1, the number will rise to 80, said airport director Kaushik Bhattacharya.
The guidelines for domestic passengers issued by the Bengal government say: "On arrival, health screening shall be done for all the passengers. Asymptomatic passengers will be permitted to go with the advice that they shall self-monitor their health for 14 days. In case they develop any symptoms, they shall inform the local medical officer or state call centre for medical interventions.
"Samples will be collected for Covid tests from all symptomatic passengers. They will be taken to the nearest health facility for sample collection and health condition assessment. Those with moderate or severe symptoms will be admitted to the dedicated Covid health facility and managed accordingly. Those having mild symptoms will be asked to go for home/institutional isolation. Further medical interventions will be taken as per the test result."
Refund rumpus
With several states slapping restrictions on the number of flights and some mandating institutional quarantine, flight cancellations were inevitable.
The refund amount is being put into a "credit shell" with no levy of a cancellation fee. The credit can be used to make fresh bookings, airlines said.
But passengers complained that the system wasn't working well.
Srijani Guha Thakurta, who was supposed to take a flight from Hyderabad to Calcutta that was cancelled, complained in a tweet: "This is regarding cancellation of flight 6E 944 HYD to CCU on 25May2020. I've received an email from Indigo with Plan B to either reschedule or cancel and create credit shell. When I click on either of the options, I'm getting error message. Please help me."
Anshul Agarwal was equally frustrated. "No response from Indigo why they cancelled my flight. Are you planning to store all money in your credit shell?" he tweeted.
"The problem for passengers began with states rolling out their separate guidelines on operationality of airports and post-travel quarantine. With only a fraction of flights allowed to operate from some of the busiest airports, cancellations spiked leaving travellers uncertain about their travel," said Nishant Pitti, CEO and co-founder of EaseMyTrip.com.
"Some airlines informed passengers at the last moment about the flight cancellation. Many passengers had reached airports as SMSes were received only after midnight. Several airlines failed to make changes on their website and even the cancelled flights were being shown as confirmed," he said.