Baby dies on migrant train
Heat and dehydration cited as reason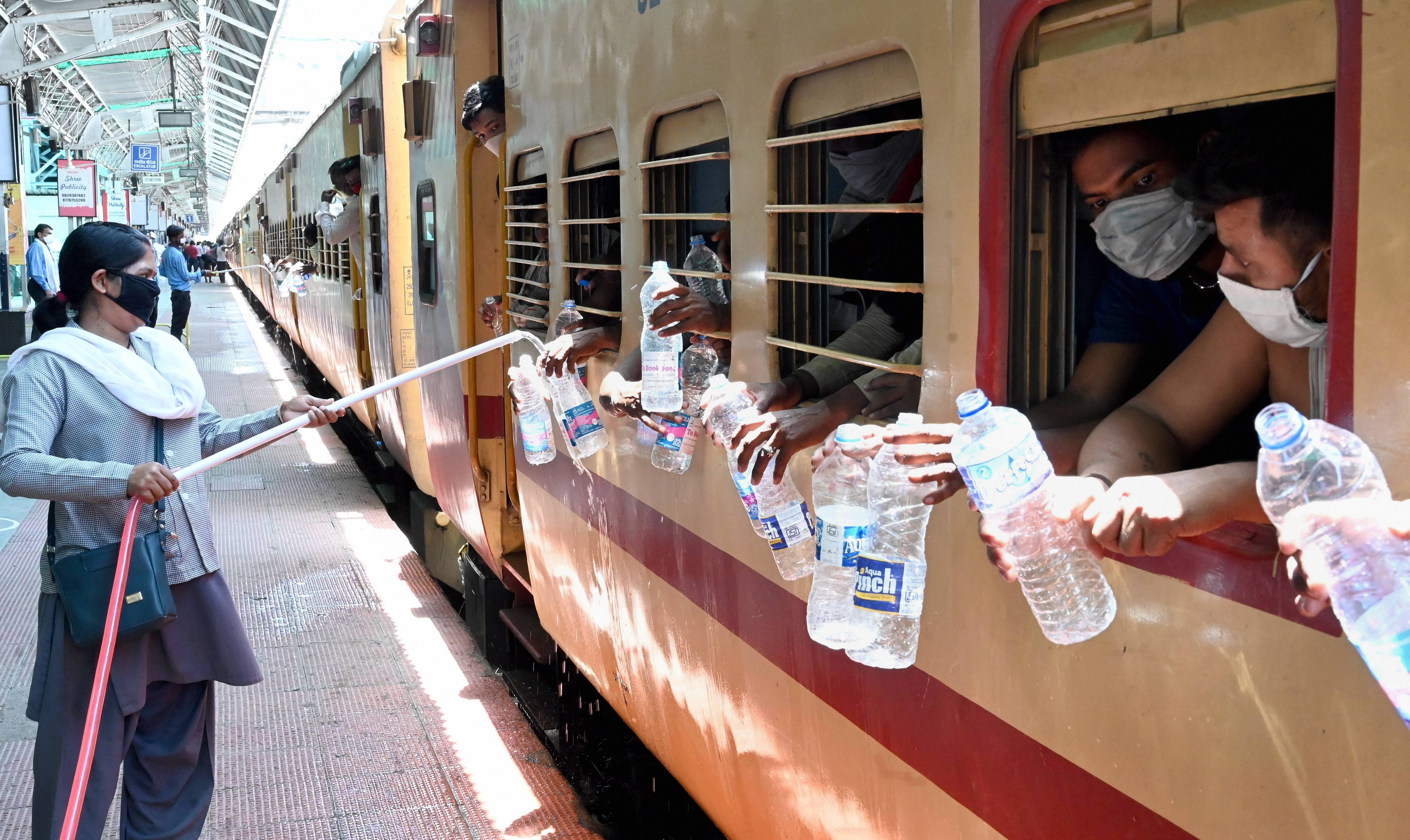 A railway employee refills water bottles of migrants sitting in a train in Jabalpur on Saturday.
PTI
---
Lucknow
|
Published 26.05.20, 09:39 PM
|
---
A one-month-old baby died of heat and dehydration on a Gorakhpur-bound Shramik Special train on Monday afternoon after having to travel for hours with fever through sweltering Bundelkhand, the second child to die on these trains for migrants in two days.
The baby's father, Sarvesh Singh, 35, who lost his job as an executive in a private firm in Mumbai during the lockdown, had boarded the train along with his wife Kiran from Kalyan on Sunday after paying a tout Rs 4,400 for two berths. The family was to travel to their home in Bhadohi district of Uttar Pradesh by bus after getting off the train at Gorakhpur junction, 250km away, on Tuesday.
"Everything was fine until the train reached Jhansi station on Monday afternoon (2pm). We realised after the train left Jhansi that the baby was restless and had fever. I informed a railway staffer on the train and he gave me the number of the railways' control room. The man who picked up the phone said a doctor would attend to the baby at Orai railway station, 120km from Jhansi," Sarvesh told reporters at Gorakhpur junction on Tuesday, cradling his dead child in his arms and his wife standing beside him.
The train took two hours and 15 minutes to reach Orai at 4.15pm.
"There were doctors at Orai platform when the train reached there on Monday afternoon. They examined my baby and referred him to the district hospital. From there, they took the baby to the Women's Hospital where a doctor declared him dead. Then the Government Railway Police took us back to the railway station and arranged for a berth up to Gorakhpur in another Shramik Special train that was going from Jhansi to Chhapra in Bihar," Sarvesh said.
S.K. Paul, a doctor at Orai's Women's Hospital, said: "The baby had died by the time he was brought here. The cause of death was excessive heat and dehydration."
The temperature was 45 degrees Celsius in Jhansi and Orai on Monday afternoon.
Brij Mohan Saini, a GRP inspector at Orai station, said: "We have registered in our records the death of the baby. We could have made some other arrangements for the family to travel to their home but they didn't want to wait and insisted on letting them go. Their other family members who were in touch with them on phone had also requested us to allow the bereaved to travel to Gorakhpur, where the others would receive them. We allowed them to continue their journey on humanitarian grounds."
Sarvesh said he wanted to reach Gorakhpur as soon as possible as the elders in his family were extremely worried after hearing about the tragedy and had left for Gorakhpur in a private vehicle to receive him and his wife. As per the protocol of the lockdown, the husband and wife will be kept in a quarantine centre near their home in Bhadohi for 10 to 14 days.
On May 23, a 10-month-old boy with fever and breathing problem had died in a Shramik Special train between Aligarh and Tundla stations. The baby had not received any medical attention for four hours. Passengers of most Shramik Special trains from Maharashtra, Gujarat and Karnataka have alleged that they have had to buy tickets from touts, and the railways didn't even provide them food or water.
Neelu Devi, 30, whose husband used to work as a tailor in Gujarat's Ahmedabad, told reporters at Kanpur Central railway station on Monday: "Our neighbours in Ahmedabad used to provide us food. We had bought the tickets for Kanpur from a tout for Rs 2,000 each. We had to pay for our five-year-old son too. The railways didn't provide food or water. The tout had given us three water bottles."
"The train coaches are nothing less than an oven in this season," she added before leaving for Unnao 40km away in an auto-rickshaw.