Advice for fee relief for professional courses
Some private institutions voiced fears that paying staff salaries could be a problem if students didn't pay up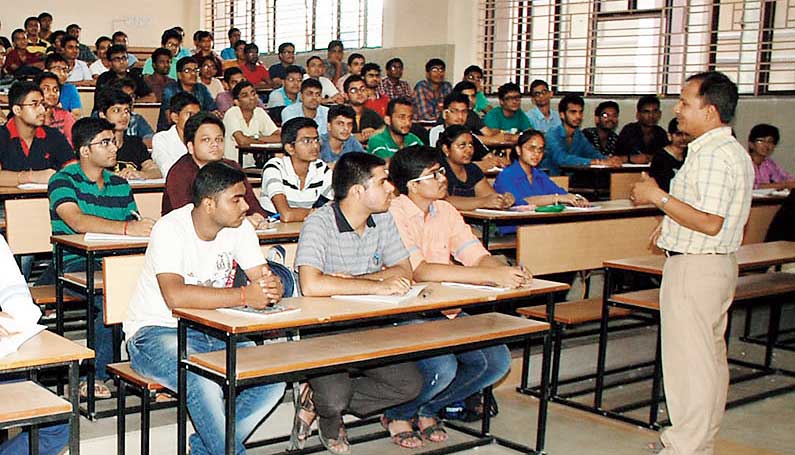 ---
---
The All India Council for Technical Education has advised all its approved institutions that offer professional courses not to force students to pay fees as long as the Covid-19 lockdown continues.
The technical education regulator's advice comes at a time the central government has asked all states and Union Territories to "appeal" to professional institutions within their jurisdictions not to hike fees for the academic year 2020-21.
Some private institutions, however, voiced fears that paying staff salaries could be a problem if students didn't pay fees.
The AICTE has written twice — on April 15 and last Friday — asking all its 1,000-odd approved colleges and standalone ones to allow students to pay according to their convenience.
"It is clarified that colleges/institutions should not insist on payment of fees till the lockdown is lifted and normalcy is restored," AICTE member secretary Rajive Kumar had written in the April 15 letter to all approved institutions.
The second letter on May 1, sent only to standalone institutions, iterated this point since the council had been getting complaints from students that these institutions, which award diploma and certificate courses, were asking for fees.
The standalone institutions, which number nearly 350, are neither universities nor are affiliated to any universities.
The central government's nudge to the states and Union Territories came in a letter higher education secretary Amit Khare wrote to all chief secretaries on Wednesday.
"I would like to draw your attention towards the fact that the Covid-19 pandemic is the defining global health crisis of our times and the greatest global humanitarian challenge the world has faced since World War II," Khare said in the letter.
"Along with an unprecedented human toll, Covid-19 has triggered a deep economic crisis impacting all strata of society. Therefore to guard the best interest of students, I requested you to send an appeal to all technical institutions including private technical institutions in your state/UT to avoid any hike in admission fees or other fees during the academic session 2020-21."
The AICTE has allowed all its approved institutions to keep admissions open till July 31. It means the session for new students will start from August 1 while classes for existing students will begin from July 1.
The Educational Promotion Society for India (EPSI), a body of private educational institutions, said it would follow the AICTE advice on fees but the new students would have to pay before admissions close.
"The EPSI has asked its member institutions not to insist on fee payment. We are abiding by the AICTE advice. But the (new) students have to pay fees before admission closes," EPSI alternate president H. Chaturvedi said.
An AICTE official said the fee advice had been issued on the premise that the lockdown would end well before July 31. But if it continues, a fresh advice will be issued, the official said.
The AICTE has received dozens of complaints about institutions not paying salaries to their staff for March and April.
The principal of a private institution said finances were in a critical condition and many institutions might have to default on payment of salaries in June unless students paid up.
"The AICTE letter says we will not insist. But the students who can pay will pay. We expect some funds from students' fees this month," the principal said.
Nearly 30 per cent of students pursue their education through loans and might take a long time to pay because of procedural delays, he said. But other students should pay.