Coronavirus lockdown: 120 migrants inside bus and 100 on roof
Locked out of work, a journey home covering 550km in over 40 hours in suffocating heat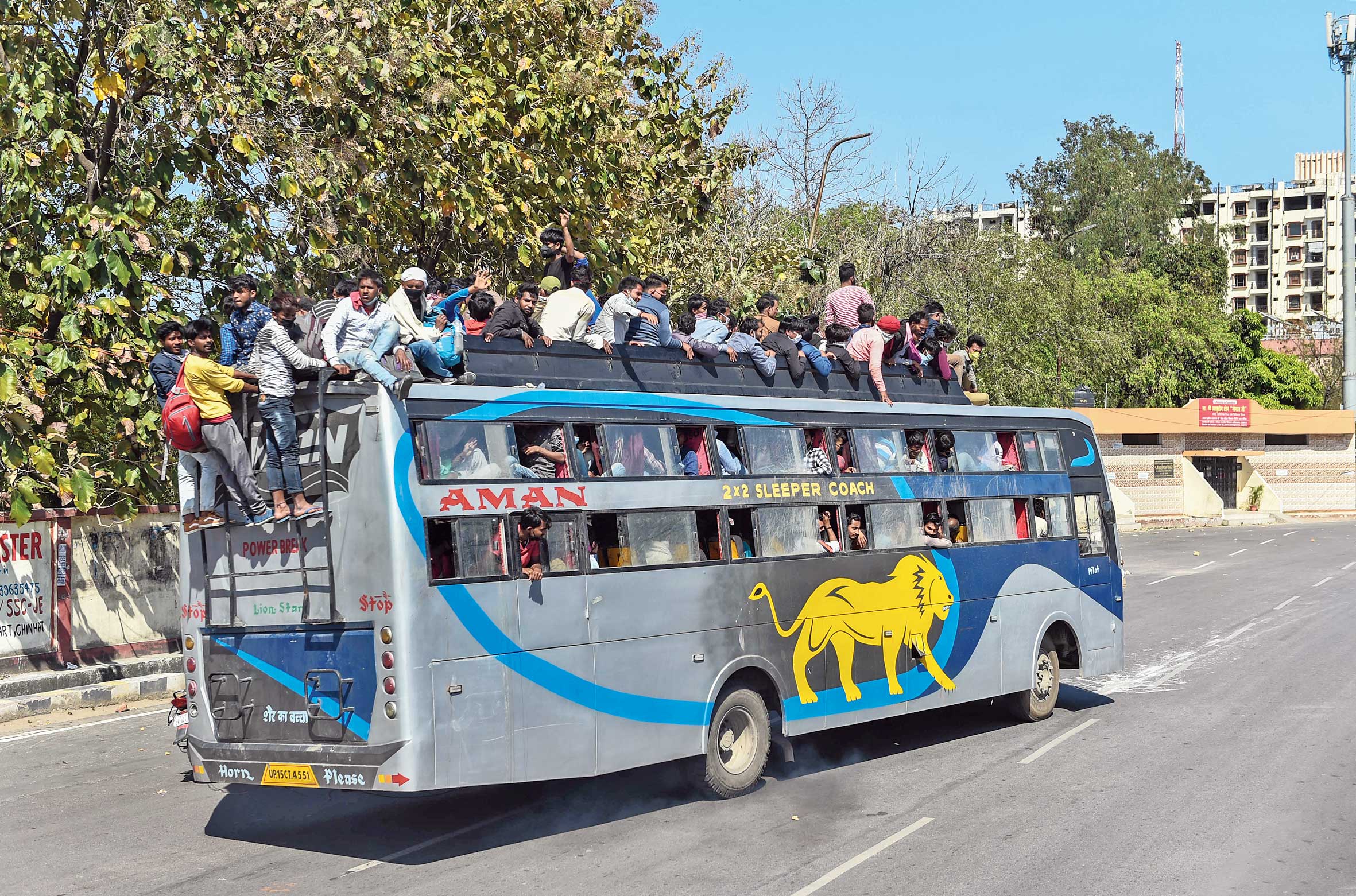 A bus overflowing with passengers leaves from Kamta bus stand in Lucknow on Sunday.
(PTI)
---
Lucknow
|
Published 29.03.20, 09:24 PM
|
---
A total of 120 people were packed inside the 40 to 50-seater bus with another 100 on the roof.
They had travelled more than 550km over 40 hours — mostly in suffocating heat —and many of them had an even longer distance to cover.
That was the account the police in Kanpur's Naubasta area heard on Saturday night when they stopped the private bus to ask why it was flouting the lockdown.
The passengers were migrant labourers and their families from in and around Ghaziabad, travelling to their homes — some to Unnao, Varanasi or Ballia in Uttar Pradesh; some to Chhapra or Gopalganj in Bihar.
With lakhs of out-of-job migrant workers and their families setting off on foot for their homes from the National Capital Region, the Yogi Adityanath government had from Friday started a bus service for them.
Sources said that while state government buses ferried the workers home free of charge, private buses were also drafted in while being allowed to charge fees.
Naubasta police inspector Ashish Kumar Shukla told local reporters: "Mohammad Shahnawaz, the bus driver, had a valid permit from the Ghaziabad transport authorities to take these people to their homes. There were 120 passengers inside and about 100 on the roof."
Those inside the bus were taking turns sitting on one another's laps. "Those inside have paid between Rs 1,000 and Rs 1,200 and those on the rooftop, between Rs 600 and Rs 800," Talib, a passenger, said. The driver did not contradict him.
It appears the buses ferrying the migrants — at least the private buses — were not following any rational division of the routes.
"We set off from Ghaziabad on Friday and kept making halts whenever the passengers asked," the driver told the police.
He added: "There cannot be free rides on private buses. The state buses too are carrying similar numbers of passengers."
Heat stroke
After the police stopped the bus, they told the passengers to get off and spend the night on the roadside.
It was around 11am on Sunday when a team of five doctors arrived to examine them. By then, Talib, 20, an Unnao resident, was on the verge of a heatstroke "having been forced to stand two hours in the sun".
A thermal scanner revealed Talib's temperature to be 103 degrees, Shukla, the police inspector, said.
"The doctors asked him to sit in the shade of a tree. His temperature returned to normal after two hours and the bus was allowed to continue its journey," he said.
By then, the doctors had noted down all the passengers' names, addresses and mobile numbers. The police claimed they had provided food and water to the passengers.
Buses off
A senior police officer said the Centre had on Sunday asked the states to strictly enforce the lockdown, stop any transport service for the stranded migrants and, instead, accommodate them in camps.
"No fresh bus will start after Sunday evening. About 1,000 buses have been run for the migrants in Uttar Pradesh so far," he said. Sources said this figure included tractor trolleys too.
Chief minister Adityanath on Sunday asked officials in Ghaziabad and Noida, where lakhs of migrant workers
and their families had been stranded on roadsides since Friday, to set up relief camps for them.
"We are arranging for these people to stay wherever they are," he was quoted as telling officials.
"They must stay at the camps for 14 days. They will be medically examined."