Coronavirus: Karnataka test-must order hits Kerala
It has affected a large number of people who travel between the two states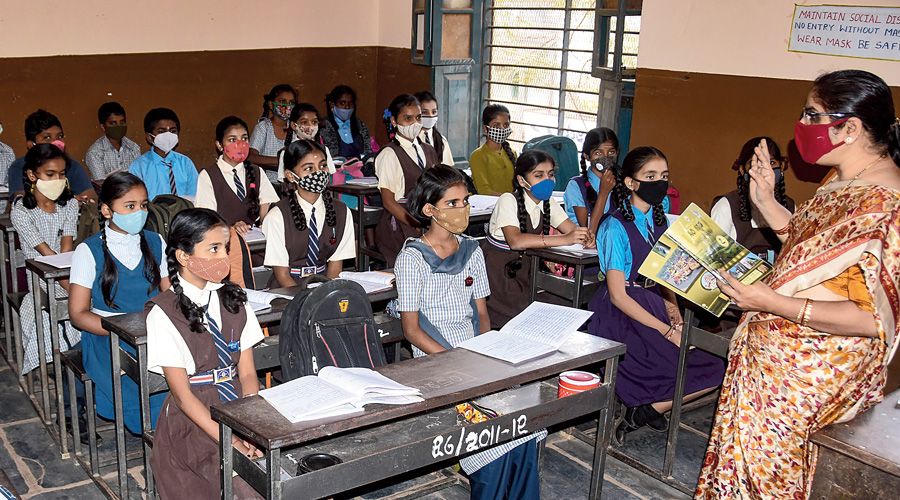 Students in Hubballi, Karnataka, attend a class after their school reopened on Monday.
PTI photo
---
Bangalore
|
Published 23.02.21, 12:29 AM
|
---
The Karnataka government's order that makes negative Covid reports mandatory for all those who enter the state from neighbouring Kerala has affected a large number of people who travel between the two states.
With daily Covid numbers still in the range of over 4,000 in Kerala, Karnataka has recently made it mandatory for all incoming passengers to possess negative RT-PCR reports not older than 72 hours. While a similar order was issued to restrict the movement of people from its northern neighbour Maharashtra, the impact was more on Kerala as it depends on Karnataka for vegetables and other essential goods.
On Sunday, Kerala reported 4,070 new Covid cases against 413 in Karnataka, triggering concern that travelers from Kerala could be carriers of the virus.
Incoming passengers from Kasaragod, Kannur and Wayanad were stopped at makeshift checkpoints at all bordering areas to ensure only those with negative RT-PCR reports were granted entry. This led to a massive friction, with people from Kerala blocking incoming traffic from Karnataka via the Bavali border checkpoint in Wayanad district.
The Wayanad district panchayat has written to Karnataka chief minister B.S. Yediyurappa to lift the restrictions that have also impacted the movement of goods between the two states. While northern Kerala depends on Karnataka for vegetables, farm labourers from bordering areas of Karnataka travel regularly to Kerala's plantations in Wayanad.
"This is a precarious situation that reminds us of the total blockade by Karnataka last year (when Kerala reported a large number of Covid cases)," Wayanad district panchayat president Shamsad Marakkar told The Telegraph on Monday.
Karnataka officials had dumped mud across inter-state roads to stop traffic from Kerala. Even ambulances carrying non-Covid patients from Kasaragod, which borders Dakshina Kannada, were denied entry.
In a tit-for-tat move, the Kasaragod district administration had blocked more than 20 roads leading to Karnataka when Covid numbers rocketed in Dakshina Kannada in July 2020.
"Truckers who go to Karnataka to fetch vegetables are also badly affected by this order as the drivers and cleaners must carry RT-PCR reports. The other issue for residents of Wayanad is that the swab samples for the RT-PCR tests have to be sent to neighbouring Kozhikode as we don't have any testing facilities here," Marakkar said.
Similar incidents were witnessed in Thalapady, which connects Kasaragod to Dakshina Kannada, where people raised slogans against Yediyurappa and the Karnataka administration on Sunday.
Kerala state BJP president K. Surendran defended his party's government in Karnataka and refuted the allegations. "There were such propaganda even earlier. No roads are blocked. This is part of a regular campaign in Kasaragod," he said before contradicting his own statement.
"But then, each state will be considering its own safety. As far we are concerned, we need travel facilities and there will be interventions," Surendran told reporters amid his pre-poll roadshow on Monday.
Confusion reigned in Karnataka over the foolproof implementation of the order that doesn't cover other neighbouring states such as Tamil Nadu and Andhra Pradesh. "It will be difficult for us to check if someone from Kerala had traveled to some place in Tamil Nadu and was then headed to Karnataka. The same logic applies to those who come from Maharashtra. They can travel to Goa and then enter our state," a health department official from Bruhat Bengaluru Mahanagara Palike, the implementing agency in the state capital, told this newspaper.
"We have health desks at the airport where people will be checked for RT-PCR reports. Bus passengers are checked at the borders. But the main issue is trains that arrive via Tamil Nadu and Andhra Pradesh," said the official who declined to be named.