Corona reprieve for Kamal Nath
BJP in court over delay on floor test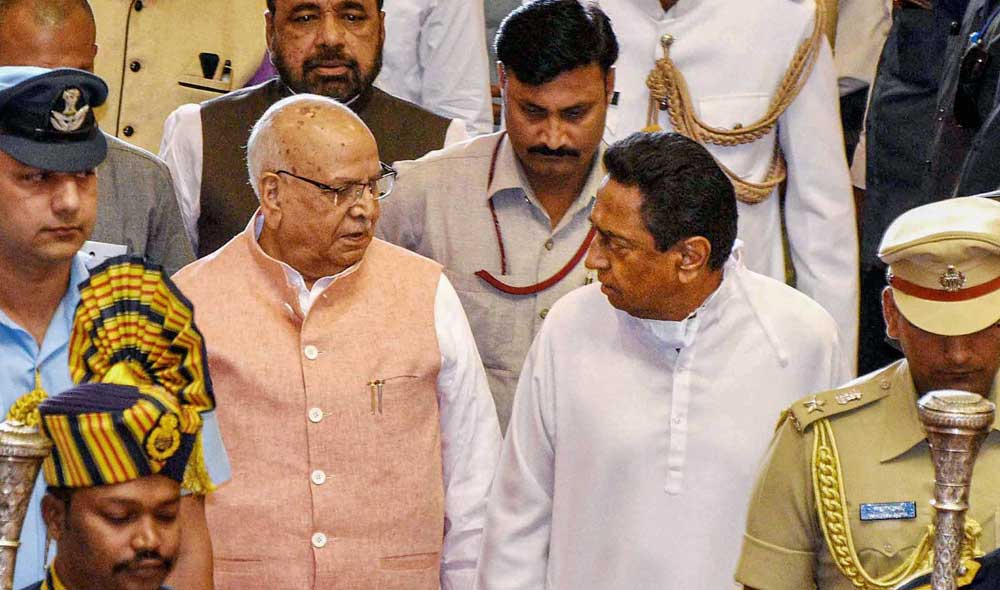 ---
|
Calcutta
|
Published 16.03.20, 02:13 PM
---
Fears over the fast-spreading coronavirus appeared to have handed the Kamal Nath-led Congress government in Madhya Pradesh a reprieve with Speaker N.P. Prajapati adjourning the Assembly for 10 days on Monday without a trust vote.
His move, which came after a one-minute speech by governor Tandon, sparked fervent protests by BJP MLAs. They have approached the Supreme Court, which will take up the matter for hearing on Tuesday.
The Madhya Pradesh Assembly saw high drama on Monday.
Tandon only read the last page from his speech and left the Assembly after urging the Congress to "follow the Constitution". He had written to Speaker Prajapati to have the test of strength for the Congress government — shaken after a rebellion by legislators loyal to the turncoat leader Jyotiraditya Scindia — on Monday.
Desperate for survival in the state, the Congress had urged the Speaker to suspend the House proceedings over the coronavirus outbreak. Several of the party's MLAs came to the Assembly wearing masks.
After the governor left, MLAs of the two parties sat in the House and shouted slogans at each other.
The turn of events prompted former BJP chief minister Shivraj Singh Chouhan to say: "Corona won't save Nath's government."
Nath wrote a six-page letter to Tandon, describing his diktat to the Speaker on the confidence motion as unconstitutional. "It does not lie within the domain of the governor to interfere with the functions of the Speaker," he said.
The Speaker has accepted six of the 22 resignations so far. The Congress maintains that the rebel legislators have been held back in Bangalore and the party can win them back.
The Assembly currently has 222 members, of which the Congress has the support of at least 115. If the resignations of all the 22 legislators are accepted, the Congress's tally will drop to 104, below the BJP's 107.
On the issue of the floor test, constitutional expert Subhash Kashyap told News18.com: "The governor is within his rights to send a message to the Assembly under Article 175 (2) of the Constitution to conduct a floor test. Now it is the Assembly's decision on what it wants to do. Speaker of the House is only the representative of the House."