Cop alerted gangster. I was with him when call came: Retainer
Senior officers concede fact but do not reveal whether they have identified the mole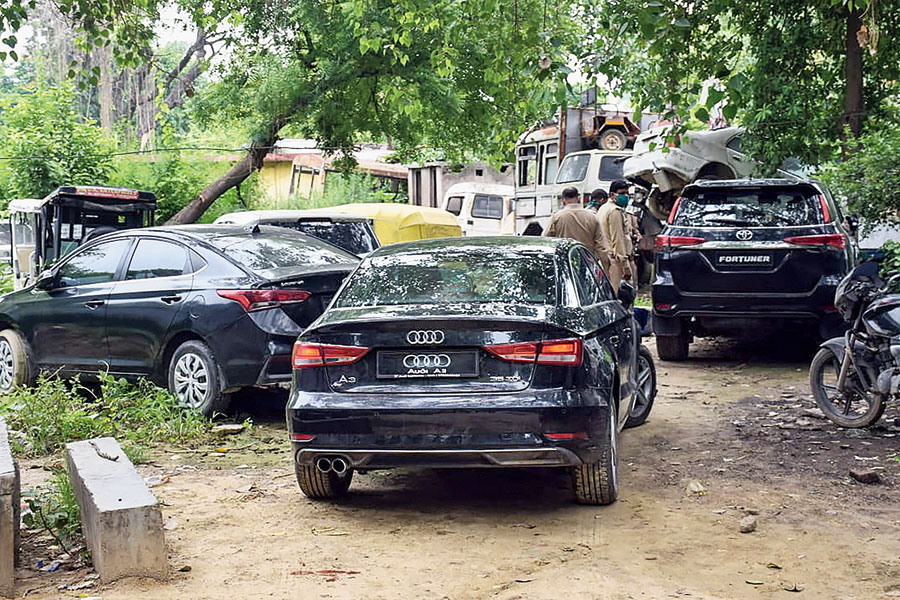 ---
|
Lucknow
|
Published 06.07.20, 03:16 AM
---
A "policeman" had tipped off gangster Vikas Dubey about Thursday night's cop raid during which eight policemen were killed, a domestic worker at the home of the fugitive accused said on Sunday.
"A policeman alerted him (Vikas) over the phone about an hour before the raid. I was with him when the call came," an injured Daya Shankar Agnihotri, 45, told reporters from his hospital bed in Kanpur.
"He (Vikas) then called his associates (gang members) and they took position at various points in the village, lying in ambush for the police."
Agnihotri said he did not know who the police mole was.
Senior officers have conceded that someone within the police must have tipped off Vikas, 45, whose gang killed 8 of the 18 raiding cops and injured 7 while themselves escaping unhurt. The police have, however, not named the mole or revealed whether they have identified him.
Agnihotri, who says he has been serving Vikas's family since childhood, claims he was not involved in the shooting and had fled the house in Bikru village, Kanpur Rural, shortly after the massacre.
Officers said they had found a gun licence in Agnihotri's name and that he remained a suspect in the killings.
Dinesh Kumar P, senior superintendent of police, said Agnihotri had tried to flee when a police team went to his home in Kalyanpur, 40km from Bikru, on Saturday night. The police shot him in the left leg.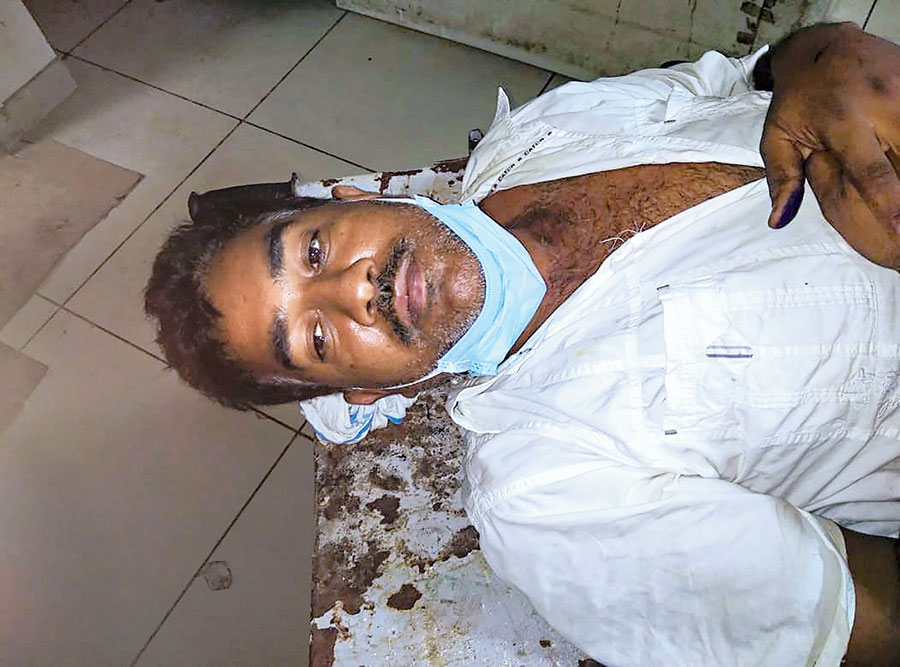 "He (Vikas) had obtained a gun licence in my name and fired at the police from the same weapon. I don't even know how to fire a gun," Agnihotri claimed.
"Someone had locked me and his (Vikas's) mother in a room during the shooting. So I couldn't see what happened."
Agnihotri claimed the gang had "25 to 30" members. Inspector Kaushalendra Kumar, one of the seven injured policemen, too, told reporters from his hospital bed that the firing had come from "all four directions" and suggested there must have been "20 to 25" shooters.
But the police have officially stuck to the assessment that the shooters were about a dozen strong and have named 11 suspects apart from Vikas.
"We have announced a reward of Rs 1 lakh for whoever helps the police arrest Vikas, and Rs 25,000 for information leading to the arrest of each gang member," inspector-general of police Mohit Agrawal said.
Car and sticker
A police source said an abandoned SUV had been found on Sunday in Auraiya district of Uttar Pradesh, about 100km west of Kanpur. He said Vikas was suspected to have arrived in the SUV and taken another vehicle to enter Bhind district of Madhya Pradesh via Etawah.
A sticker of the Bharatiya Hindu Sangathan, a little-known organisation, was stuck on the rear windscreen of the SUV.
Vikas, who faces a string of murder, attempt to murder, kidnapping and extortion cases, is known to have helped various political parties intimidate voters against a fee.