Party demands policy announcement on trade with China
Congress to Modi: Withdraw no-intrusion statement
Party demands for a clear policy announcement on trade with China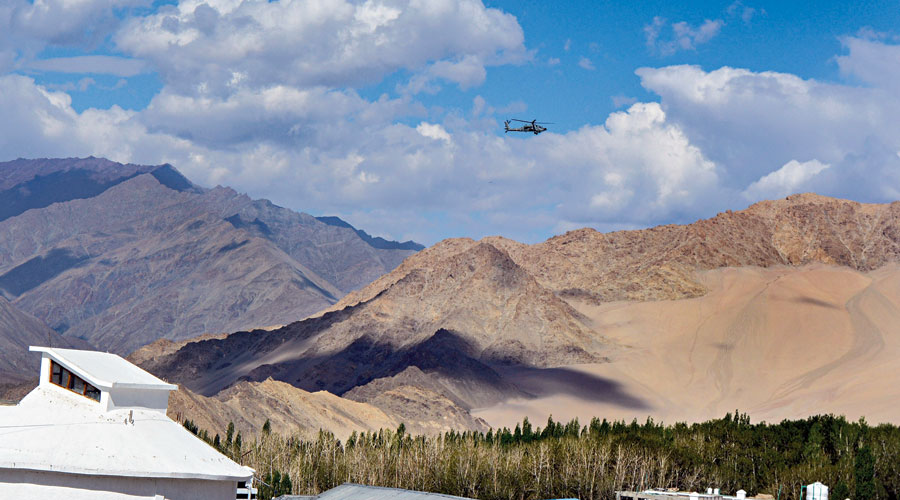 An IAF helicopter flies in Leh, Ladakh, on Monday.
PTI
---
New Delhi
|
Published 07.07.20, 03:48 AM
|
---
The Congress has asked Prime Minister Narendra Modi to reveal how far the Chinese troops have pulled back and how much of Indian territory they still occupy, arguing that Monday's reports of a partial withdrawal "confirm" that he had "misled the nation".
"We knew Chinese troops cannot face India's brave soldiers. They will be pushed back by our brave army," Congress spokesperson Pawan Khera said.
"The Prime Minister should now withdraw his statement that nobody had entered our territory and share with the nation how far the Chinese troops have withdrawn. Which areas in Ladakh had been encroached by them and how much land is still under their occupation?"
Four days after 20 Indian soldiers were killed in a violent face-off with Chinese troops in the Galwan Valley, Modi had on June 19 said that no one had entered Indian territory.
Khera recalled that soon after that statement, Beijing had reaffirmed its claim that the entire Galwan Valley belonged to China.
"The reports of withdrawal confirm that Modiji had misled the nation. It's time now to own up to the mistake and explain to the nation how close we are in restoring status quo ante," Khera said.
The Congress also demanded a clear policy announcement on trade with China, claiming ambiguity in the authorities' actions.
"Chinese companies continue to receive favour from governments in India despite talk of a boycott of Chinese products, cancellation of agreements and banning of apps," Khera said.
"While the army is pushing the Chinese back on the border, Chinese companies continue to get favour. Even during the last 20 days, we have information that even public sector units are awarding contracts to Chinese firms."
Khera focused on Modi's home state in this context. "Gujarat, which has emerged as the hub of Chinese investments, hasn't cancelled any deal as yet. Gujarat signed MoUs worth Rs 43,000 crore with Chinese companies for smart city, textile park and industrial park (projects)," he said.
"An agreement was signed inviting Chinese MSMEs to Dholera (a proposed industrial hub in Gujarat). When India's MSMEs are in crisis, Chinese small enterprises are being invited."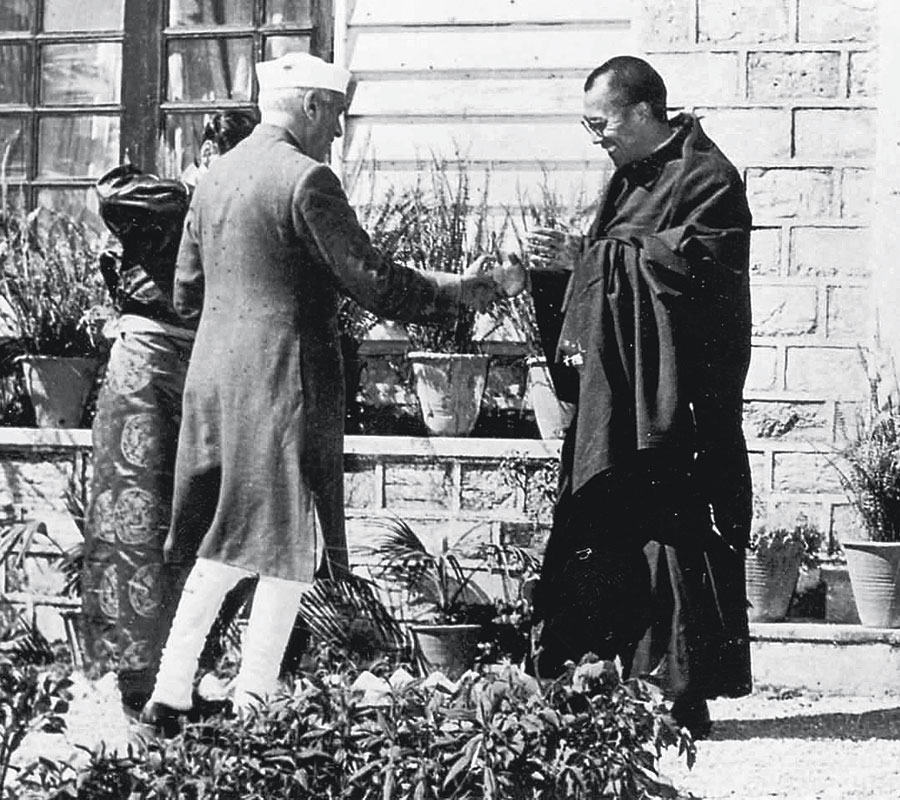 Khera then targeted the Prime Minister: "We understand Modi has had a special fondness for China since he was chief minister of Gujarat -— he has invested heavily in the relationship with China even as Prime Minister — but he must publicly articulate his position about reviewing the levels of engagement with China. We know that Air India is continuing its flights to China, and these are not part of the Covid-special Vande Bharat Mission (which aims to bring back Indians stranded overseas)."
To a question, Khera dismissed BJP president J.P. Nadda's criticism about Rahul Gandhi not attending any meeting of the parliamentary standing committee on defence.
"Will these silly distractions change the ground reality? Would China not have intruded into our territory had Rahul Gandhi attended these meetings?"
Congress communications chief Randeep Surjewala too tweeted: "Nadda ji, daily insidious comments are making you look like a poorer version of malicious BJP spokespersons. Had the BJP & Modi government spent its energy in fighting China & supporting our armed forces, you wouldn't need to lie on Chinese transgressions to mislead the nation."
Surjewala questioned the BJP's seriousness about standing committee reports.
"Is cutting Rs 11,000 crore of dearness pay of 15 lakh members of armed forces & 26 lakh military pensioners (the) government's way of encouragement? Did the estimates committee headed by Murli Manohar Joshi submit a report citing that defence expenditure was lowest since 1962 — lowest in 56 yrs?" he tweeted.
"Did the standing committee headed by B.C. Khanduri not hold that 68 per cent of our 'equipment is vintage' & there are insufficient rsources for 'construction of strategic roads on China border'?
"Didn't it also say that despite PMO's intervention having been sought on allocation of adequate defence budget, no reaction came? Why was the creation of 90,000 strong 'Mountain Strike Corps' to counter China shelved?"