Congress sets up Akbar test for Modi
The Congress's primary objective seems to be to project Modi as someone who approaches the principle of accountability by brazening it out in the face of controversy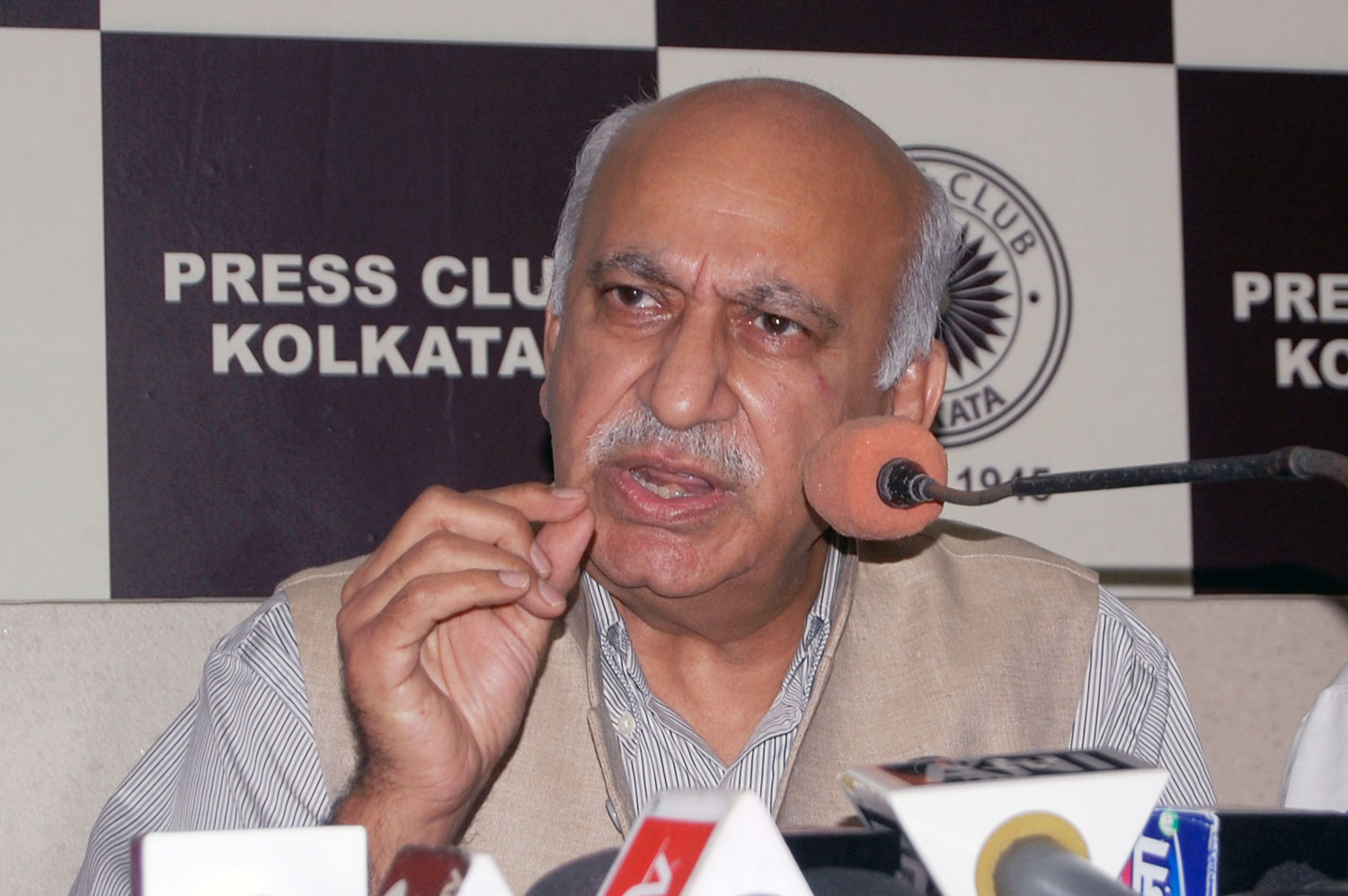 M.J. Akbar
Telegraph file picture
---
New Delhi
|
Published 12.10.18, 09:54 PM
|
---
The Congress on Friday expressed doubts that Union minister M.J. Akbar would face action over the sexual harassment charges against him, contending that Narendra Modi had never acted against any colleague on moral grounds in his 17-year stint as chief minister and Prime Minister.
One of the Congress's motives may have been to mount pressure on the Prime Minister to punish the junior foreign minister, who faces allegations levelled by former colleagues in media and is yet to return from a foreign trip.
But the Congress's primary objective seems to be to project Modi as someone who approaches the principle of accountability by brazening it out in the face of controversy, often refusing even to offer a verbal response.
"Modiji has never taken action against any of his ministers on moral grounds, be it at the Centre... or in Gujarat when he was the chief minister," Congress spokesperson Shaktisinh Gohil said. "In Gujarat, he kept in his cabinet ministers who were chargesheeted and even convicted in corruption and criminal cases."
Gohil added: "Moral grounds mean nothing to Modiji. Yes, if he calculates that Akbar's presence will harm him politically, he can act. For personal gains, he can do anything."
Modi had not uttered a word when the Opposition in 2015 demanded the resignations of foreign minister Sushma Swaraj and Rajasthan chief minister Vasundhara Raje for allegedly helping former cricket administrator Lalit Modi evade Indian justice in a money-laundering case.
A whole session of Parliament was washed out while the Opposition pressed unsuccessfully for a response from the Prime Minister.
Nor could the Prime Minister's wall of silence be breached over controversies such as the Vyapam and Chhattisgarh rice scams and the escapes of bank fraud accused Vijay Mallya, Nirav Modi and Mehul Choksi. Nor did Modi respond to the controversy over government agencies spying on a young woman known to him in Gujarat.
In contrast, the UPA government had removed several ministers who got entangled in controversies. While DMK ministers A. Raja and Dayanidhi Maran had to go because of corruption charges, law minister Ashwani Kumar was sacrificed for vetting a CBI report on the coal scam.
Railway minister Pawan Bansal was sacked after his nephew was arrested on bribery charges relating to promotions in the ministry. Maharashtra chief minister Ashok Chavan had to go in connection with the Adarsh Society housing scandal.
Environment minister Jayanti Natarajan was jettisoned amid internal complaints about a commission culture in the ministry.
But the Congress could not force even an inquiry through its loud and sustained corruption campaigns against some senior ministers in the Modi cabinet.
If Akbar has to quit, the credit will go to the women who have complained against him rather than to the Opposition.
Congress leader Rahul Gandhi, who came under questioning from journalists on his silence, tweeted on Friday: "It's about time everyone learns to treat women with respect and dignity. I'm glad the space for those who don't is closing. The truth needs to be told loud and clear in order to bring about change."
The Congress, which has been demanding Akbar's resignation for the past few days, promptly tweeted: "It's time that PM Modi speak up on the conduct of a member of his cabinet and live up to his slogan of Beti Bachao. Rahul Gandhi came out strongly in support of (the) campaign... but PM Modi continues to be silent on the issue."