Congress reads pulse for 'people's manifesto'
Party begins talks with domain experts, civil society members, Congress workers and people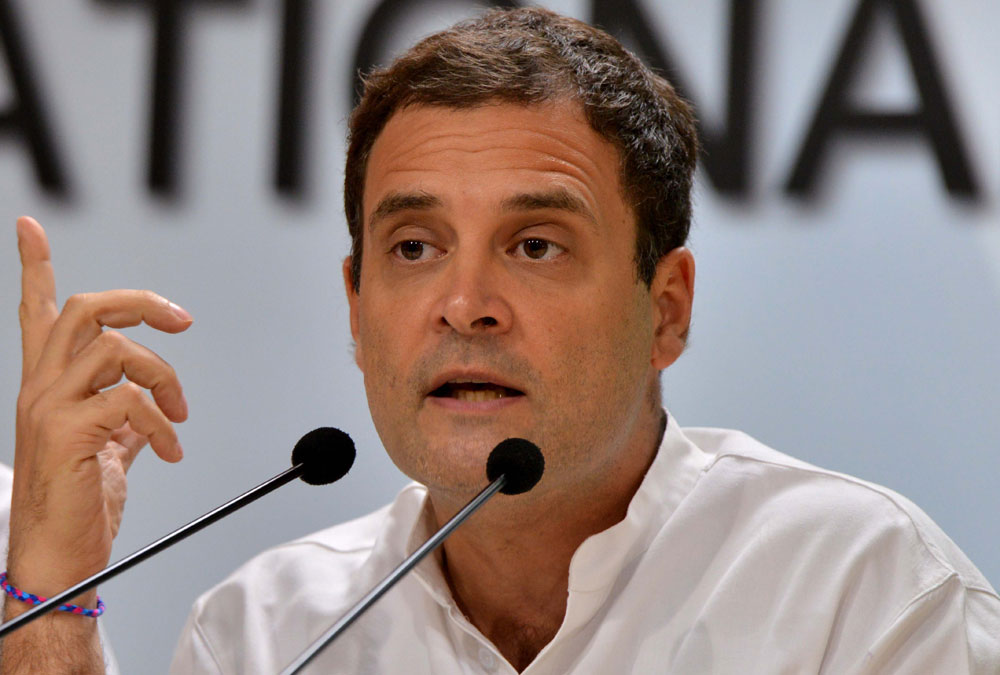 Rahul Gandhi wants a manifesto based on conversations with the people
Prem Singh
---
New Delhi
|
Published 29.10.18, 10:01 PM
|
---
The Congress has begun nationwide consultations with domain experts, eminent civil society members, party workers and the common people to prepare a "people's manifesto" for the 2019 general election.
Manifesto committee chairman P. Chidambaram said on Monday that Rahul Gandhi wanted a manifesto based on conversations with the people.
He added that more than 150 closed-door meetings and public interactions would be held over the next couple of months. A dedicated website (manifesto.inc.in) was launched on Monday inviting suggestions from people across the country.
A dedicated WhatsApp number — 7292088245 — has also been earmarked for the purpose.
While people can send their suggestions and ideas in 16 languages, the manifesto committee has formed 20 sub-groups for interactions on subjects ranging from the economy, education, industry, agriculture and women's empowerment to foreign policy, job creation, the youth, the armed forces, urban issues, environment, heritage, art and culture.
The sub-committees have begun holding meetings in various parts of the country. While closed-door meetings are being held with domain experts, open-house sessions are being conducted for the public in general.
While two meetings on the economy were organised in Mumbai over the past two days, another meeting on Dalit and tribal issues was scheduled for Monday in Nagpur.
The sub-groups have already travelled to Patna, Chandigarh, Aligarh, Bangalore, Pune, Chennai and Kochi to elicit ordinary people's views on various subjects.
The 22-member manifesto committee will be assisted by the All India Congress Committee and state unit research departments in analysing the suggestions and formulating the party position for the manifesto.
Rahul had held public consultations ahead of preparing the manifesto for the 2014 general election too, but this time the process is more organised and the manifesto committee has been given enough time to understand the people's aspirations.
Also, Rahul has formed a large manifesto committee this time to allow a meaningful consultative process on all key issues instead of letting a few "intellectuals" decide the party's outlook from air-conditioned rooms.
The manifesto will be called Jan Awaz or Your Voice. While the committee meetings are being held largely in urban areas, the party expects the website and WhatsApp number to be used by the rural youth and farmers to specify what they expect from a Congress government.
While the 22-member group headed by Chidambaram includes experienced politicians like Manpreet Badal, Salman Khurshid, Jairam Ramesh and Bhupinder Singh Hooda, it also has experts and academics like Shashi Tharoor, Rajeev Gowda, Sam Pitroda and Bhalchandra Mungekar.
To make the group more representative and diverse, those like Sushmita Dev, Kumari Selja, Meenakshi Natrajan, Lalitesh Tripathi, Rajni Patil, Krishnan Bindu, Tamradhwaj Sahu, Mukul Sangma, Raguveer Singh Meena and Sachin Rao have been included.