Congress: Modi's popularity on trial
It's the Prime Minister's mismanagement of the economy that has seen GDP growth plunge to minus 23%, snuffing out millions of jobs across the country, the Opposition believes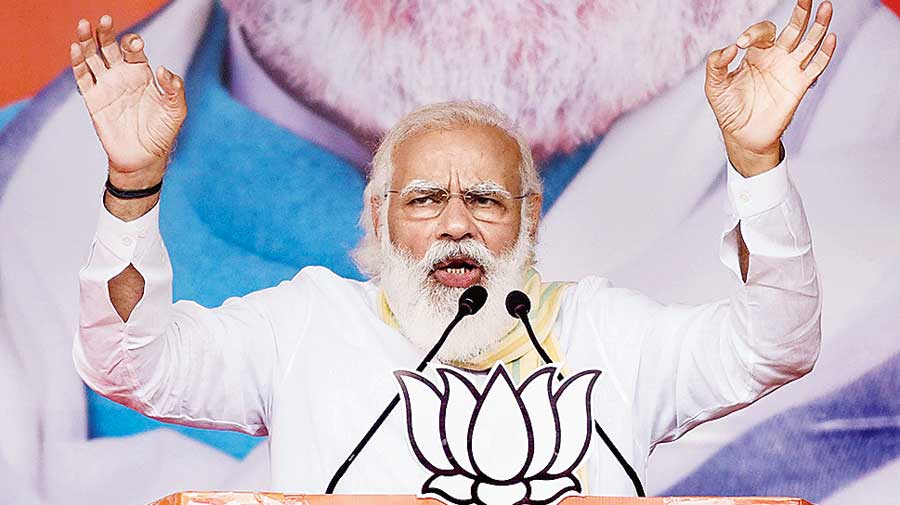 Modi at a rally in Samastipur, Bihar, on Sunday.
PTI
---
New Delhi
|
Published 02.11.20, 12:38 AM
|
---
The Congress-RJD-Left combine argues that last year's general election cannot be a yardstick to assess the political parties' strengths, with the ground reality having changed radically in Bihar over the past few months.
Even Prime Minister Narendra Modi's popularity is going to be severely tested this time, the Opposition alliance believes.
Congress-RJD members claim that recent developments, from the economic mess to the mismanagement of the lockdown, have exposed Modi's capabilities and Bihar's voters had cottoned on to the chasm between his promises and their delivery.
They argue that the unemployment crisis is not a creation of chief minister Nitish Kumar alone, and that Modi did nothing to keep his promise to create two crore jobs every year.
It's Modi's mismanagement of the economy that has seen GDP growth plunge to minus 23 per cent, snuffing out millions of jobs across the country, the Opposition believes.
"Nitish is definitely responsible for the 4.5 lakh vacancies in government jobs," Congress spokesperson Gourav Vallabh told The Telegraph.
"There hasn't been a single big industry in the last 15 years, in manufacturing or service. He is making excuses about Bihar being landlocked— it's like rubbing salt into people's wounds. Rajasthan, Delhi, Haryana and Punjab are much more developed than Bihar — do they have seacoasts?
Vallabh added: "Nitish returned Rs 26,500 crore allocated to Bihar under the Right to Education. A total of Rs 1,550 crore given for skill development lies unused, as does Rs 16,300 crore for thermal power.
"Thousands of crores more of money allotted under several heads were returned or lie unused. So Nitish is definitely responsible for the job crisis."
He continued: "But Modi is no less responsible. He ruined the economy through the note-bandi; GDP growth fell from 8.3 per cent in 2016 to 4.2 per cent in (early) 2020. Then came the senseless lockdown, pushing the economy to minus 23 per cent."
Vallabh accused Modi of lacking interest in development.
"There are 358 notified special economic zones in the IT sector across the country. Not one of them is in Bihar. Food processing and horticulture have great potential in Bihar but not one unit has been set up during these years," he said.
"Let Modi and Nitish explain why no private investment has come to Bihar. Instead of discussing these substantial issues, they are trying to fool the people."
Former finance minister P. Chidambaram flagged the Prime Minister's diminishing popularity by citing data from the Assembly polls conducted in Maharashtra, Jharkhand, Delhi and Haryana since the general election.
Chidambaram tweeted that "381 state Assembly segments have had Assembly elections (330) or Assembly by-elections (51) since 2019 Lok Sabha elections, where there were BJP candidates in the 2019 Lok Sabha elections".
He said BJP candidates had led from 319 of these 381 segments during the Lok Sabha polls.
"In the elections or by-elections in these segments since 2019, BJP candidates won only 163 out of 381 segments. Who said BJP cannot be defeated? Opposition parties must believe that they can defeat the BJP. I hope this will be proved in Bihar."
In Delhi, the BJP had bagged all the seven parliamentary seats in the summer of 2019 but won just 8 of the 70 seats during the Assembly elections in February this year despite spending much energy and resources on the campaign.
In Bihar, the BJP-JDU-LJP alliance had swept the Lok Sabha polls with the RJD drawing a blank and the Congress winning just one of the 40 seats.
Yet any hopes of a cakewalk in the ongoing Bihar elections would have been dampened by the anti-incumbency monster rampaging across the state, leaving both the BJP and the JDU struggling to defend their record.
Modi has been reduced to reviving memories of the poor law and order during Lalu Prasad's rule, instead of showing the confidence to engage with the voter on the strength of the government's performance.
Randeep Surjewala, head of the Congress campaign committee for Bihar, condemned Modi's attempt to divert the poll discourse from joblessness to emotive issues like the Pulwama tragedy and the amendment of Article 370.
"Modiji, for how long will you mislead the voters with lies and diversionary ploys?" he said.
"The double-engine government in Bihar is actually a double deception government: one Nitish who is dhokhebaaz (deceiver), and the other yourself, jumlebaaz (one who speaks with a forked tongue)."
On law and order in Bihar, Vallabh said: "What will create (more) fear among the girls than the candidature of Manju Verma, whose name cropped up in the Muzaffarpur shelter home scandal?"
Verma had resigned as Bihar social welfare minister in 2018 after reports of rape and torture of girls at the shelter home.
"What more disorder do you want than Durga devotees being beaten up and shot without provocation? And what more confusion than the LJP's Chirag Paswan flaunting Modi's photograph and threatening to send Nitish Kumar to jail?" Vallabh said.
Alleged police firing on a Durga immersion procession in Munger on October 26 had killed a teenager, wounded several others, and caused a mini-stampede before the cops baton-charged the crowd.