Congress asks media to introspect
The party cited WhatsApp messages attributed to Arnab Goswami which suggested he had easy access to PM and home minister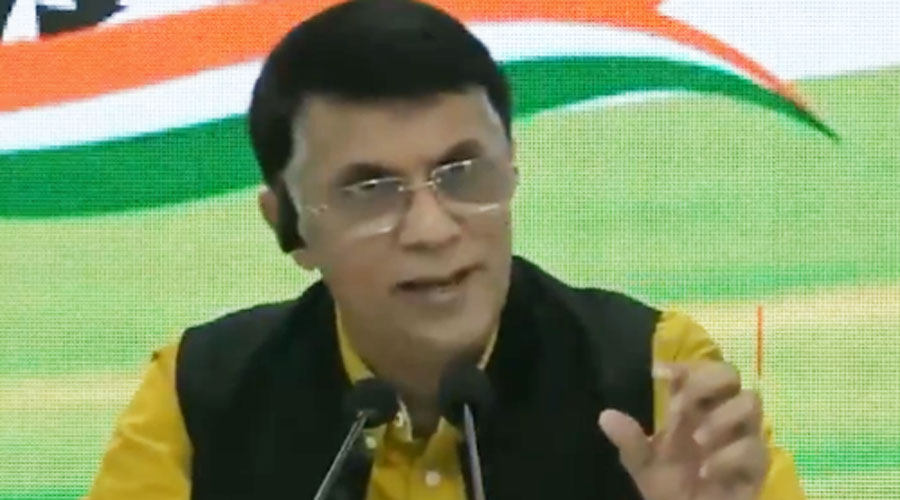 ---
---
The Congress on Wednesday asked the media to introspect while saying WhatsApp messages attributed to Republic TV managing director Arnab Goswami suggested he had easy access to the Prime Minister and home minister and used it to gain business favours and influence policy.
It also accused Goswami of conspiring to manipulate TV ratings and speaking insensitively about a dying Union minister.
Asserting that the Congress does not consider Goswami a journalist, party spokesperson Pawan Khera said a nexus between a media lobby and the government was not good for democracy.
"Laanat hai aisi journalism par (Shame on such journalism). Lobbying for business favours, fixing rivals, influencing policies, breaking the society using breaking news — will the media do some introspection?" he said.
Khera said the purported conversations between Goswami and Partho Dasgupta, ex-CEO of TV ratings agency BARC, showed how close Goswami was to Narendra Modi and Amit Shah and how casually he mentioned them as though they were friends.
"The confidence with which Arnab flaunts his proximity to the Prime Minister and his office is shocking. From the chats it appears that Arnab shared a very comfortable access to the Prime Minister and secured his intervention in overcoming business troubles and fixing rivals," Khera said.
"Why was the Prime Minister allowing Arnab such friendly access to himself and his office? Why was Arnab allowed to actively lobby with the Prime Minister and his office? What was the quid pro quo?
"From these chats it is clear that Arnab not only had direct access to one of the most powerful leaders of the ruling party, then party president Amit Shah, he also took ratings agency boss Partho Dasgupta to meet him. Arnab was actively securing Shah's intervention to influence policy and controlling the Telecom Regulatory Authority of India."
Khera asked: "How can the president of the party so brazenly interfere in policy matters to help a media house at the expense of others? Why was Shah interfering in the functioning of a supposedly autonomous authority called the Trai? What was Arnab's hold on Shah?"
Senior Congress leader Salman Khurshid cited references to Arun Jaitley in the messages, written shortly before the death of the severely ill former finance minister and senior lawyer.
"Jaitley was widely respected both in the Bar and Parliament. The kind of conversation about him is deeply saddening. If this is how they treat their own, how will they treat ordinary citizens?" he said. Arnab had reportedly said: "Jaitley is stretching it."
A Congress statement cited corruption charges against Goswami's channel. "In 2017, Arnab Goswami's channel and another channel bypassed the auction system put in place by Prasar Bharati to gain viewership on DD Free Dish. The two channels did not pay the fee to Doordarshan to book slots in the free DTH service with the help of Dish TV, a private DTH service. This violation cost crores of rupees to the public exchequer.
"The chats tell us that the then information and broadcasting minister Rajyavardhan Singh Rathore allegedly informed Arnab that he was keeping aside a complaint that was received by his department against Goswami's channel."