Congress only place for idiocy, says Shah
BJP president Amit Shah hails SC verdict in the Bhima-Koregaon case, says Congress exposed on "urban Naxalism"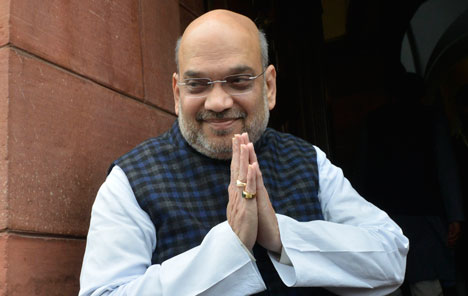 ---
New Delhi
|
Published 28.09.18, 11:33 PM
|
---
BJP president Amit Shah on Friday hailed the Supreme Court verdict in the Bhima-Koregaon case and claimed that the Congress under Rahul Gandhi was "the only place for idiocy" and that the Opposition party stood "exposed" on "urban Naxalism".
"There is only one place for idiocy and it's called the Congress. Support 'Bharat Ke Tukde Tukde Gang', Maoists, fake activists and corrupt elements. Defame all those who are honest and working. Welcome to Rahul Gandhi's Congress. #BhimaKoregaon," Shah tweeted.
The Congress had condemned the arrest of five Left-leaning activists for alleged Maoist links and involvement in the Bhima-Koregaon violence in which one person died on January 1. The Supreme Court on Friday refused to interfere with the arrest of the activists.
Shah attached to his tweet a tweet by Rahul after the arrest of the activists. "There is only place for one NGO in India and it's called the RSS. Shut down all other NGOs. Jail all activists and shoot those that complain. Welcome to the new India. #BhimaKoregaon," the Congress president had tweeted on August 28.
Shah said in another tweet: "Those who stooped down to the level of politicising an issue of national security have been exposed by the Honourable Supreme Court's decision today. It is high time that the Congress now clears its stand on this critical issue of Urban Naxalism."
According to the BJP chief, "plotting against the country with the intent to harm our citizens" cannot be termed "healthy culture of debate, discussion and dissent".
The BJP has been trying to use issues such as "urban Naxalism" to paint the Congress as a party least concerned about "national security". The BJP's elation at Friday's court verdict was manifest in Shah not only taking to Twitter but also issuing a statement, seeking to extract maximum political mileage.
"Rahul Gandhi should clarify whether he stands with urban Naxals, illegal infiltrators or the countrymen," Shah said, seeking to corner the Congress on the issue of national security.
Apart from Shah, the BJP fielded Maharashtra chief minister Devendra Fadnavis in Mumbai and spokesperson Sambit Patra in Delhi to project the Supreme Court ruling as a vindication of the party's stand in the interest of the nation.
"The Supreme Court verdict is in the interest of national security…. Rahul Gandhi is standing with (arrested civil liberties activists) Gautam Navlakha, who wants a referendum in Kashmir and doesn't consider Kashmir as an integral part of India," Patra said.
Internally, the BJP believes that apart from the developmental plank of the Narendra Modi government, issues of "nationalism" such as Maoism and infiltration, coupled with the Hindutva agenda, would power the party to victory in the 2019 Lok Sabha elections.
"According to the Supreme Court, arrests of activists are not because of dissent against the government. There are other reasons for these arrests. This judgment by the Supreme Court is a win for India," Patra said.