Coal dues on Jharkhand budget wish list
Rameshwar Oraon submits document to Nirmala Sitharaman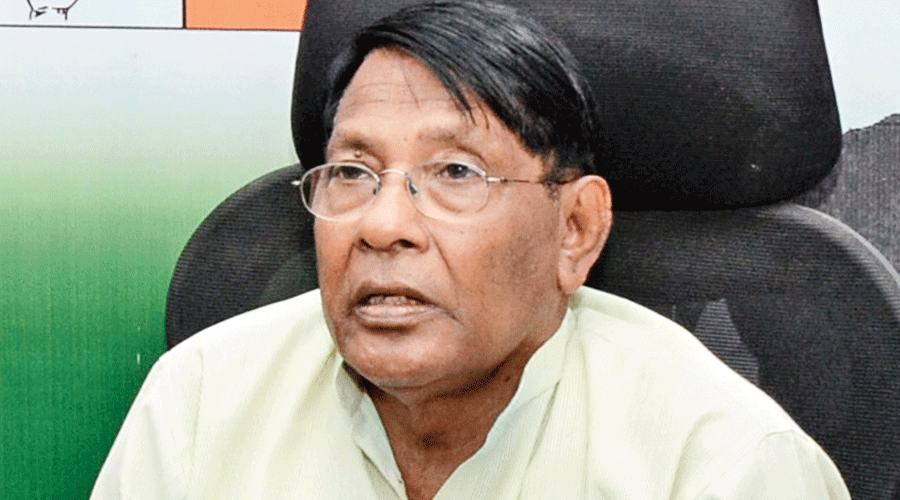 Jharkhand finance minister Rameshwar Oraon
---
Jamshedpur
|
Published 26.11.22, 03:11 AM
|
---
Jharkhand finance minister and former Congress state president Rameshwar Oraon submitted the state's wish list before Union finance minister Nirmala Sitharaman during a pre-budget meeting in Delhi on Friday.
Oraon demanded an extension of the GST compensation period, clearance of outstanding dues of Rs 1.36 lakh crore by coal PSUs for non-payment of land compensation and royalty and central assistance for helping farmers affected by drought in the state this year.
"Jharkhand has not been able to collect taxes as per protected revenue under GST and the compensation payment system ended in July 2022. Our state is estimated to suffer a loss of Rs 4,500 crore. I would like to demand an extension of the compensation period for five years," Oraon said.
"Coal mining in Jharkhand is done primarily by subsidiaries of Coal India Limited and they owe a huge amount to the Jharkhand government. There is an outstanding of Rs 1,01,142 crore in non-payment of land compensation, Rs 32,000 crore in common cause dues and Rs 2,500 crore in washed coal royalty. I would request the Centre to clear the outstanding dues of Rs 1,36,042 crore at the earliest," Oraon said.
Reminding the Centre about the increasing incidents of deaths due to illegal mining in abandoned coal mine areas, Oraon said:
"It is the responsibility of the coal PSUs to formally take steps to close coal mines once they have stopped mining activities without which it leads to environmental pollution, loss of life due to water accumulation in such abandoned areas and increased threat of illegal mining, which leads to conflict between masses and law enforcers."
The Jharkhand finance minister suggested that coal PSUs, after closing mines, should initiate steps to reclaim the land by setting up multipurpose parks, water sports and adventure tourism.
"Due to erratic monsoon in the state, 226 blocks in 22 (out of 24 districts) have been declared drought-affected. The state has decided to pay each affected family Rs 3,500. The state has already written to the agriculture cooperative and farmers' welfare department of the Union government for central assistance on this front. I would request it to be expedited by the Centre," Oraon added.
The minister also demanded an airport in Sahebganj for better connectivity with other eastern states and the Northeast, waiver of state's contribution of 20 per cent in the construction of a railway bridge, and increasing the amount of collateral fee from Rs 7.5 lakh to Rs 15 lakh for students from the financially weaker backgrounds to pursue higher education.