Cloud over festival invite to youth leader
Umar Khalid gets invitation, Facebook post suggests he's dropped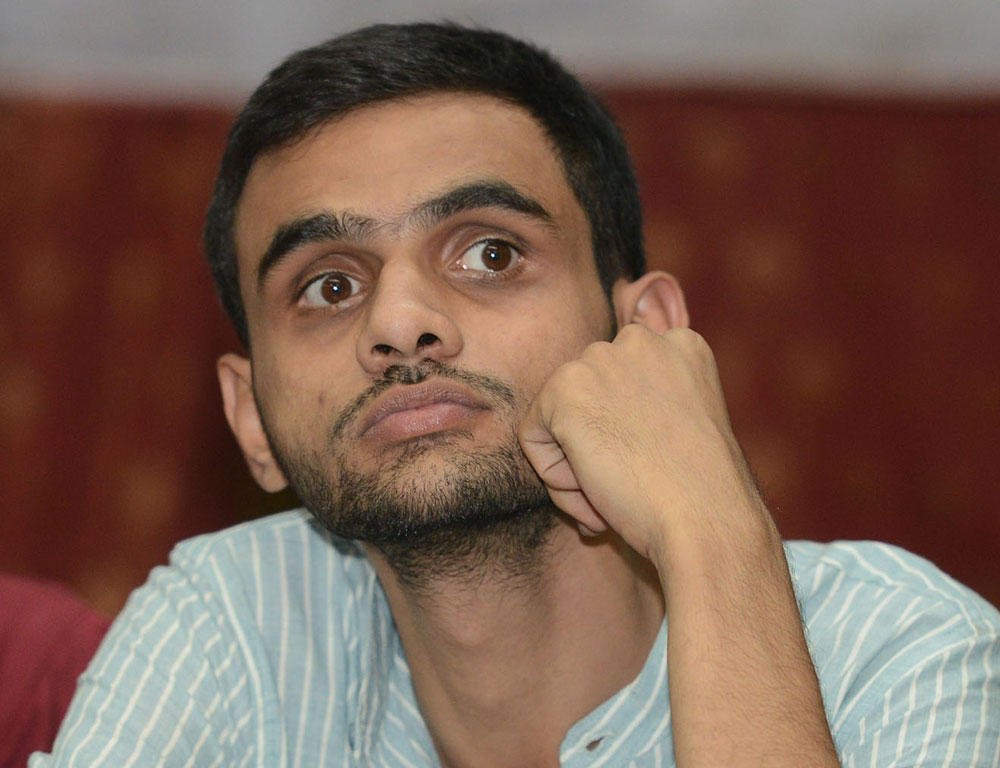 Activist and former Jawaharlal Nehru University student Umar Khalid
Telegraph picture
---
Bangalore
|
Published 08.12.18, 10:18 PM
|
---
A journalist and author has suggested that rights activist and Sangh parivar bugbear Umar Khalid has been dropped as a panellist from a literary festival to be held by the Mathrubhumi media group in Kerala but a representative of the organisers claimed no names had been finalised.
The Mathrubhumi group, the cradle of many a literary giant who wrote for and edited its publications, has recently been the target of a boycott call by Hindu hardline groups. They were incensed by the serialisation of a novel, which they felt demeaned Hindu women devotees, in the Mathrubhumi weekly, one of the most respected magazines in the state. The media group also runs the Mathrubhumi newspaper.
Nikhila Henry wrote a Facebook post saying a formal invitation had been sent to Khalid by the organisers of the Mathrubhumi International Festival of Letters, to be held in Thiruvananthapuram from January 31 to February 3.
But, she added, she had now learnt that Khalid, a former JNU student who was arrested on sedition charges in 2016, has been dropped.
"It was in October that Mathrubhumi Lit Fest finalised a panel comprising Umar Khalid, (Odisha musician) Sumeet Samos and myself around the topic — Youth Unrest in India," she wrote. "Now that we are nearing the dates, it has come to my notice that Khalid is excluded from the festival."
A senior journalist who said he was coordinating the event but declined to be named told The Telegraph on Saturday that the names would be finalised only at a meeting scheduled for Tuesday.
"Several names were suggested by the earlier coordinators but none of them have been finalised," the journalist said. "As is the usual practice, we had sought confirmations from several senior Malayalam and English writers. Several more names will be decided on Tuesday."
Two of the earlier coordinators have left the organisation. While Kamalram Sajeev, who edited the Mathrubhumi weekly, chose to leave, C.P. Surendran was caught in a #MeToo allegation and had to step down.
Khalid, however, confirmed that he had received an email in November inviting him to the event.
"Yes, I did get an email. But now I read in Nikhila's post that I have been excluded. If that's true, it's very unfortunate and the organisers should make it clear why I was dropped," he told this newspaper.
Asked about this, the senior journalist said: "As far as I know, the names will be decided on Tuesday."
Khalid has been a staunch critic of Right-wing groups and has often been portrayed by Sangh parivar sympathisers as "anti-national".
In February last year, ABVP members had disrupted a seminar at Delhi's Ramjas College because Khalid was to speak there. ABVP members later attacked students, teachers and journalists at a protest march against the disruption.
In August this year, a gun-wielding man attacked Khalid outside the Constitution Club in Delhi just before an event where victims of communal violence and their families were to speak.
Henry said: "Young people, especially those vocal in protest like Khalid, should be a part of events and spaces like literary festivals, which should uphold democratic values."
The Mathrubhumi weekly was targeted by Sangh parivar outfits after Meesha (Moustache), a novel by Malayalam writer S. Harish, a few chapters were serialised. They accused the novel of insulting temple-visiting Hindu women.
Faced with threats to him and his family, Harish withdrew the novel in July despite chief minister Pinarayi Vijayan's assurances of support. Later, the Supreme Court refused to ban the book, saying "craftsmanship of a writer deserves to be respected".
A well-known publishing house launched Meesha in book form the following month.