CISF officer, two JeM members killed in Jammu gunfight
Both the militants had reportedly entered the city outskirts in Sunjwan after infiltrating the international border in Samba district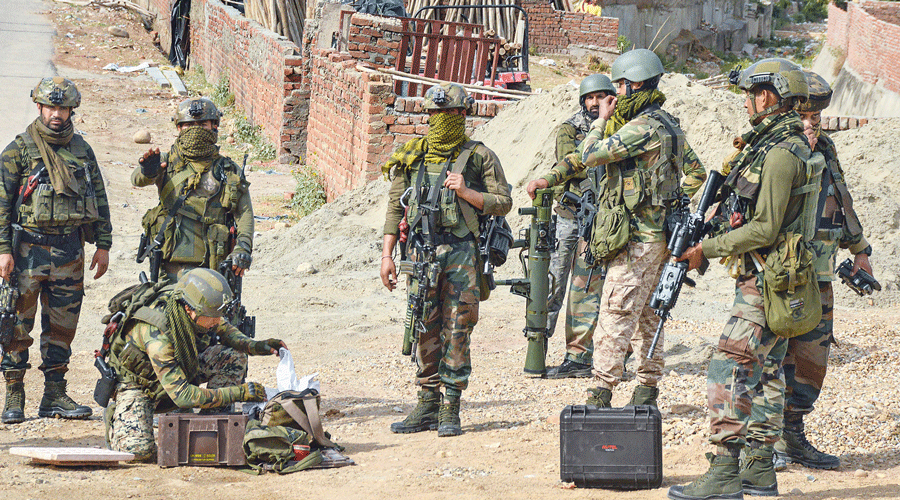 Security personnel at the encounter site in Jammu on Friday.
PTI Photo
---
Srinagar
|
Published 23.04.22, 12:19 AM
|
---
A Central Industrial Security Force (CISF) officer was killed and several jawans were injured near a vital military installation in Jammu on Friday in what appeared to be an unplanned attack by two Jaish suicide bombers who were reportedly tasked with sabotaging Prime Minister's Narendra Modi's visit on Sunday.
Both Jaish militants were killed in an hours-long gunfight after the attack on a CISF bus. The two had reportedly entered the city outskirts in Sunjwan, home to a sprawling and heavily guarded army camp, after infiltrating the international border in Samba district.
The attack took place as preparations were in full swing in Jammu to receive Modi, who is to make his maiden visit to civilian areas of the fledgling Union Territory since the 2019 scrapping of Jammu and Kashmir's special status. Modi is scheduled to address thousands of panchayat members at Palli village in adjoining Samba district.
Officials said the two militants were spotted by guards of the Sunjwan camp around 4.25am on Friday, triggering a joint security forces operation that killed both. The details of the militant plan are still sketchy.
One theory is that the militants had planned to attack the Sunjwan camp but chose to target a CISF bus in an apparent knee-jerk reaction when the vehicle was on its way to Jammu airport. They killed CISF assistant sub-inspector S.P. Patil and injured two jawans before fleeing to a nearby locality.
The militants took shelter in a house and a large number of security forces personnel rushed to the area to launch a cordon-and-search operation. A fierce gunfight ensued and continued for hours. One militant died in the initial push by the forces but the other put up a tough fight. He fired grenades from an under-barrel launcher, injuring jawans.
"The launch of two militants two days ahead of the PM's visit... is part of a big conspiracy to disturb the peaceful atmosphere in Jammu. It could have been a big conspiracy to sabotage the visit of the PM," DGP Dilbag Singh said.
The DGP later said that the militant attack, which took place at a time preparations were afoot for a "very big function", was "definitely linked" to the Prime Minister's impending visit.
The security forces have recovered two AK-47 rifles, a grenade launcher, two suicide vests, "lots of ammunition", food packets and energy drinks, suggesting that the militants were planning a fidayeen (suicide) attack and had come prepared for a long haul.
"It is good we got a timely input and a timely operation was launched," DGP Singh said, adding the police had prior information about the militants.
The DGP said both militants seemed to be from Pakistan but further investigation was underway.
"According to available information, they have no old history (of militancy in Jammu and Kashmir). They were launched and immediately they started the process of attack but our operation foiled that. It seems it was a fresh infiltration," Singh said.
The attack triggered panic in Jammu. Mobile Internet services were suspended and schools in and around the area were shut as a precautionary measure.
The Sunjwan camp had witnessed a major attack by militants on February 10, 2018, in which three Jaish fidayeen members killed six soldiers and a civilian.
All three militants who had stormed the camp were later gunned down.