Chopper 'wrong button'
The former chief minister appeared to be referring to the crash of an Mi-17 helicopter at Budgam in central Kashmir on February 27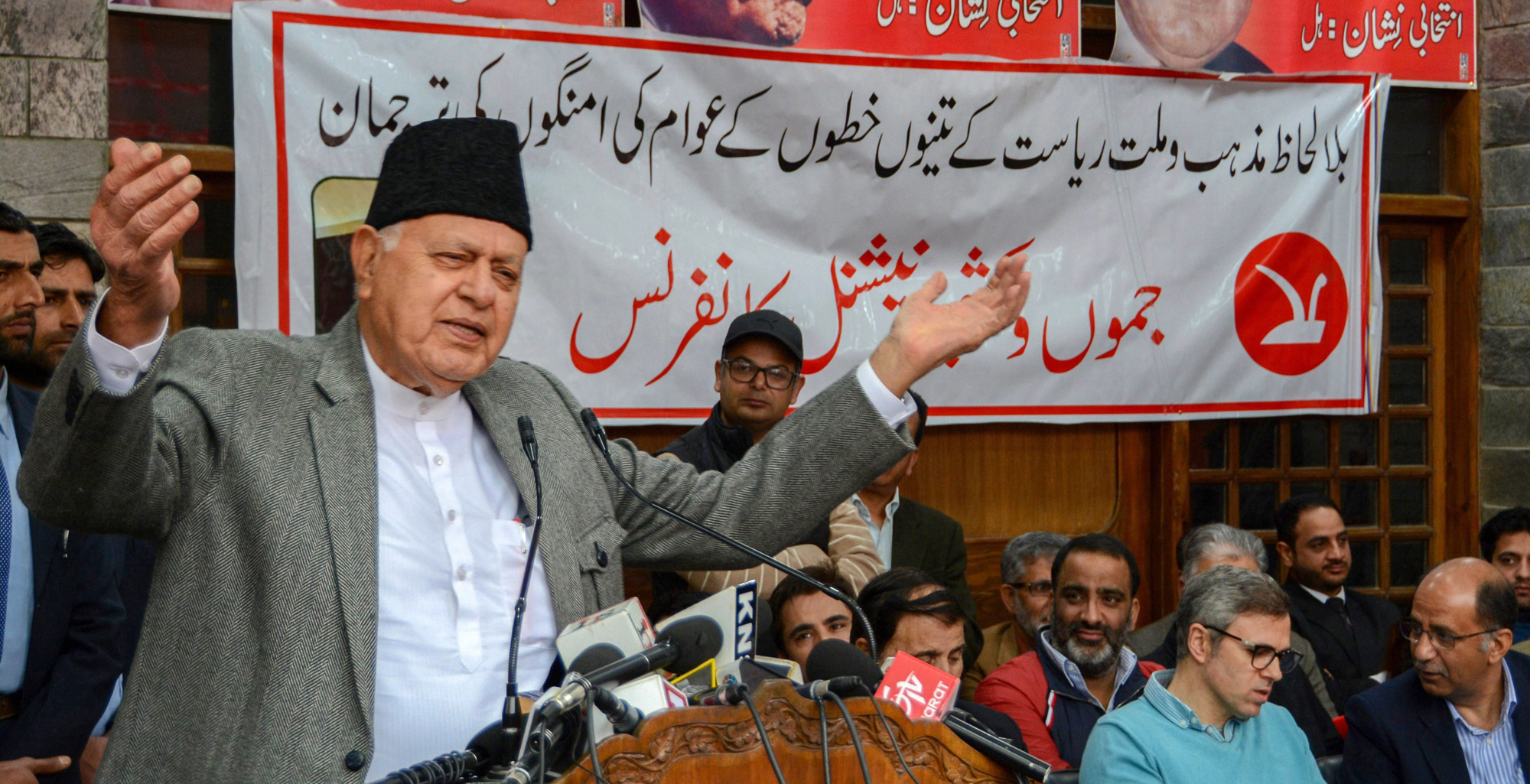 ---
|
Srinagar
|
Published 30.03.19, 08:18 PM
---
National Conference veteran Farooq Abdullah on Saturday suggested that a "wrong button" was pressed and a helicopter crashed, killing six Indian Air Force personnel and a civilian.
The former chief minister appeared to be referring to the crash of an Mi-17 helicopter at Budgam in central Kashmir on February 27 around the same time Pakistan had launched retaliatory air strikes in Indian territory.
Abdullah's statement comes close on the heels of a media report that said investigators had found an Indian air defence missile was fired shortly before the helicopter crashed. "The final moments preceding the crash, including if the IFF (Identity, Friend or Foe) systems were switched on or not, are being carefully looked at to determine what went wrong," The Economic Times had reported on Friday.
On Saturday, Abdullah made the oblique reference to the chopper while he was addressing workers of his party.
The immediate context of Abdullah's reference was the anti-satellite mission announcement by Prime Minister Narendra Modi on Wednesday.
Abdullah told the party meeting: "Do you know who had prepared this missile which destroyed a satellite? It was Manmohan Singh. But he did not declare it. Now, when there is an election, just to show that 'Hanumanji tashreef laye hain (Hanuman has come)', he (Modi) pressed the button.
"And one wrong button was also pressed, and a helicopter fell there. Six of our air force personnel, along with a civilian, were killed."
On February 27, the defence ministry had said in a statement: "One Mi-17 V5 helicopter of the Indian Air Force got airborne from Srinagar airfield at 1000 hrs for a routine mission. The helicopter crashed around 1010 hrs near Budgam, J&K. All six air warriors on board the helicopter suffered fatal injuries. A court of inquiry has been ordered to investigate the accident."
The helicopter had crashed in an open space around the time the Pakistan Air Force conducted strikes inside Indian territory in response to the Balakot strikes.
A civilian was also charred to death after coming under the crashing chopper. Pakistan had then denied any role in the helicopter crash.
An air defence alert was in force then over Jammu and Kashmir. Sometimes, slow-moving choppers can be mistaken for unmanned aerial vehicles, some of which can be armed and can cause damage.
The events surrounding the release of Wing Commander Abhinandan Varthaman, who was also captured on February 27, had overshadowed the helicopter tragedy.
The marked contrast in the way the government treated the two incidents had also drawn comment at that time.
"The deaths of the six IAF officers and the civilian were lost in the cacophony of war-mongering in TV studios," an IAF officer had said then.
On Saturday, Abdullah said in reference to the Balakot air strikes that in the last session of Parliament, several members had said Modi had failed on all fronts and there is nothing to show. "So, he would create a war-like situation to divert the attention of the people."
Abdullah added: "What did he do? How many Indian soldiers have been killed in Chhattisgarh, did Modi ever go there and pay his tributes?"