Amid Kashmir row, Chinese foreign minister lands in Delhi
An official said on condition of anonymity that Wang Yi was in India and would meet foreign minister S. Jaishankar on Friday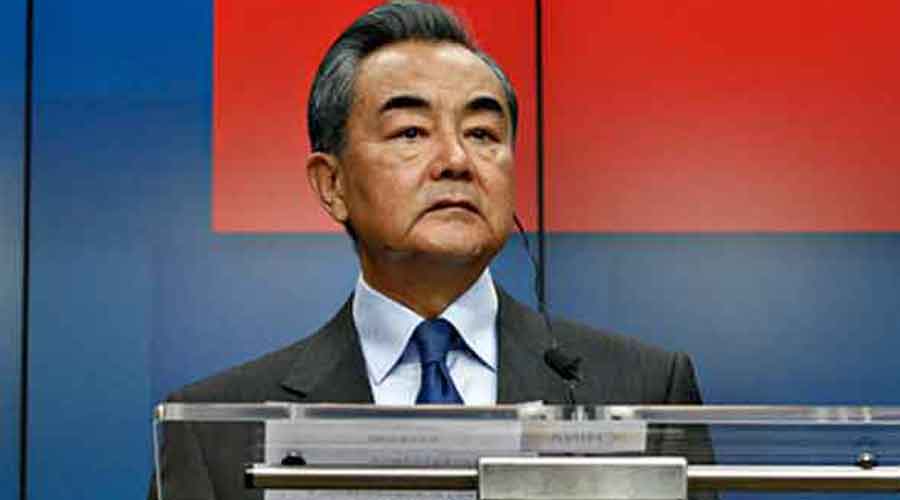 ---
New Delhi
|
Published 25.03.22, 03:27 AM
|
---
Flight trackers showed Chinese foreign minister Wang Yi's flight had landed in Delhi but there was no official word from either capital on the visit, the first at this level since the border standoff in Ladakh began in the summer of 2020.
The flight Wang was said to be travelling on, B-8415, landed in Delhi shortly before 8pm. But an hour later, not a single photograph of the visit had been shared by the external affairs ministry — something usually done promptly during visits by foreign dignitaries.
Nor was there any official announcement or confirmation of the visit.
Earlier in the day, Chinese foreign ministry spokesperson Wang Wenbin, asked if the foreign minister would be visiting Afghanistan and India this week, had said: "If there is any information on that, we will release it in a timely manner."
From Islamabad, foreign minister Wang paid a short visit to Kabul before his flight headed towards India.
Later in the night, an official said on condition of anonymity that Wang was in India and would meet foreign minister S. Jaishankar on Friday.
The "visit" comes amid another exchange of words between the two countries following Wang's public endorsement of the views articulated on Kashmir at the 48th session of the Council of Foreign Ministers of the Organisation of Islamic Cooperation (OIC) in Islamabad on Wednesday.
Besides Pakistan Prime Minister Imran Khan, several other visiting ministers had expressed concern at the situation in Jammu and Kashmir while expressing solidarity with the Kashmiri people's right of self-determination.
Addressing the meeting, Wang had said: "On Kashmir, we have heard again today the calls of many of our Islamic friends. And China shares the same hope."
India had reacted sharply to Wang's comments on Wednesday night itself.
"We reject the uncalled for reference to India by the Chinese foreign minister Wang Yi during his speech at the opening ceremony," external affairs ministry spokesperson Arindam Bagchi had said.
"Matters related to the Union Territory of Jammu and Kashmir are entirely the internal affairs of India. Other countries including China have no locus standi to comment. They should note that India refrains from public judgment of their internal issues."
This was followed up on Thursday with another indirect swipe at China while responding to more criticism directed at India from the OIC, including its observatory report on Islamophobia. Authored by host Pakistan, its India focus was evident.
Referring to the statements and resolutions adopted at the OIC meeting, the external affairs ministry said they demonstrated "both the irrelevance of the Organisation of Islamic Cooperation as a body and (the) role of Pakistan as its manipulator".
In 2019, when then external affairs minister Sushma Swaraj had been invited as guest of honour to the OIC plenary, the Narendra Modi government had made much of it.
In its response to the OIC deliberations in Islamabad, the external affairs ministry further said: "References have been made to India that are based on falsehoods and misrepresentation. The absurdity of this body commenting on the treatment of minorities, that too at the instance of a serial violator of human rights like Pakistan, is so evident."
In a final swipe that appeared to be aimed at China for Wang endorsing OIC members' views on Kashmir, Bagchi said: "Nations and governments that associate themselves with such exercises should realise the impact it has on their reputation."