'Top political leadership walked into trap'
China cloud on talks: Ex-chief
Sun Weidong enunciated his country's claim over areas of Pangong Lake that its troops have reportedly occupied 8km within India-claimed lines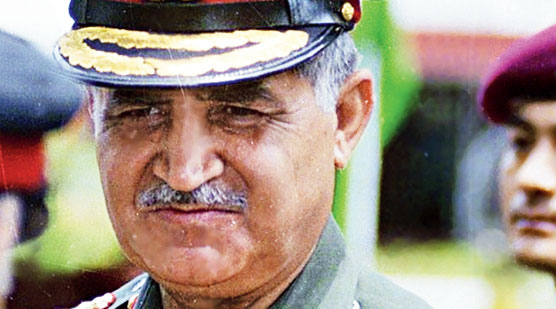 ---
New Delhi
|
Published 01.08.20, 03:43 AM
|
---
Beijing's latest claims on Pangong Lake areas have virtually ended the hopes of any breakthrough during the ongoing military talks, General V.P. Malik, former Indian Army chief, has said.
"By his statement yesterday, #Ambassador Sun Weidong of China has virtually ended any possible progress in LAC (Line of Actual Control) talks between military commanders," Gen. Malik, who was army chief during the 1999 Kargil War, tweeted on Friday.
Ahead of the fifth round of military talks, expected in a week, Chinese ambassador Sun Weidong had on Thursday staked his country's claim over areas of the Pangong Lake that Chinese troops have reportedly occupied 8km within India-claimed lines.
"On the northern bank of Pangong Lake, China's customary boundary line is in accordance with the LAC. China has not expanded its territorial claim," Sun told a webinar.
Sun's assertion has deepened the fears that Beijing is out to put in place "a revised status quo" at the multiple friction points in eastern Ladakh.
A retired general reflected the mood of despondency as he responded to a statement from Australian high commissioner Barry O'Farrell that his country was opposed to a unilateral change of status quo at the Line of Actual Control.
"It's already happened. What are we shouting about now!!" Lt Gen Rameshwar Roy tweeted.
A security official attached to the Union home ministry said ambassador Sun's "statement just ahead of the (next round of) military talks has laid bare China's designs and confirmed our worst fears".
During the fourth round of military talks on July 14, he said, India had pressed for Chinese disengagement from the Pangong Lake, where the People's Liberation Army has occupied the strategic Finger 4 ridgeline and put up structures 14,000 feet above the sea level.
"But the Chinese are not relenting. They have made their intentions clear by staking claim to the area," another security official said. "They are in a way setting preconditions before the talks to try and establish the revised status quo."
A military veteran regretted that "India's sovereignty and territorial integrity is at stake again" because "the top political leadership walked into the Chinese trap by making the no-intrusion claim and letting down the 20 soldiers who sacrificed their lives defending the nation".
He was alluding to Prime Minister Narendra Modi's claim on June 19 that none had crossed into Indian territory or captured Indian posts.