China can't get the better of us: IAF chief
Bhadauria points at operational and technological edge owing to the Rafale fighter jets that had arrived from France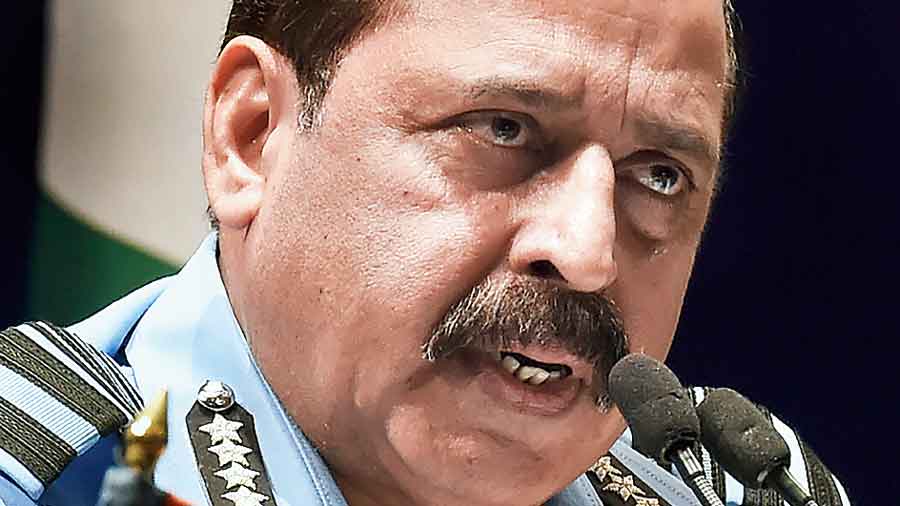 ---
New Delhi
|
Published 06.10.20, 01:33 AM
|
---
The Indian Air Force is "very well-positioned" to take on China along the border in eastern Ladakh where troops of both countries have been locked in a five-month-long standoff, Air Chief Marshal R.K.S. Bhadauria said on Monday.
"We are very well-positioned. There is no question that in any conflict scenario, China can get the better of us," Bhadauria said while addressing a media conference in New Delhi ahead of Air Force Day on October 8.
He, however, acknowledged that India was not underestimating the adversary. "Their strength lies in the surface-to-air systems they have put up in the area. They have long missile systems. We cater to those in our matrix… We can take on that threat," the IAF chief said.
Asked about the possibility of a two-front war, Bhadauria said that amid an "emerging threat scenario in our neighbourhood and beyond", India was prepared for any conflict that it might face.
On whether China could use Pakistani air bases, he said it would mean a collusive threat and the IAF was ready to tackle it. "We are aware they are cooperating closely. There is significant threat, but so far there is no such indication that they are colluding for a two-front war," the air force chief said.
Air Chief Marshal Bhadauria said the Rafale fighter jets that had arrived from France had given the IAF an operational and technological edge. "Integration of the Rafales brings in a platform which is way ahead and gives the capability to strike first and deep in a contested airspace," he said.
The five newly inducted Rafales, part of a 2016 deal for 36 jets, have been made operational in the Ladakh theatre and have been carrying out sorties regularly.
Replying to a question on whether the armed forces had been caught by surprise by the Chinese aggression in Ladakh, Air Chief Marshal Bhadauria said: "We acted swiftly and it will not be correct to say we were surprised. We do hope the talks between the military commanders continue on the expected lines. The Chinese troops are trying to dig in for the winter and we are also taking actions to set up air assets..."
So far both India and China have held a series of diplomatic and military talks to resolve the military standoff but no breakthrough has been achieved as the Chinese troops have refused to withdraw from multiple areas it has intruded into since May.
Top commanders of the two armies are scheduled to hold a fresh round of talks on October 12 with the specific agenda of firming up a road map for disengagement of troops from the friction points.
India and China have deployed around 50,000 troops each along with heavy weaponry in the high-altitude region to deal with any eventuality.
Besides the Rafales, the IAF has deployed almost all its frontline fighter jets such as the Sukhoi 30 MKI, Jaguar and Mirage 2000 aircraft at the key frontier air bases in eastern Ladakh and elsewhere along the LAC. The IAF has also been carrying out nighttime combat air patrols over the eastern Ladakh region.
A military veteran said: "It is very much clear that dialogue is not working at all. Amid the continuing Chinese aggression, the Indian Army has no choice but to stay there in the winter in the most isolated battlefield in the world."