CJI Ramana airs concern over arrests, incarceration
Remarks of Chief Justice come at a time critics of government like social activist Teesta Setalvad and journalist Mohammed Zubair have been arrested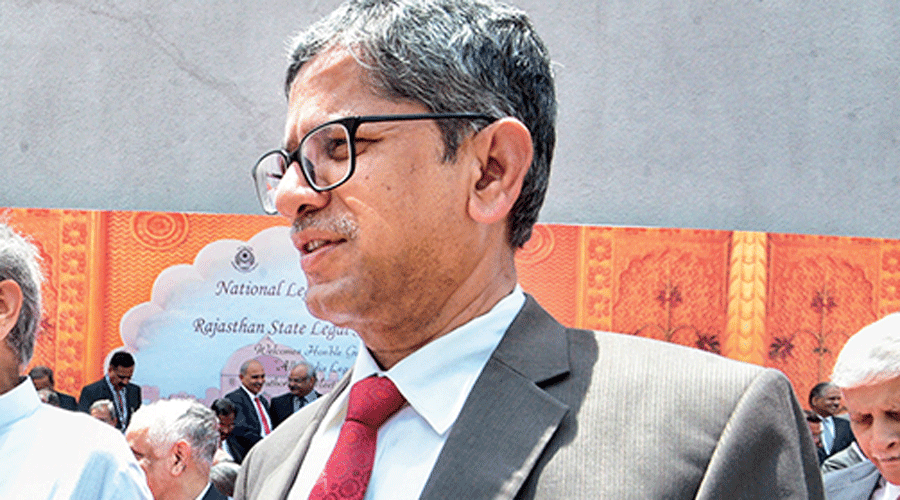 Chief Justice NV Ramana in Jaipur on Saturday.
PTI picture
---
New Delhi
|
Published 17.07.22, 01:14 AM
|
---
Chief Justice of India N.V. Ramana on Saturday expressed concern at "indiscriminate arrests", "prolonged incarceration", prisoners' indefinite wait for bail or trial, and the violation of fundamental rights through "unlawful eviction".
His remarks come at a time critics of the government like social activist Teesta Setalvad and journalist Mohammed Zubair have been arrested, and authorities in many BJP-ruled states or municipal areas have demolished allegedly illegal properties of Muslims after branding them as rioters.
Congress-backed Gujarat MLA Jignesh Mevani was arrested in Assam on the basis of what a court said was a "manufactured" case of sexual assault while many students and activists have been held under anti-terror laws for protesting against the new citizenship regime.
"In our criminal justice system, the process is the punishment. From hasty indiscriminate arrests, to difficulty in obtaining bail, the process leading to the prolonged incarceration of undertrials needs urgent attention," Justice Ramana said at a meeting of the National Legal Services Authority (Nalsa) in Jaipur, Rajasthan.
He underlined Nalsa's role in providing legal aid to accused who are otherwise unable to access justice and often rot in prison without legal remedy. He said the 6.1 lakh prisoners in the country's 1,378 prisons were among the most vulnerable people in India.
"Prisons are black boxes. Prisoners are often unseen, unheard citizens. Prisons have different impacts on different categories of prisoners, particularly those belonging to marginalised communities," he said.
Justice Ramana said: "…Unless people can access justice, they would be deprived of remedies in case of violation of their rights. A single violation of a right, or a single case, can spiral into graver consequences quickly.
"An unlawful eviction may not only lead to loss of shelter, it may also lead to loss of livelihood which may result in lack of access to food or healthcare. Without State intervention in such circumstances through legal aid, violators will never be held accountable, and injustice shall prevail."
Justice Ramana suggested the training and sensitisation of the police and modernisation of the prison system.
Nalsa initiatives
Justice Ramana said that Nalsa had extended its services to every part of the country, making it possible for almost 80 per cent of the population now to avail the benefits.
"I will not be surprised if Nalsa becomes the largest service provider in our country," he said.
He complimented Nalsa for launching the prisoner-friendly initiatives e-parole (which facilitates virtual hearings for parole) and e-mulakat, which allows prisoners video calls with their families with the authorities' permission.
Undertrials
Justice Ramana said a grave issue affecting India's criminal justice system was that around 80 per cent of the country's 6.1 lakh prisoners were undertrials — people incarcerated for lengthy periods without being pronounced guilty.
"However, our goal should not be limited to enabling mere early release of undertrial prisoners. Rather, we should question procedures which lead to such prolonged incarceration in huge numbers without a trial," he said.
Riposte to govt
Referring to recent remarks by law minister Kiren Rijiju that India's courts had burdened themselves with five crore pending cases, Justice Ramana said he had been constantly highlighting the two problems behind it: vacant judges' posts and inadequate infrastructure.
"I hope the government expedites the process of filling up judicial vacancies…. In similar lines (to Nalsa), I had proposed the creation of independent authorities for development of judicial infrastructure both at national and state level. Unfortunately, it did not take off. I hope the Government of India revisits the proposal," he observed.