Guess who is calling 'propaganda' names
Centre livid at BBC documentary on Narendra Modi
We think this is a propaganda piece designed to push a particular discredited narrative, says external affairs ministry spokesperson Arindam Bagchi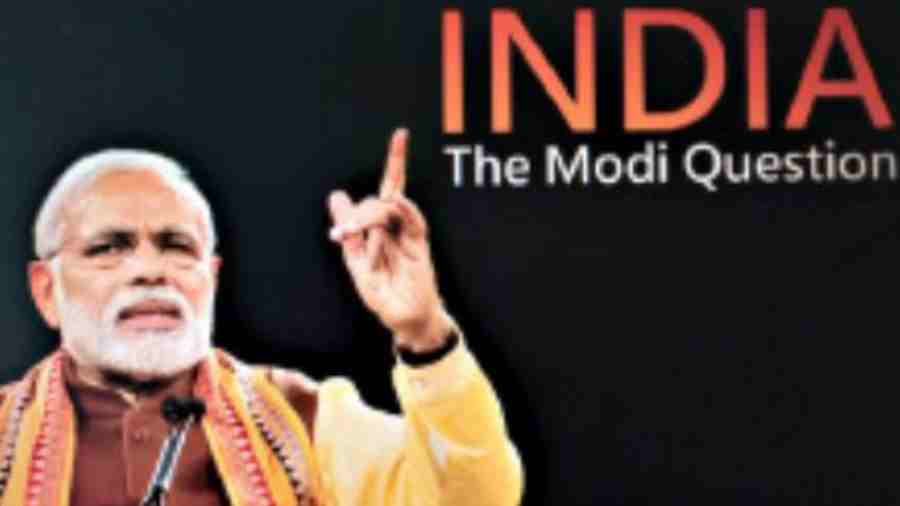 A screenshot of the title of the BBC documentary.
Sourced by The Telegraph
---
New Delhi
|
Published 20.01.23, 03:34 AM
|
---
The external affairs ministry on Thursday termed the BBC documentary India: The Modi Question  a "propaganda piece" that smacked of a "continuing colonial mindset" and questioned the agenda behind it.
British Prime Minister Rishi Sunak told Parliament that "I am not sure that I agree with all the characterisation" after a British parliamentarian made a specific reference to Prime Minister Narendra Modi.
Asked for the Indian government's response to the documentary at the weekly briefing, external affairs ministry spokesperson Arindam Bagchi underscored that the documentary had not been screened in India and responded on the basis of inputs from the Indian high commission in London.
The documentary is available on BBC iPlayer which, according to the website, "only works in the UK". Over the past couple of days, some viewers with access to iPlayer have downloaded and posted the documentary on YouTube but these were removed due to copyright issues. One such video link says "this video has been removed by the uploader".
Bagchi said: "We think this is a propaganda piece designed to push a particular discredited narrative. The bias, lack of objectivity and, frankly, a continuing colonial mindset is blatantly visible. If anything, this documentary is a reflection on the agency and individuals that are peddling this narrative again. It makes us wonder about the purpose of this exercise and the agenda behind it, and frankly, we do not wish to dignify such efforts."
In particular, India has taken umbrage to former British foreign secretary Jack Straw saying on camera in the documentary that he had ordered a government inquiry into the Gujarat violence and sent a team to the state to find out what happened.
Asked if India could confirm the existence of such a report and whether New Delhi was taking it up with London, Bagchi shot back: "I heard words like 'inquiry', 'investigation'. There's a reason we used the words 'colonial mindset'. We don't use words loosely. What inquiry? They were diplomats here. Investigation! Are they ruling the country?"
Pointing out that Straw was referring to an internal UK report, the spokesperson said: "How do I have access to that and it's a 20-year-old report…. Just because Jack Straw says, how does it lend it that much legitimacy?"