Centre guarded on China village report in India-claimed territory in Arunachal Pradesh
The ministry did not deny the report outright, underlining that China had in the past too undertaken such construction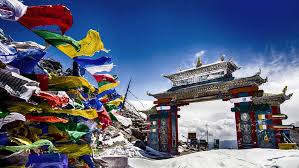 ---
---
The external affairs ministry was on Monday guarded in its response to a news report about a new Chinese village coming up on India-claimed territory in Arunachal Pradesh that has been under Chinese control for years. The ministry did not deny the report outright, underlining that China had in the past too undertaken such construction.
"In response, our government too has stepped up border infrastructure, including the construction of roads, bridges, etc, which has provided much-needed connectivity to the local population along the border," the ministry said.
"(The) government keeps a constant watch on all developments having a bearing on India's security and takes all the necessary measures to safeguard its sovereignty and territorial integrity."
According to an NDTV report, the new Chinese village consists of some 101 homes. Satellite images dated November 1, 2020, show the settlement is about 4.5km within India-claimed territory.
The village, located on the banks of the Tsari Chu river, lies in the Upper Subansiri district, which has long been disputed territory.
Satellite imagery of the same place from August 2019 suggests that the village, made up of a neat row of houses, has come up within 15 months.
Arunachal East MP Tapir Gao had in November 2019 warned the Lok Sabha about such constructions.
Gao told The Telegraph on Monday that the village had come up since he had flagged the issue in the Lok Sabha but added that such construction had been going on in the area since 1984.
He said border development had picked up pace under the Narendra Modi government but conceded that this had not deterred China from carrying out its own construction projects.
"They have constructed a two-lane road and a mini-hydel project," Gao said.
He urged the media to use the term "McMahon Line" for the border in Arunachal Pradesh and not "the Line of Actual Control".
"In Arunachal Pradesh, it is not LAC but McMahon Line," he said, arguing that calling it anything else is to push the Chinese narrative.